Among the meals that stand out among Icelandic cuisine, Icelandic hot dogs take the cake. As a first-time visitor to the country, it's easy to assume that sampling local Iceland food will involve upscale seafood-based dishes or arctic delicacies. Those things certainly exist and they're delicious… but Icelandic hot dogs are one of the nation's most popular foods. They are adored by locals and visitors alike. In fact, they just might be the best hot dogs in the world. (Seriously!)
Icelanders have a different approach to hot dogs than the rest of the world, both in preparation and in the way hot dogs are viewed. While hot dogs are a summer favorite in the USA, they're not viewed as a fancy food. Icelandic hot dogs, on the other hand, are prepared with care; they are made with finer ingredients than in other parts of the world.
Icelandic hot dogs are mainly made of hormone-free, grass-fed Icelandic lamb, mixed with beef and pork. There are more sheep on the island nation than humans, and lamb has long been an Icelandic food source. Lamb hot dogs are a match made in heaven for Icelandic taste buds.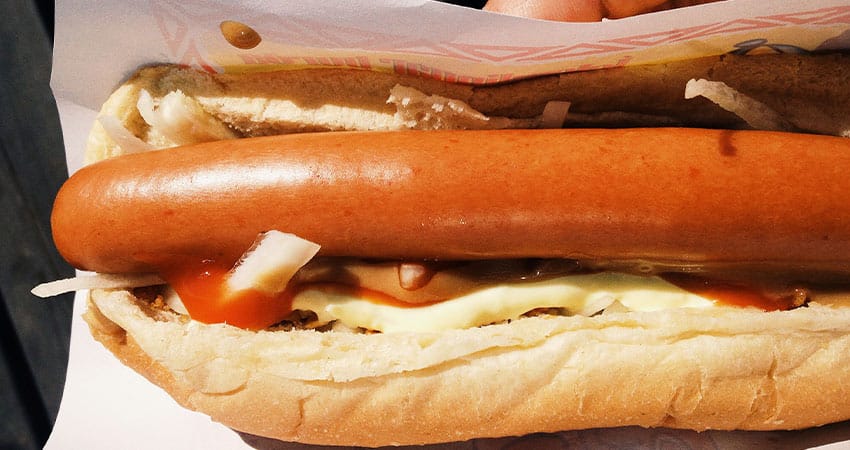 They are long and thin, and the meat is rich and sweet. One of Icelandic hot dogs' characteristics is the satisfying "snap" of the dog's natural casing when you take a bite. Add to this the satisfying crunch of the hot dogs' traditional onion toppings, and you've got a recipe for bliss.
The Icelandic words for hot dog are pylsa and pulsa. (The word is combined, so you'll often see pylsur, or other variations.) Both words mean hot dog, but most people will consistently use one word over the other. Icelanders disagree over whether hot dogs should be called pylsa or pulsa. It remains a topic of hot debate!
The most popular spot in Reykjavik to sample the dogs is the Bæjarins Beztu Pylsur—"Best Hot Dogs In Town". This is a stand near the city's waterfront. It opened in 1937 and over the years it has become a foodie legend. Many other stands appeared in the following two decades, but most are gone while Bæjarins Beztu Pylsur holds fast. For the equivalent of just a few American dollars, it offers a fine sampling of Icelandic hot dogs.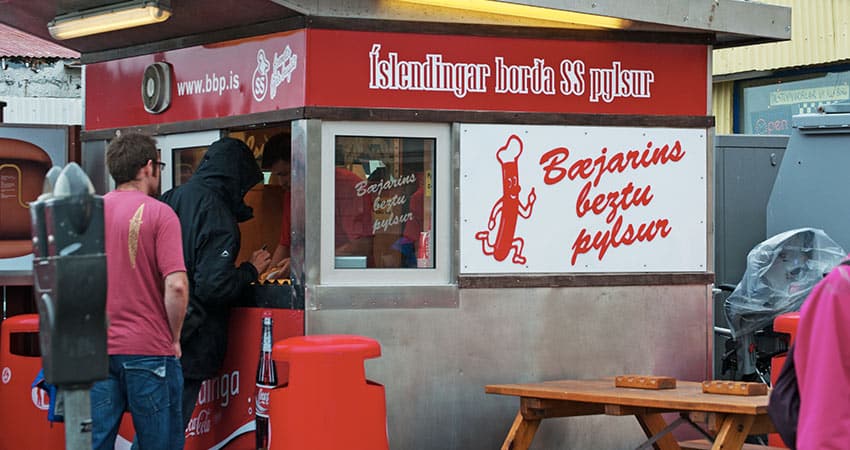 Locals, tourists, and even visiting celebrities enjoy Bæjarins Beztu Pylsur's top-of-the-line hot dogs. The lines at the stand are often long, and there is just one nearby picnic table for seating. But, the staff are pros at keeping things moving quickly. Even if it's cold or rainy, it's worth standing in the outdoor line. Once you take your first bite, the warmth of your hot dog will keep you toasty, regardless of the weather.
To eat a hot dog the true Icelandic way, order it "with everything" so you can try all the locals' usual condiment choices. That means with raw and fried onions, a sweet mustard called pylsusinnep, ketchup, plus a mayo-and-herb-based sauce called remoulade. Icelanders eat hot dogs at all hours of the day. Lunch, dinner, or late hours after a night at the club are all fair game… There's no right or wrong time to try one.
If you can't make it to Bæjarins Beztu Pylsur while you're in Iceland, or you simply want to try something different, there are plenty of other options to choose from. You can find a hot dog stand in most populated parts of the country, and there is no shortage in Reykjavik. You can even pop into a convenience store for a hot dog.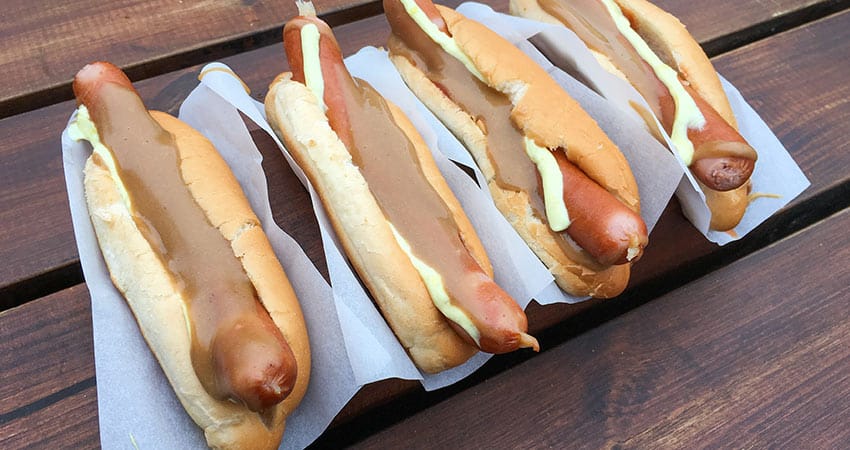 If you'd like to try making them at home, you can get them in the Icelandic duty-free store on your way out of the country. (Iceland's massive duty-free store is legendary, but that's another story for another time.) If you take them home, be sure to prepare them with care; they require more precision to make than American hot dogs. Luckily for fans of Icelandic cuisine, steps are in motion for the hot dogs to be available to USA consumers. The American demand for Icelandic hot dogs is high, and sellers are responding. One of the major Icelandic food companies, and a major hot dog supplier, has ramped up its plant in order to export them to the US.
Bite down, savor the juices, and enjoy!
Iceland may top your travel bucket list. It seduces nature lovers. There are ancient sacred sites, paths of the Vikings, plus a sensational city with live music venues and surprising art. The Northern Lights are a phenomenon one must experience to believe. And, the food is delicious. When it's time to feel alive, Iceland awaits!
If you'd like some unique experiences on your Iceland vacation, just let your Destination Expert know.