You want a trip to Iceland, and you want it to be perfect. Where do you start? It is a vast country, still in the making, where powerful forces are at play. Geysers send their steam to the sky, mudpots strangely bubble, mountains are cut by glaciers, and volcanoes crouch beneath all. The air is clean, the mountains and rivers are pristine, and you can almost imagine that you're present for the birth of the earth itself. Reykjavik holds the cultural center with buzzing nightlife, restaurants, music, and paths through the forests. Following are some experiences that are pure Iceland, beginning in the city.
Reykjavik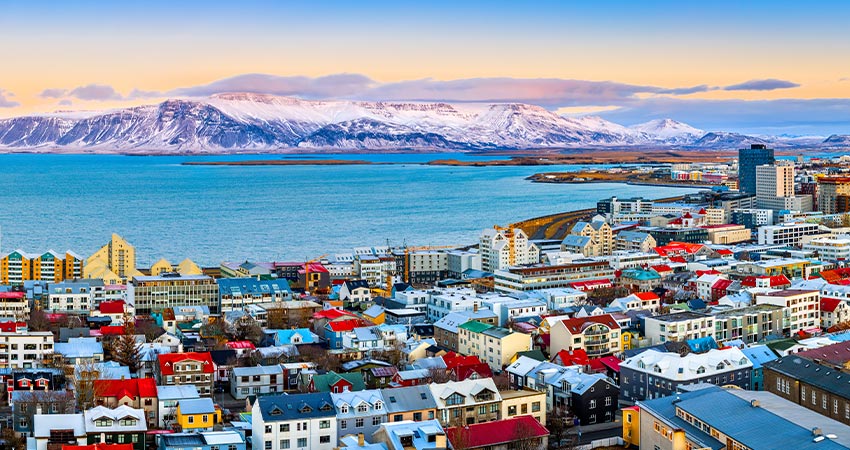 This is the world's most northerly capital. For a capital, it is relatively small, but it packs a surprising punch. Filled with creative people, the buildings are bright, the designs and art are mind-blowing, and the people are friendly and welcoming. The air is fresh and snow-capped mountains are your background in this cosmopolitan mecca.
Head to Old Reykjavik and explore. The National Museum is here, a beautiful central park, and the Settlement Exhibition. The Reykjavik Art Museum is a restored warehouse with quirky installation art as well as paintings, movies, and sculptures by Icelandic artists. The Tjornin is a lovely lake in the center of town. Sit on a bench with your lunch and listen to the sounds of more than 40 species of birds, including geese, Arctic terns, and swans.
Sautner over to the Old Harbor and consider a whale-watching tour. In the afternoon, you might want to head to Laugardalur. Known as Hot Spring Valley, there are outside thermal baths that are open all year around. It has the largest swimming pool in Iceland, complete with a slide and hot pools, and heated by geothermal waters. There's hiking, ice skating, large green spaces, and a Botanical Garden, plus a park and zoo with Icelandic farm animals. What to do in the evening? This city doesn't shut down! Many cafes turn into parties in the evenings that last long into the night. Feel free to join in.
Kirkjufell Mount, Snaefellsnes Peninsula
There are only three National Parks in Iceland, and this is one of them. The tongue-twisting name translates to "Snow Mount's Peninsula." That's an appropriate handle for a long peninsula that has a volcano topped with a glacier. There is endless beauty here, and it is often called "Iceland in Miniature." Besides the volcano and glaciers, it has lava fields, craters, roaring waterfalls, both black and white beaches, stunning mountains, lovely fishing villages and towns, plus exceptional coastline views of the wild Atlantic.
The Blue Lagoon
This geothermal pool is the perfect place to get into sync with nature. The water is healing. There's a luxurious subterranean spa. You can dine at one of two restaurants, one of them is a Michelin starred delight, and the views are out of this world. Float in the milky-blue water surrounded by relaxing steam. The lagoon is in a black-lava field that contrasts with the hues of blue. Some bathers are covered with silica mud… the whole scene is a wonder that must be experienced.
Fimmvorouhals
Skogafoss Waterfall
This is one of Iceland's premier hikes. It's a challenging day trek; there is a 4,600 gain in elevation, and it is 14 miles long. But, you pass twenty-six waterfalls, two glaciers, and three distinctive areas of land. It is incredibly diverse. You begin at the thundering waterfall that is Skogafoss. The land here is lush and it is green. You'll hike past a parade of 25 waterfalls.
When you see the ice caps, the landscape changes and you're on black volcanic soil, passing between two glaciers—this is one of the youngest areas on planet earth. Descending into Thorsmork, be amazed by the changes in the land around you. Soft green moss blankets the rocks and black soil, and then you're trekking through a forest that feels like a many-flowered kingdom.
Trollaskagi
This atmospheric peninsula is world-renowned for its magnificent mountains and the many Icelandic horses. Lush valleys and bays were carved by glaciers, and there are numerous wild rivers and waterfalls. This is the land of magical scenery. The Lowlands have a high population—the land is fertile and there is also excellent fishing. The farms are often horse farms. These unique Icelandic horses are smaller than most, smarter, very sturdy, and quite curious. The town of Akureyri has plenty of interesting museums, galleries, chances for whale-watching, and is near travelers' favorites, Lake Myvatn and Godafoss Waterfall.
Husavik
Situated on the shores of Skjalfandi Bay, Husavik is called "The Whale Capital of Iceland." On 98% of the whale-watching tours here, whales were spotted—this is the major draw. Eleven species of whales come to feed in the summer, which is the best time to see them. The first town in Iceland was built here in 860 AD by a Swedish Viking, Gardar Svavarsson. There is also a swimming pool with a slide for kids, and hot pots to dip into. Husavik is on the Arctic Coast Way and at the beginning of the Diamond Circle.
Borgarfjordur
Fishing village Arnarstapi, Stapi-Snaefellsnes Peninsula
This is a stunning fjord and area by Faxafloi Bay in Southwestern Iceland, covering the land between Reykjavik and the Snaefellsnes Peninsula. The towns here are small, but they are important. Travelers love Borgarnes for the Settlement Center and its Center for Puppet Art. Reykholt is arguably one of the most important places for visitors to discover the story of Iceland; it hosts Snorrastofa, a center for medieval studies.
Nature here has a powerful voice. The stunning Hvita River tumbles through the fjord. This is where you'll experience the gorgeous Hraunfossar waterfalls which run in shimmering streams from the Hallmundarhraun lava field. Barnafoss, another magnificent waterfall, is nearby and the entire area is heaven for those who love salmon fishing. Rare minerals are found here which dazzle with astonishing colors. And, you can see the highest flowing hot spring in Europe, Deildartunghver, as well as going horseback riding and lava caving. Brilliant!
Seydisfjordur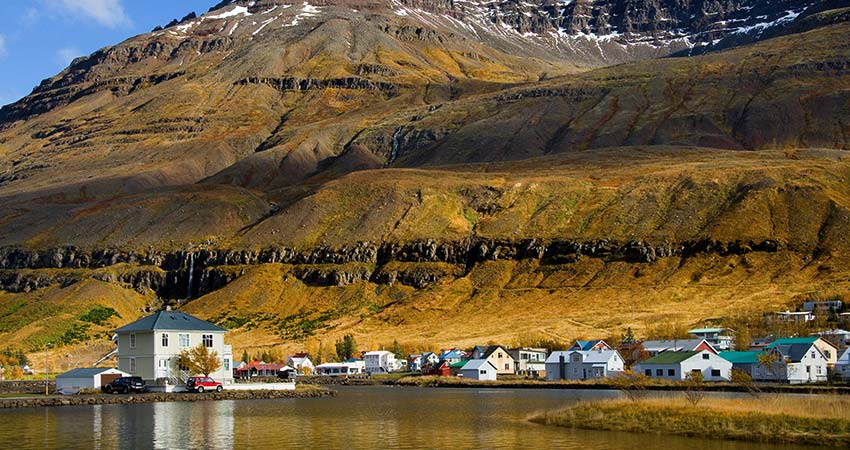 Township of Seydisfjordure
A tiny town in the eastern part of Iceland, Seydisfjordur sits at the corner of a glorious fjord. Snowcapped mountains surround the town, including Mt. Bjolfur and Strandartindur, both part of Iceland's Seven Peak Hike. There's a large harbor here and you can take a ferry to Scandinavia. Wander the town, and you'll find loads of 19th century timber buildings—they were brought from Norway in kits. You'll also come across places where you can buy local art, food, handicrafts, woolens, and designer housewares. Relax and get into authentic rural Iceland.
Vatnajokull National Park
Selfoss Waterfall, Vatnajokull National Park
This is a UNESCO World Heritage Site, and is Europe's largest National Park, covering approximately 15% of Iceland. It includes all of Vatnajokull Glacier and large areas of the surrounding land, including Skaftafell in the Southwest and Jökulsarglijufur to the north. This park is known for its diverse features formed by the force of rivers, glacial ice, volcanic, and geothermal power. An amazing number of outlet glaciers flow from it, and beneath are active volcanoes. This is THE place for Iceland's visitors who want to experience fire and ice!
Jokulsarlon Glacier Lagoon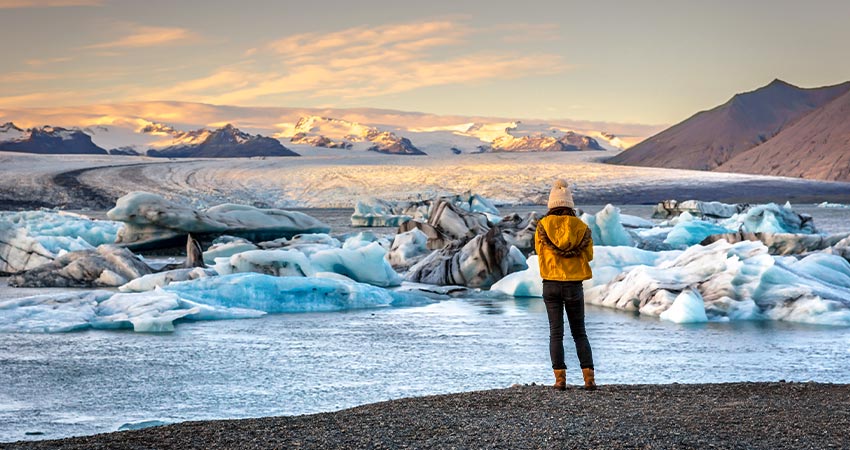 This is one of Iceland's true gems. The black beach here is called Diamond Beach; the ice chunks on the sand look like diamonds sparkling in the sun. You can take a boat tour between free-floating icebergs, hike glaciers, or go on an ice cave expedition. Jokulsarlon, at 814 feet, is the deepest lake in Iceland, and its surface area is a little more than 11 square miles. Amazingly, the icebergs are made of ice that's over 1,000 years old. The lagoon connects with the ocean, making it part seawater and freshwater, giving it a wonderfully unique color.
For wildlife lovers, you'll see seals swimming in the lagoon and chilling out, sitting on top of icebergs. The lagoon is also alive with birdlife. During the summer you'll spot Arctic Terns as well as other species. When driving from Reykjavik, stop at Dyrholaey Lighthouse to see puffins during the summer. If you're taking your Iceland vacation in the winter, this is a terrific place for the Northern Lights. When the lights are intense, they can shine a spotlight on the lagoon with undulating colors, making a truly memorable experience.
Touring Iceland feels like stepping into a time that occured before people existed. A time when the earth was a bubbling stew of creation and wild experimentation. This trip is the perfect combination of a dazzling city, Reykjavik, and witnessing the extraordinary power and beauty of nature.
Let your Destination Expert know that you're ready to have the adventure of a lifetime in Iceland!