Oslo, called "The Nordic City of Light," is a surprising joy for travelers, as is its fjord. It has a flourishing arts scene, cutting-edge architecture, plus the traditional features of a 19th century city. Oslo is an ideal city for walking while soaking up beautiful views of the fjord. Stroll the boulevards and you'll see the Royal Palace and Park, Parliament, the National Theater, exquisite museums, and a lovely cathedral. Other sites are just a ferry or tram ride away.
The waterfront has a modern brick building with towers, overlooking a buzzing harbor. Go inside, and you'll see murals that tell the story of Norway's myths and history. The Akershus Castle and Fortress is across the harbor. First built in 1300 AD, state events are still held in the luxurious ballroom. Oslo is a green city, committed to an environmentally friendly way of life. Public transportation is a breeze, and within 30 minutes you can experience the pristine beauty of hills, fjords, forests, and streams.
Loads of Oslo's highlights are on the harbor promenade, but there are secret spots tucked within the city, on rooftops, and in the nearby countryside. Here we offer you sights as part of your Oslo adventure, some known best by only the locals. Enjoy!
Munch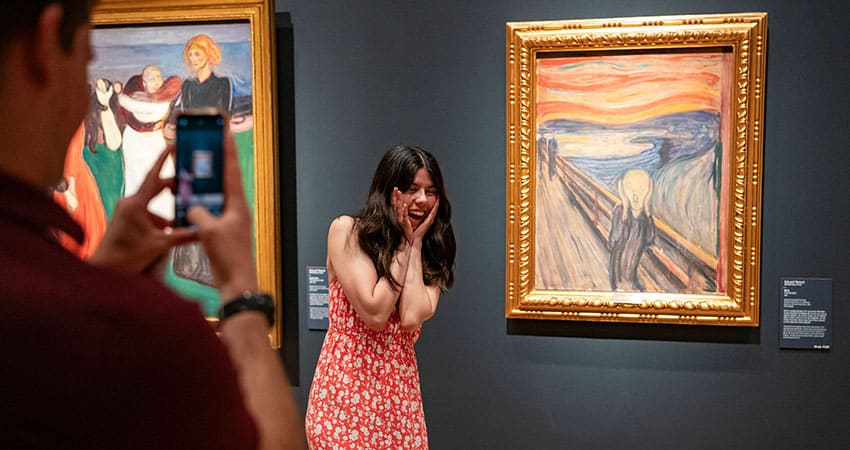 The artist Edvard Munch is honored with a museum that is solely dedicated to his work, as well as an entire floor in the National Museum. MUNCH is one of the world's largest museums devoted to one artist—you probably recognize his painting, The Scream. Beside his paintings, there are drawings, woodcuts, and photographs. In all, there are 42,000 pieces and eleven exhibition halls. While here, you can pop into a restaurant, a cafe, bar, or shop.
The National Museum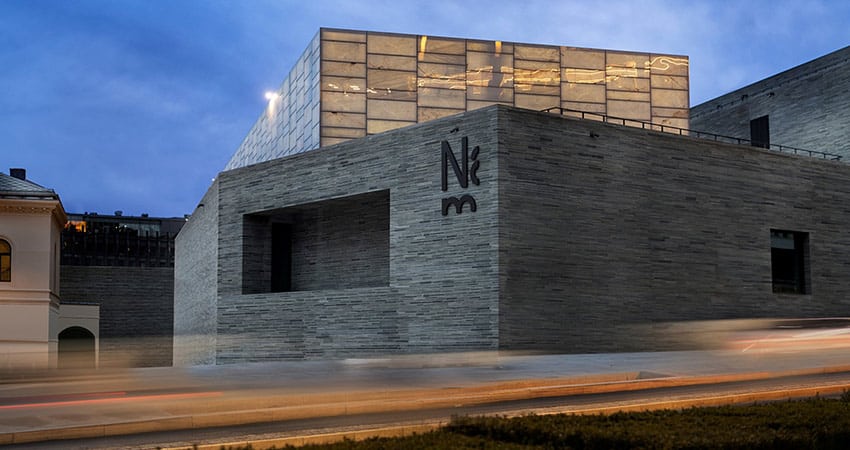 Photo: © NasjonalMuseet.no
This is an amazing gem, thoroughly renewed in June of 2022. The exhibition area includes 108,000 square feet divided into 90 rooms. You'll find architectural, design, and artistic gems ranging from the classical era to the modern. Lyshallen is a new space with 23-feet ceilings—let your heart soar! Check the rooftop terrace, get a drink, and be amazed by the views.
Kon-Tiki Museum: This is where you'll see a surprising collection of Easter Island artifacts and the preserved Kon-Tiki and Ra II sailing vessels used by the explorer, Thor Heyerdahl.
Grünerlokka
This area used to be a working-class neighborhood, but now it's known as the Greenwich Village of Oslo. Situated next to the Akerselva River, it's an eclectic collection of galleries, small shops, cafes, restaurants, plus the coolest bars and nightclubs in town. Wander to your heart's delight.
Gallery Thursday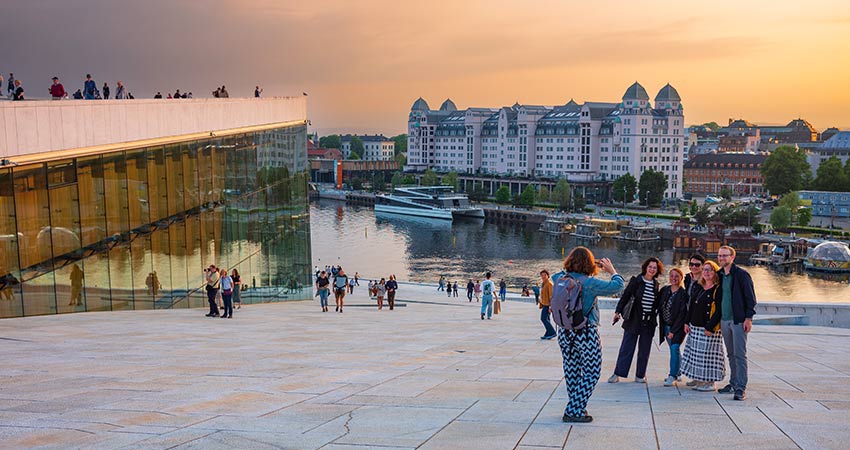 Many of the galleries, museums, and other artsy venues around Oslo open their new exhibitions on Thursdays.
Interesting Eats
Photo: © katlaoslo.no
Check out Katla in Universitetsgata for an extraordinary mix of Asian, Nordic, and Latin American food. You can order up "The Whole Enchilada" which is a set menu of eight dishes. Go for it!
Frogner Park
The sculpture gardens have more than 200 out-sized sculptures by the genius, Gustav Vigeland. The materials he used are bronze, granite, and cast iron. You'll see The Angry Boy, The Monolith, and The Wheel of Life. It's hard to choose which is a favorite—each feels as if it rose up from the Norwegian earth itself. (Vigeland designed the park himself.)
Frogner Café
The park's café is located inside a 100-year-old building with indoor and outdoor seating. There's a good selection of small meals, luscious baked goods, coffee, wine, and beer.
Frogner Manor House
The Manor House is part of the Museum of Oslo. Walk inside, and you're surrounded by gorgeous interiors from periods that range from 1750 to 1900. Bernt Anker's ballroom, from 1790, is a favorite, as are Asta Norregaard portraits, and landscape photographs of Oslo in the 1800's. The museum has been located inside Frogner Manor House since 1905.
Sublime Music
Oslo's Opera House, located on the harbor, is a vision. The architecture is stunning—a white roof looks as if a giant, graceful sea creature is leaping from the waters of the fjord. There are huge windows… look inside and you may see workshops in progress or rehearsals. The main hall, which seats 1,329 people, is shaped like a horseshoe, making every seat perfection. There is also a mid-size theater with 400 seats, and a small one that seats 200. The roof has stunning views of the harbor, and it's also used for concerts.
Head To The Beach!
Located right in the middle of the city, Operastranda is 330 feet of sandy beach, next to a shady park. The water is not deep, so it's particularly great for non-swimmers and people who have children.
SALT
Photo: © Salt.no
With six saunas, outside and inside bars, a huge outdoor dining area, stages, and daily cultural programs, SALT is a must!
The various saunas hold between 6 and 100 people. You can also rent a private sauna. Either way, there are cool splash pools to dip into afterward. (Or you may simply choose to go into the fjord.) There are six indoor stages for cultural events, and those happen on a daily basis. Imagine watching a burlesque show and then heading over to see what a couple of clowns are doing. During the winter, there are outdoor seating areas with fire pits, and you may use one of the barbecue grills for a reindeer steak or sausage.
Enjoy Floating in the Saunas
This is an authentic Norwegian experience. Floating saunas are very small barge-like vessels. They can take up to ten people, have large windows for astonishing views, stereo systems, and a woodstove to cozy up to. When you're ready for a break, jump into the Oslo fjord. What could be better?
Boat Trips
Hop on a boat, when the water is free from ice, and ply the waters of the Oslo fjord. Equipped with solar panels to keep you warm, they move almost silently. Keep your eye out for seals and dolphins. Both love these waters.
The Viking Museum
Take the ferry or the bus from the harbor to the Bygdoy Peninsula. Stopping at Dronningen dock, it's just a ten-minute stroll to the Viking Ship Museum. Here you'll see three Viking longships that were found buried in Southern Norway.
The Norwegian Museum of Cultural History
Stave Church from Gol in Oscar II's Collection. Photo: © Haakon Harriss / Norsk Folkemuseum on norskfolkemuseum.no
This is a huge open-air museum that has 150 historic homes. They are iconic timber houses from various parts of Norway, and there is a wonderfully restored stave church, built in 1200. In the summer, music and folk dancing are performed for visitors.
Summer Sun and Fun
On the eastern side of the fjord, the islands of Notteroy and Tjome are the places to be in the summer. There are picturesque cottages that wind down to the water, and the views are idyllic. The last island in the chain is called "World's End." There is a lighthouse here, simply built of stone, that is romantic and soft.
The Technical Museum
Photo: © tekniskmuseum.no
This museum, featuring technology, industry, natural science, and medicine, is both fascinating and fun. There are more than 100 interactive installations and 25 exhibitions that feature various themes. You'll discover the secrets of energy, odd phenomena, math applied to different situations, and outer space. The Oslo Science Center, part of the Tech Museum, let's you get involved with 3D printing and programming.
The National Medical Museum, which illustrates Norway's health and medical history from 185o to the present, is part of the museum. It has three permanent exhibitions: Life and Death—Man and Change; Get Well! People, technology, and hospital knowledge; and Invisible Word, the body's interior universe. There is also a collection of medical instruments and pharmacology through the ages.
The museum shop is worth seeing, even if you don't intend to buy anything. There are a variety of toys, games, building sets, books, odd gadgets and gizmos, and strange inventions. The Tekno Café serves Italian and Greek specialties, as well as cakes, ice cream, and gourmet coffee.
Oslo Street Food at Night
Photo: © oslo-streetfood.no
On Friday and Saturday nights, head to the Food Stalls! From 11 PM on, DJ's play music for crowds of up to 900 folks who want to dance. Many food stalls stay open late, so if you get hungry or thirsty, you're covered.
Hadeland Glassworks
Photo: © en.hadeland.com
The Glassworks was founded in 1762, and it is a center of history, art, and craftsmanship. It's an hour out of Oslo, but an easy drive via your rental car or public transportation—it's worth it. There are ten stores here, selling glass, porcelain, textiles, utensils, and decorative items to beautify your table and kitchen. The Hovinghallen is a new part of Hadeland and sells Norwegian microbrews, food, and has a porcelain factory outlet.
Sea Kayaking
Photo: © oslokayaktours.no
Kayaking is an ideal way to explore the Oslo fjord. (You can take an introductory class.) The people who run sea kayaking tours are dedicated to sustainability and keeping the fjord clean. For every tour, fifteen minutes is set aside to clean the beach.
Oslo has a vibrant cultural heritage and vibe. In just this one city, you can experience exciting cuisine, galleries, live music, history, technology, and nature at it's finest during your Norway vacation.
Ask your Destination Expert to allow plenty of time for you to discover Oslo. There is a world of Scandinavia wonder that awaits.