The romantic Regency era series, Bridgerton, is set in England and you can visit their dreamy locations. Chosen by the American Film Institute as the 2021 Top Television Program, Bridgerton gives us a look inside a fictional family. It begins during London's social season, when the marriageable young of English gentry and nobility are launched into society.
The second season of Bridgerton aired March, 2022; it was the most-watched television series of its time. (Seasons 3 and 4 are in the works.) This Regency epic pulls us into the close-knit siblings as they navigate, manipulate, and thrive in London society. Based on Julia Quinn's bestselling books, the show's creator says it is a mix of fantasy and history, suggesting we simply enjoy the marriage of both elements.
Visit Bridgerton film locations in London, Bath, numerous family estates, York, Chatham, and luscious English parks. Each is a delight.
The Featherington's House
When you visit Bath, you must go to the Royal Crescent. This is a sumptuously curved row of 30 terraced homes built between 1767 and 1774. You will recognize it instantly from the series; it is unique and used in a number of episodes. Listed as a Grade I building, this is Georgian architecture at its finest. Picture 114 columns that are 45 feet high!
Look for the address, No 1 Royal Crescent, and you'll find a museum that takes you inside the life of Bath aristocracy during the 18th century; it was used to film the Featherington family residence. These buildings were designed to feel like being in the country, while living in the city. The building faces out towards the gardens.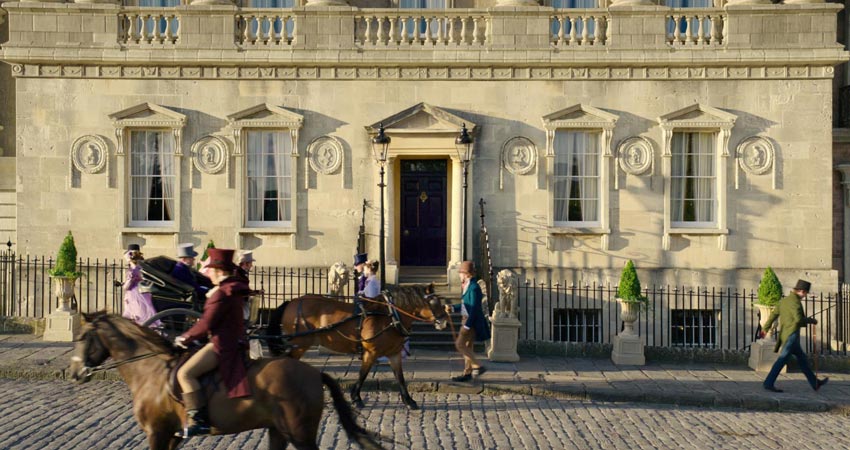 Bridgerton | © Netflix
Go to No 1 Royal Crescent, and you'll find a museum that takes you inside the life of Bath aristocracy during the 18th century—it was used to film the Featherington family residence. These buildings were designed to give the feeling of being in the country, while living in the city, by making the buildings face out toward the gardens. Visiting is a must while in Bath, and entry is free.
The Gentleman's Club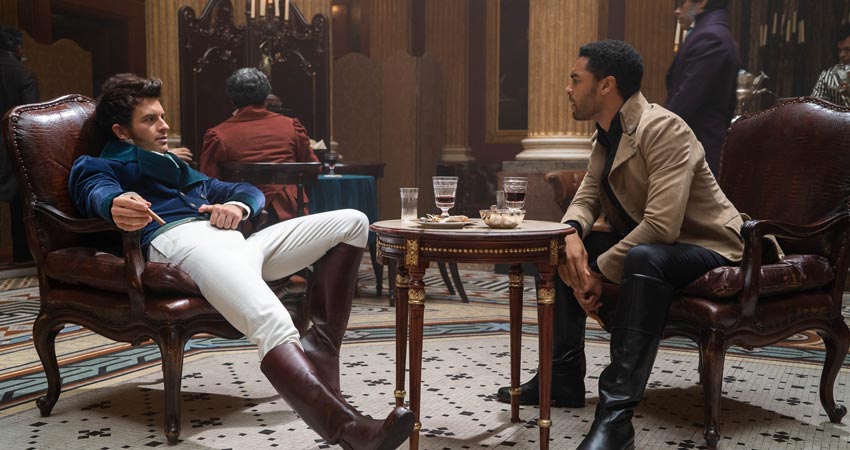 Bridgerton | © Netflix
Dive into London, and there's The Gentleman's Club. Everybody who was anybody had a club where they could smoke cigars, wear their finest, and talk business without appearing to be crass. Many Bridgerton scenes take place at the Gentleman's Club; the actual filming was done at Pall Mall's The Reform Club and in Lancaster House now owned by the government. Winston Churchill took breaks at the Reform Club, and we assume he also hoisted back a whiskey or three while there. The club is strictly private!
Outside The Bridgertons' House
Bridgerton | © Netflix
The exterior scenes of the Bridgerton family home are shot outside a lavish Georgian mansion, called the Ranger's House. On the outskirts of London's Greenwich Park, this elegant estate was built in 1723. It went through many different owners, some repairs, and it became home to the Wernher Collection in 2002. This is a group of 700 fabulous pieces of art that were gathered over time by the 19th century business tycoon, Sir Julius Wernher. You are welcome to enter the home-turned-museum. Take your time and explore. This neighborhood has some lovely shops, cafes, and markets.
Inside The Bridgertons' House
Bridgerton | © Netflix
The interior of the family home was filmed at Buckinghamshire's Halton House, known for its curvaceous staircase. The Halton House is a country home in the Chiltern Hills. Built for Alfred Rothschild in 1880, it is on England's National Heritage List. Halton House has a long, illustrious history. A manor house has been on this spot since the Norman Conquest; at that time, it belonged to the Archbishop of Canterbury. In 1720, it was sold to Sir Francis Dashwood, and their family owned it for 150 years. This is rarely open to the public. There are occasional party's here, with plenty of swells in attendance.
The Duke of Hastings' House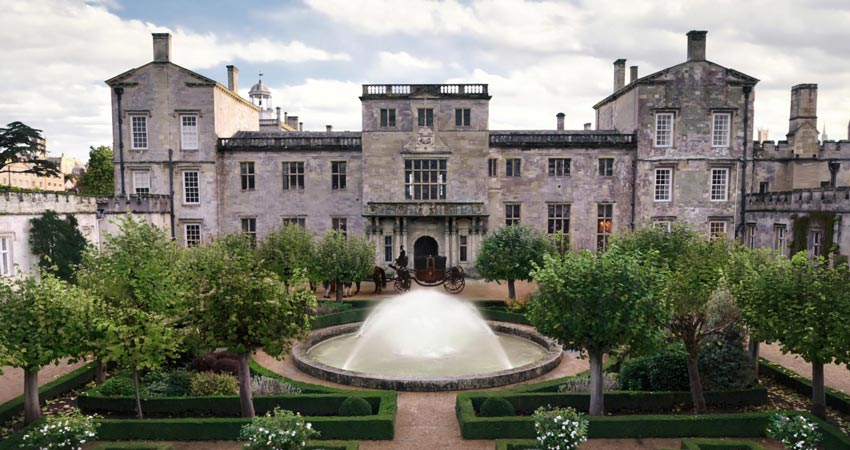 Bridgerton | © Netflix
The Duke of Hastings House is, in reality, Wilton House. Built in 1544, Wilton House is located in medieval Salisbury. Both the house and land were a gift to Sir William Herbert from King Henry VIII. Astonishingly enough, the house has remained in the same family, the Pembroke's, for 478 years. This gorgeous country home was used in four different Bridgerton episodes, standing in for various rooms and salons. It has also starred in Emma, The Crown, and Pride and Prejudice.
Buckingham Palace, London
Bridgerton | © Netflix
The real Queen Charlotte lived at Buckingham House—there are few places in existence that can pass for a queen's abode. The interior of Wilton House fits that bill. It fills in as Queen Charlotte's royal residence: her bedroom, presentation chamber, parlor, and garden. It is also the residence of the Duke of Hastings, Lady Danbury, and the Duke and Duchess of Hastings. It is Lady Danbury's library, the dining room of Clyvedon Castle, the site of a garden party, and the Duke of Hastings' house exterior, corridors, and his study. Because the house is over 400 years old, and has been refurbished in fits and starts, it is a treasure chest of various film locations for a slew of different characters. Can you visit the Wilton house? Yes, you can!
Lady Danbury's Estate
Bridgerton | © Netflix
When Queen Charlotte chose Daphne as the star debutante, it was filmed at the Holburne Museum in Bath, Somerset, England. Carriages arrived and departed from Lady Danbury's Estate—also Holburne. This museum is a Grade 1 building, and it was Bath's first public art gallery. The collections in this museum belonged to Sir William Holburne, who lived from 1793 – 1874. This Georgian beauty was designed and built in 1799, during the era of George III. And, yes, this is another Bridgerton location that you can visit. While there, go to the gardens behind the museum and enjoy the café. Feel like Regency royalty as you stroll the grounds. For those who love this era, it is a particular joy.
Primrose Hill
Bridgerton | © Netflix
This is actually a park named Painshill, and there is absolutely nothing like it. Situated in Cobham, Surrey, it was designed in the 18th century by Charles Hamilton. His intention was to create a living painting. Painshill is considered to be the finest example of an English garden. It has been called "Britain's greatest contribution to the visual arts." The romantic landscape feels like walking into a Monet and it is fully accessible. For those who love to get their hands into the soil, there are gardening opportunities. This is the garden we see in Bridgerton where well-heeled socialites share the latest gossip.
Clyvedon Estate
Bridgerton | © Netflix
Castle Howard, in Yorkshire, stands in for Clyvedon Estate. It is portrayed as the Duke's country home, the place Simon and Daphne spend their honeymoon. Named by the Telegraph as "One of the Top Ten Buildings You Must See in Your Lifetime," it took more than 100 years to construct, and at one time it was larger than the Queen's residence. For generations, the Howard family has welcomed visitors to Castle Howard. Here is a 250-year-old quote:
"Nobody had informed me that I should at one view see a palace, a town, a fortified city, temples on high places, woods worthy of being each a metropolis of the Druids, vales connected to hills by other woods, the noblest lawn in the world fenced by half the horizon, and a mausoleum that would tempt one to be buried alive; in short I have seen gigantic places before, but never a sublime one." Horace Walpole, 1772
The Modiste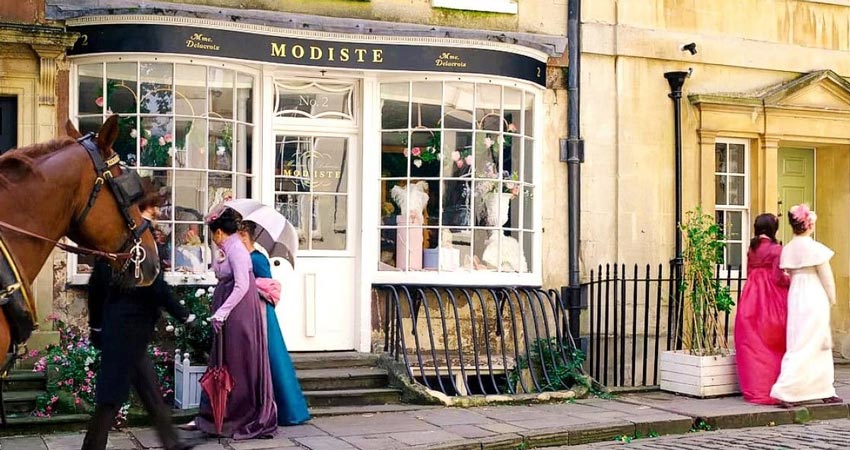 Bridgerton | © Netflix
We know the Modiste as Madame Delacroix's dress shop, the place to hear the latest news. In reality, this small shop in the heart of Bath, at Number 2 Abbey Street, is the Abbey Deli. Stop in for the ultimate cream tea experience. There is a large dining area and small nooks for privacy. Enjoy every delicious moment at the Abbey Deli!
After Bridgerton aired, there were increased internet searches for corsets, headpieces, and elbow-length gloves. The series leads, Daphne and Kate, are linked to a rise in the popularity of the colors sky blue and lilac. When Season 2 began, "Queen's Balls" were held in major cities, from Chicago to Johannesburg. And, there has been a 90% rise in the sale of croquet sets.
When you visit England, you are warmly welcomed into the Regency world. It's time to make your Bridgerton fantasy come true!