You want to go to England, and you want your vacation to be romantic. After all, you're going to propose marriage or ask your sweetheart to renew vows! The capital, London, has been a romantic getaway for hundreds of years—imagine making a timeless proposal under Big Ben. Perhaps you'd prefer a country getaway to stoke your romance? Each of England's National Parks is an oasis of calm beauty.
Whether visiting a city, village, natural wonder, or a historic monument, England is an ideal place to celebrate love and pop the question. Following, we offer seven possibilities.
London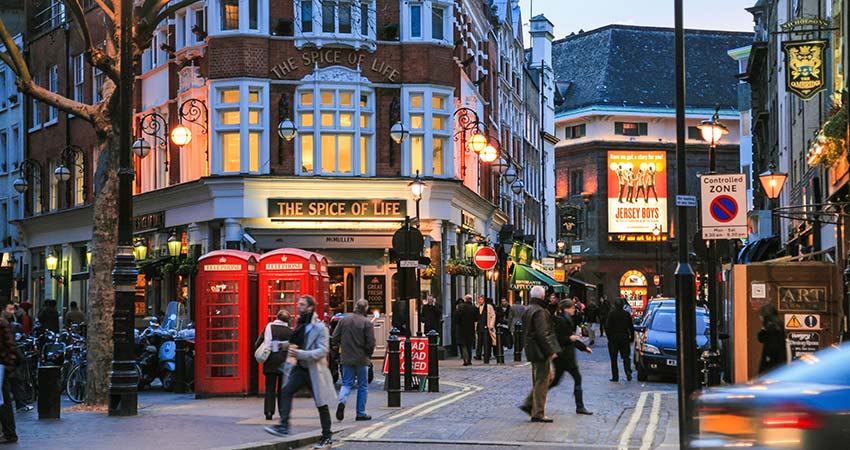 Soho District
London has brilliant accommodations, beautiful parks, jaw-dropping shops on every lane, and extraordinary restaurants. The only problem with finding a place to propose is narrowing down your choices. Consider Covent Garden. This world-class destination in the West End is foodie paradise, with 5-star Michelin restaurants that cater to every taste. There's also high-end shopping (head to Cartier's for an extravagant gift) plus the opera and theater.
Soho is the place to dance, stay out late, listen to live jazz, and sample surprising cocktails. It is the riff of a saxophone, singing a love song. Put off by glamor? Head to St. Paul's if you prefer casual, comfortable restaurants and bars where you can just kick back and chill. Look for the statue, Two Lovers in Festive Gardens. Situated in an intimate setting, this may be the perfect place to propose.
On the River Thames
Path along River Thames
The River Thames, in some places called the River Isis, is 215 miles long and runs through southern England, including London. Book a classic Dutch barge and cruise the river. Go with Art Afloat, and you can paint and sketch while plying the waters. (You don't need to be an artist to paint a heart and write a line inside, declaring your intentions.) Take an evening cruise to wine, dine, dance, and be amazed by the Illuminated River display and live music.
If you want to get into nature, the Thames Path National Trail is a beautiful stroll. Above the River Thames, you'll find the Berkshire countryside. Views go on forever, and you'll fall under the spell of the National Trust Gardens. For more than 300 years, families have chosen a patch of ground and created their own garden. Each is unique and was created by the need to nourish and make quiet beauty. After the gardens end, you'll come across glades, woodlands, and lovely miles of riverbank to explore.
Stonehenge
A masterpiece of Neolithic culture and intelligence, Stonehenge takes you 5,000 years back in time. Rituals, ceremonies, and (for us) mysterious ponderings about astronomy and the gigantic universe, occurred here on this vast plain. Does your love feel mysteriously timeless? Stonehenge may be your ideal place to propose.
If you want someplace that's less known, the entire Salisbury Plain was an area of prehistoric settlements. Consider heading to Silbury Hill, Europe's largest earthworks, built around 2750 BC from chalk blocks. West Kennet Longbarrow, the largest chambered tomb in England, was built in 3250 BC. And Old Sarom, an ancient Iron Age fort, is also located near Salisbury. The entire area is a testament to the human spirit.
The Cotswolds
Designated as an Area of Outstanding Natural Beauty, the Cotswolds cover five counties that are a bastion of charming villages, lush fields dotted with sheep, and homes that look as if they're straight out of a fairy tale. The Cotswolds themselves are a ridge of hills, 50 miles long, that run northeast from Bath. Cozy homes are built almost entirely out of limestone and reached their zenith in the 16th century. Counties became wealthy during this time, due to the healthy wool trade. Most towns have what is called "a wool church" built from funds brought in by the wool trade.
Is your love straight out of a storybook? Excellent! This will be your ideal place to propose.
Stratford-Upon-Avon
On the banks of Warwickshire's River Avon, this is a medieval market town. Stratford is on the edge of the Cotswolds, and it's where William Shakespeare was born and raised. Come here, and you can visit his childhood home, replete with wooden beams from the nearby Arden forest and a large fireplace built of stone 500 years ago.
The Shakespeare Birthplace Trust owns many properties in Stratford. These include: Mary Arden's House, birthplace of Shakespeare's mother; The Shakespeare Countryside Museum, with exhibits of pre-mechanical farming methods, and falconry displays; Hall's Croft, home of Shakespeare's daughter and her physician husband, featuring strange medical practices of the day; Anne Hathaway's Cottage, home of William's wife to be, where the stories of 13 generations fill the air on the sculpture trail; and The New Place, built on Shakespeare's property, an imagining look at what the man must have been like in his youthful glory.
Get tickets to a theater production! There are, of course, plenty of places to see Shakespeare's works. You can also opt for a contemporary play. Theater not your thing? No problem. Stratford has divine restaurants with excellent food, any of which would be grand for taking your sweetheart's hand.
Bath
There is evidence that people first inhabited the area of Bath, in Somerset, around the year 8000 BC. Legend has it that the city was founded by an early Briton king in 863 BC. The Romans came in 43 AD to take the waters—this was one of the few towns they built that wasn't a fortification. They proceeded to build a temple to Salis Minerva around the natural hot springs.
You can walk the paths of these early Romans as you explore the temple and its baths. It's an otherworldly experience. Today, Thermae Spa is the only day spa where you can sink into Bath's warm, healing waters. Enjoy the spa with your love. When you're thoroughly relaxed, wander through this enchanted town.
Georgian buildings are bathed in buttered light. Dip into a tea shop. Wander over to the fabulous Royal Crescent. Built between 1767 and 1774, you'll find 30 terrace houses, joined together, forming a crescent. These Queen Anne's are simply beautiful. Just 97 miles west of London, any place in Bath is a perfect place to propose marriage. It's that pretty.
The Lake District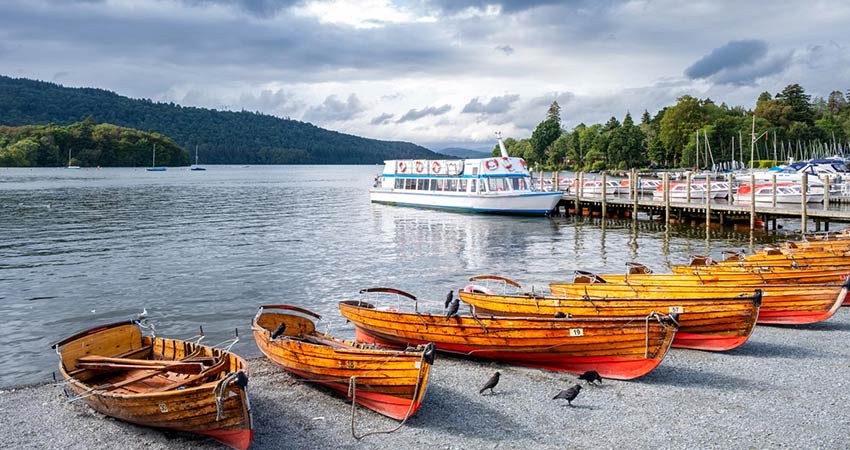 Lake Windemere
The Lake District's natural beauty is celebrated as a UNESCO World Heritage Site. The poetry of the Romantic period was influenced by the natural lakes and their surroundings. Poets from this time, including William Wordsworth and Coleridge, were inspired by the lush environment of water, forests, and fells. You'll be inspired, too. Surprise your intended with a poem—in this part of England, everyone becomes a dreamer.
This is the home of musicians, artists, and writers who were all enthusiastic about romance. England's wild shorelines, sweet villages, electric cities, plus rolling hills filled with rivers and lakes, all support your desire to find the ideal place to propose marriage.
Let your Destination Expert know what sort of place you have in mind for a romantic setting in England. They'll work with you to make it happen!