London, of course, is a romantic, culinary dream and one of the best food cities in the world. Historic restaurants cozy up to stellar dining establishments that recently hit town. Would you like to hold hands across a linen tablecloth, sit close to each other and be wowed by gorgeous views, or delight in French cuisine? Some restaurants are the perfect place for a light meal after the theater, others require the time to sit, savor, and take in the ambiance. All are exceptionally romantic.
There are many to choose from, but below are a few of our favorites:
Rules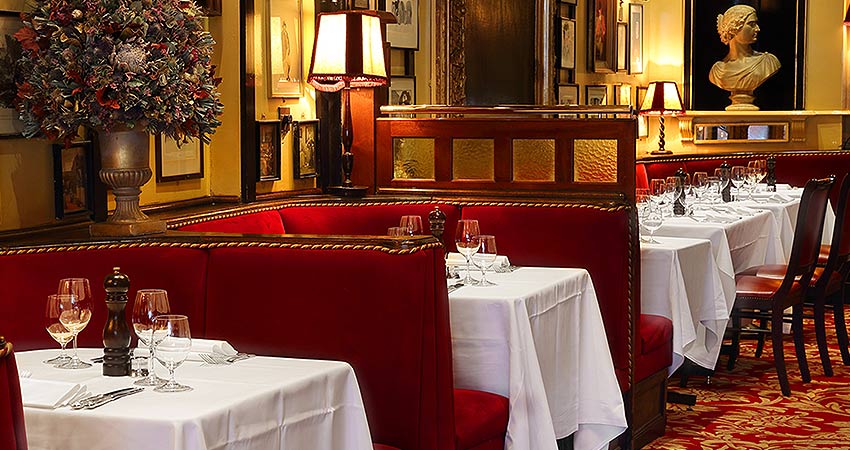 © rules.co.uk
Open since 1798, Rules is London's oldest continuing restaurant. To put that time into perspective, Napoleon had opened his campaign in Egypt and the United States and France stood on the brink of war. Traditional English fare, served with beauty, and wild game are particular specialties. The banquette seating is deep velvet. There are portraits on the wall of royalty and favorite clients. It is a true step back in time.
During that time, Rules has only been owned by three families and it is renowned for its service. Seating 90 people, Rules trains its staff at a private retreat. Writers, such as Charles Dickens and H. G. Wells, loved Rules as did John Le Carré. Movie stars, too, have beaten a path to Rules, including Charlie Chaplin and Clark Gable. Described by a Poet Laureat as "unique and irreplaceable, Rules is part of literary and theatrical London."
Dare to have a special romance that transcends time in this heritage restaurant.
35 Maiden Lane, Covent Garden, WC2E 7LB.
Brasserie Zédel
© brasseriezedel.com
Step inside this London Soho favorite, and you're guaranteed to be blown away by the Art Deco interior, complete with red, velvet seating and a gilded ceiling. On the wall, framed black and white art completes that 1930's feeling. This romantic restaurant is fun, and it is affordable. Food critic Jay Rayner proclaimed, "Brasserie Zédel feels like a gift to London, the sort it needs and deserves." Dine by candlelight, and don't fret about the bill!
20 Sherwood Street, W1F 7ED.
Daphne's
© daphnes-restaurant.co.uk
Enter Kensington's restaurant "Daphne's," and you'll fall into a dreamy villa in Tuscany. Daphne's is intimate, and the fare is classic country Italian. Share food… Would you like a bite of sea bass? You have to taste my eggplant parmigiana. Be sure to make room for a luscious chocolate dessert. This is not the time, or the place, to count calories. And the wine? You can bet that it pairs perfectly with whatever meal you choose. Italians practically invented romance. Go to Daphne's and you're instantly in the mood for love.
112 Draycott Avenue, London SW3.
Galvin at Windows
© galvinatwindows.com
Are you and your sweetheart infatuated with stunning views? If so, you must dine at the award-winning Galvin at Windows in Mayfair. This Hyde Park, Michelin Restaurant not only has luscious views, the food presentation is glorious. Each dish looks like a divine party waiting to happen! The interior is classic 1930's elegance, and it is situated on the 28th floor of the London Hilton on Park Lane. The dishes are French haute cuisine made with seasonal ingredients. While you're waiting for your food, linger over cocktails and take in Buckingham Palace and the shimmering lights of London's best.
28th Floor 22 Park Lane Hilton London W1K 1BE United Kingdom
Sessions Arts Club
© sessionsartsclub.com
The atmosphere at Sessions makes this restaurant intensely romantic. Dining here feels almost other-worldly. In a word, the interior is breathtaking. There is a staircase that feels like an ocean wave, and the colors melt into space. The menu is adjusted for the season, so all the food is fresh. Sit next to an arched window and enjoy the European cuisine in this lovely 18th century building.
Old Sessions House, 24 Clerkenwell Green, EC1R 0NA
Nest
© nestfood.co.uk
The Nest restaurant is the ultimate in surprising luxury. They have a ten-course tasting menu, that's right, ten courses, based purely upon what's in season at the time. (Vegetarian and seafood options are available.) Sometimes it's just spectacular to have an excellent chef make the decisions for you. Enjoy the foods you love, and taste new sensations, too. They are all delectable. You can also choose a four-glass wine pairing, and each perfectly complements the menu. Amazing!
177-179 Morning Lane, London, E9
The Wolseley
© thewolseley.com
Who says romance only happens in the evening? The Wolseley serves breakfast, lunch, afternoon tea, and dinner. With a fabulous view of Piccadilly, the huge windows and classic interior could make you swear you'd stepped into a 19th century fine dining establishment. Set in a historic building known as "Piccadilly's Shining Pearl" the Wolseley is generally considered to be London's first Grand Café. The food is perfection, and it includes such favorites as the Seafood Platter, Fillet Steak au Poivre, and Veal Orloff. Desserts, cheeses, and real ice cream coupes are the ideal finish.
160 Piccadilly, London, W1J 9EB
Headline-making chefs are wonderful, but the atmosphere is just as important when it comes to firing up the spark of romance. Any trip to England will most likely include London, particularly when your vacation involves matters of the heart. As is said, "Food is the straight path to the heart." Splurge, indulge, and experience bliss.
Are you vacationing in London to propose marriage, renew your vows, or enjoy romance? Let your Destination Expert know!