Any vacation in Australia should include tasting the country's bounty—the food is incomparable. The English cultural impact decreased after World War II, and now Australia has a delicious brew of innovative cuisine, influenced by Europe and Asia. Exceptional products that can be locally grown, raised, or caught make up the key ingredients in any meal.
Lush meadows are the base for beautiful dairy products. Butter is browned and seasoned, and then used as sauce for pasta, veggies, and meat dishes. A cheese-lovers paradise, Australia has its own versions of brie, cheddar, camembert, and feta. Wherever you go in Australia, make it a point to sample the home fare. This includes wandering the aisles of the supermarket and asking for suggestions!
In the Supermarket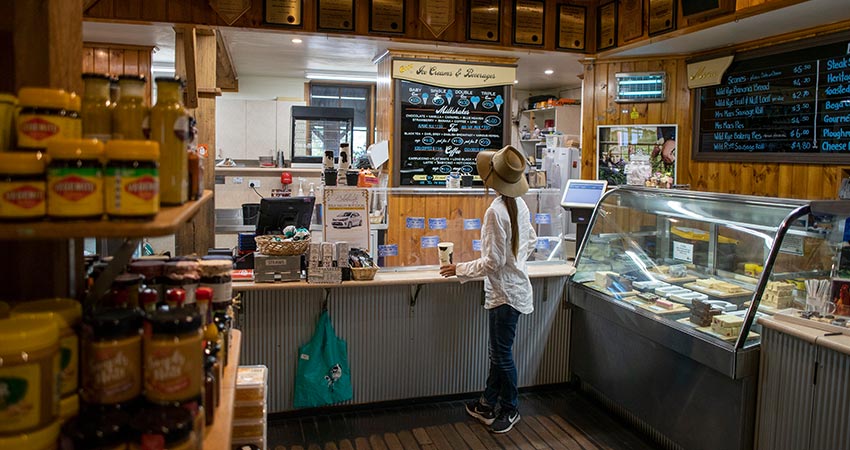 In the grocery store, probably a Woolworth's or a Coles, you're likely to find fans of the quintessential Australian spread, Vegemite. This dark brown paste is savory as opposed to sweet. It's made of vegetables and spices. Aussies eat it on bread or toast, sometimes with butter, and sometimes it's mixed with mayo. It's also eaten with cheese, avocado, or with just a plain tomato sandwich. This is one of those items… Aussies have a tough time living without it, and visitors sometimes think it's truly terrible. But you're in Australia. Give it a try.
While at the store, pick up a pack of Tim Tams. These are chocolate cookie bars that are practically addictive. (Backpackers love them.) Australians adore their avocados, especially mixed with hardboiled eggs and mayonnaise. You'll often find avocados on the side of your plate in a café, served the same way as parsley or lettuce in the States.
Anzac Biscuits are a particular favorite. ANZAC stands for the "Australian and New Zealand Army Corps." These groups fought together during WWI. Wives and mothers baked ANZAC biscuits when their men went off to the front. They didn't cost much to make, and they stayed fresh for a long time. They are a mix of oats, coconut, and gold syrup. Now, head to the frozen dessert section, or the bakery, and look for Pavlova. This is beloved by both Aussies and Kiwis, and each claim the dessert as their own. It is a meringue cake topped with fresh fruit and whipped cream.
On the Road
Tasmania, and the state of Victoria, is heaven for those who love fresh fish. The lobsters are considered to be some of the best. And the salmon, whether it is fresh or smoked, is excellent. Savor every bite.
South Australia, and the area around Adelaide, has growing conditions that are ideal for vineyards and olive orchards. Central markets overflow with fruits and vegetables, fish stalls with Adelaide blue swimmer crabs, Coffin Bay oysters, and butterfish, also called King George whiting. In the autumn, fruits are dried, pine nuts are gathered, and meat is smoked. Relax and enjoy a glass of Barossa, an amazing wine. The Barossa Valley is one of Australia's oldest and most prestigious wine regions. About 35 miles northeast of Adelaide, the Character Preservation (Barossa Valley) Act 2012 was passed by the South Australian Parliament to preserve and prevent development.
New South Wales has a subtropical climate. It is there, on the boundary with Queensland, that macadamia nuts, avocados, and sugar cane fields appear. Guavas, passion fruit, and melon pears are grown in Kangaroo Valley. The southern district is known for shrimping, and cattle and sheep are raised mostly in the area of "New England." The west-central area produces wine grape varietals that do best in a cooler climate; oranges, pears, figs, and berries also thrive here. Pull over at a roadside stand and get some to snack on.
Every village that hugs the shoreline has a traditional fish and chips diner. This is a must-taste. The region along the Holiday Coast, around Port Macquarie and Coffs Harbor, is famous for its banana plantations and Aboriginal pepper.

From Sydney, and out about 100 miles, the Hunter Valley extends. There are more than 40 vineyards that roll over the soft, undulating landscape. (Fences are built around the vineyards to keep kangaroos from eating the grapes!) Sixty-five miles from Sydney, in the Blue Mountains, go to Katoomba during the summer. You'll find a Yulefest, in a Victorian dining room, complete with turkey and all the trimmings.
A short drive south of Sydney, fishing boats ply the waters between Wollongong and Kiama, passing the legendary blowhole. Crayfish and abalone are specialties. The Snowy Mountains, an extraordinary ski destination, has magnificent rivers, teeming with trout. Heading to the Outback, sample authentic "bush tucker" or "outback tucker." Used by the Indigenous Australians, this describes any native meats, vegetables, medicinal herbs, or fruits that will sustain you during your travels.
Queensland, in the northeast, faces the Great Barrier Reef. Large Mud Crabs are tasty! One of the most fertile regions in the state, the Granite Belt produces apples, fruit with pits, and summer crops of capsicums, tomatoes, green vegetables, and berries. The Stanthorpe and Warwick regions also produce a large variety of fruit. For those who love dairy, you'll find brie, camembert, Edam, and a variety of blue cheeses that are quite distinctive in flavor.
Just 74 miles east of Brisbane, make a stop in Toowoomba. Called the Golden West, this is a bread basket of grains, sunflower seeds, and canola. The culinary capital of Queensland is Noosa. The scent of pineapple plantations, macadamia nuts, bananas, avocado trees, beans, sugar cane, and ginger fills the air. Pick up some nuts and fruits before heading back to the seashore for a divine picnic.
Victoria's capital, Canberra, is in the southeast. It sits prettily between Sydney and Melbourne. Specialties here include tender lamb, rainbow trout, and grain-fed beef that is out of this world. Consider having a glass of wine in the vineyards or ordering a pint of hand-crafted beer. The "Food Bowl of Australia' is in the Shepparton District. Feast on the produce, yabbies (freshwater crayfish), cod, cherries, and peaches.
Melbourne is a foodie's dream. Imagine fresh fish cooked in wine and citrus; beef filets stuffed with oysters, rolled in bacon, and topped with a mushroom sauce; or cod fried in beer batter. Ham, mushrooms, onions, and oysters are surprising additions and cooked in unusual (for us) ways.
What about the legendary Aussie barbecue? You'll find them throughout the country. Anything goes on the grill, including shrimp, sausages, porterhouse steaks, and even bread or tomatoes. Wherever there's a beach or park you'll likely find a barbecue grill to use.
Australia's summer occurs during our winter, the harvest season for wineries is in February, and Christmas is on a pleasant, summer day. When you're vacationing in Australia, treat yourself to the local bounty!
If new taste sensations are part of your travel bucket-list, let your Destination Expert know!