Sydney is an extravaganza of color, scents, sights, and experiences. Visiting the famous Opera House, marketplaces, and the Royal Botanic Gardens are a must. The nightlife rocks, and you'll delight in small restaurants tucked down secret lanes. But you will surely be drawn to the city's glorious beaches.
Discover the Beaches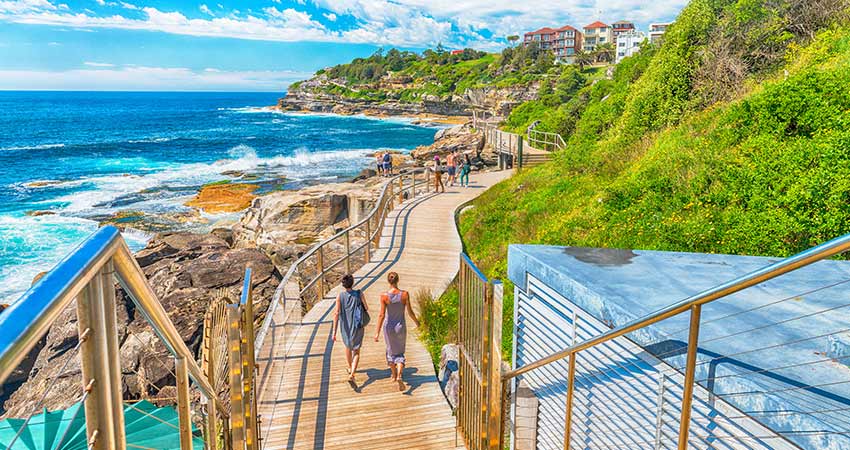 Bondi Beach
After you've taken the Spit Bridge Walk from Sydney Harbour, treat yourself to the Bondi to Coogee Coastal Walk. It's a 3 3⁄4 mile path that winds by Tamarama and Bondi Beach. Bondi is what you picture when you imagine an Australian Beach. Sweeping white sand, rhythmic waves, fun pubs, and plenty of gathering spots.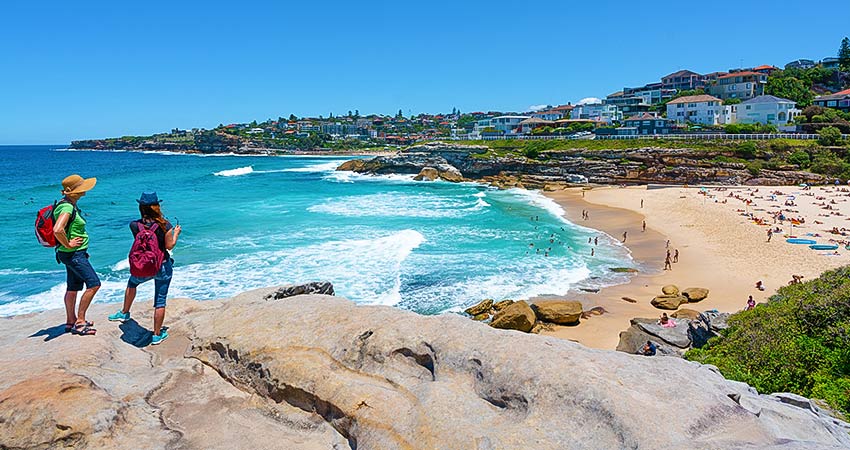 Tamarama Beach
The Coastal Walk's Tamarama Beach is just 2/3 mile south of Bondi. It's as beautiful, but more peaceful and well-situated in a scenic cove. The waves are wild here and ideal for experienced surfers. Bronte Beach and Clovelly are just 5½ miles from Sydney, but they are worlds apart. Bronte has ocean pools, lush parks, picnic tables, and a crystalline aquatic reserve for exquisite diving and snorkeling. The promenade feels as if it landed from Europe in a different century. Lovely!
Bronte Beach
Part of the Bronte-Coogee Aquatic Reserve, Clovelly Bay is also a dream for snorkeling and scuba diving. The Bay is an underwater paradise, filled with extravagant hues and teeming with sea life. Halfway between Clovelly and Coogee, you'll find Gordon's Bay. Known as a secluded oasis, sandstone cliffs rise around the cove, sheltering the calm ocean. Follow the Gordon's Bay Underwater Nature Trail around sandflats, kelp forests, and reefs for sea urchins, starfish, cuttlefish, and blue gropers, plus plaques describing sea life.
In Sydney's East, there are secret spots with gorgeous beaches reached from walking trails. Begin in Nielsen Park on the Hermitage Foreshore, go to Milk Beach. Look at the views… Shark Island and the Sydney Harbour Bridge are profiled against a bottle blue sky.
Shelly Beach. Photo by Hardlinerr on wikimedia.org
Get on a ferry from Sydney's Circular Quay and point yourself to the beach town of Manly. This is one of Australia's best-known beaches—the world's first surfing championship was held here in 1964. (It is the gateway to the Northern Beaches, a haven for surfing aficionados.) Saunter along the Marine Parade, and you'll reach Shelly Beach, a great spot for snorkeling. Besides a gorgeous beach, the town has art and crafts markets on the weekend and great dining options.
Freshwater Beach
Freshwater Beach, tucked between cliffs, is just a short walk from Manly. This beach is the place where surfing caught on in Australia, due to the Hawaiian surfer Duke Kahanamoku. He carved a piece of rugged surfboard from local wood, and in 1915 amazed the locals with a sport they'd never seen. The beach takes its name from a small creek that runs out of the north end. There's a 55-yard lap pool and nice cafes with ocean views.
Balmoral Beach
A family favorite, Balmoral Beach is located on Sydney's North Shore and is blessed with gentle currents and calm waters for swimming. This one-mile stretch of golden-white beach is ideal for sun worshippers. It's also the perfect place to take paddle-boarding lessons or rent a kayak—the ocean here is clear blue. When you get hungry? No problem. There are loads of cafes that serve luscious local specialties.
It sounds unbelievable, but there are more than 100 beaches in Sydney. They range from wild to calm, those that are perfect for swimming and snorkeling, others for world-class surfing. There are restaurants and clubs near some, and picnic tables for barbecuing at others. When you visit Sydney, you are sure to find the beach of your dreams!
When you visit Australia, you'll most likely spend time in Sydney. Let your Destination Expert know that you want plenty of time to enjoy the beaches!