See the places on your Australia bucket-list, but also add a few unusual sites that are often overlooked by travelers. Australia itself is filled with wonder, and that includes the unusual and unique in every town, city, and national park. Following are a few of our favorites:
The Museum of Underwater Art
© moua.com.au
Townsville, Australia, on the coast of northeastern Australia near the Great Barrier Reef, has the only underwater museum in the Southern Hemisphere. Located 40 – 50 feet below the surface of the water, the museum is in four locations, all easy to reach from Townsville.
The sculptures were made to raise awareness of the issues that threaten the health of the Great Barrier Reef. The museum's goal is to get the visitor to think outside the box, to rethink the way we go about ocean conservation, and to create new areas for coral growth.
The Ocean Siren is the only sculpture that's not anchored to the ocean bed. Made of stainless steel, acrylic, and 202 LED lights, it is connected to a temperature gauge on the Great Barrier Reef. When temperatures rise, it changes color and visitors see the normal blue change to a warning orange and red when the water's heat endangers marine ecosystems. A truly unique installation, the Museum of Underwater Art is well worth a visit!
Glowworm Tunnel
Photo: Chad Ajamian on Wikimedia Commons
Head to Helensburgh, just south of Sydney, and you'll find an abandoned railroad tunnel. It is overgrown with plants. Stop. Notice the eerie blue glow that illuminates all. Built in the 1880's, the Metropolitan Tunnel was closed in 1915. The south end of the tunnel was sealed shut. The north end was blocked with debris.
But, while the rest of the world forgot about the railroad passage, a colony of glowworms moved in and called it home sweet home. You are invited to walk through a small waterfall that appears after heavy rains, possibly with a pool float or inflatable canoe. Paddle into the darkest depths and bask under the light of one of the largest colonies of glowworms in Australia.
Wendy's Secret Garden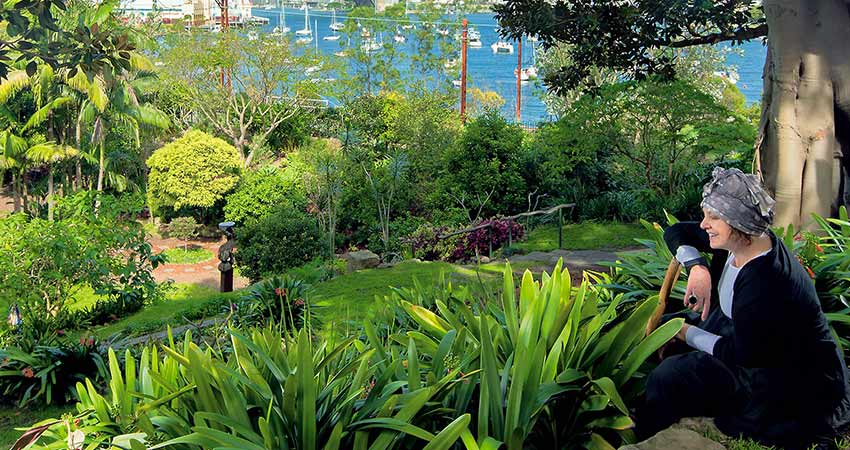 © wendyssecretgarden.org
An abandoned area, this defunct train yard in Sydney is a secret spot filled with winding trails and spellbinding views of the harbor. After the death of Wendy Whiteley's husband, she began clearing land above a rail yard. There she created beauty from grief, a secret garden. After her only daughter died, Wendy kept spinning her loss into beauty.
In 2015 the government provided a 30-year-lease that allows the garden to keep growing, evolving, thriving, and creating peace. This is an exceptional escape from the big city. There are benches scattered throughout the garden, as well as sculptures. The space offers views, privacy, and perfect picnic spots. The entrance is just past Luna Park, under the train tracks.
Ashcombe Maze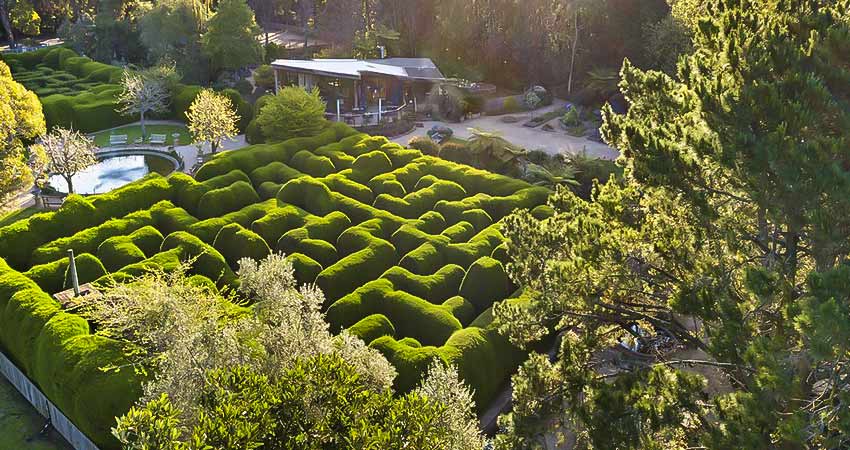 © ashcombemaze.com.au
Go one hour south of Melbourne to Shoreham and you'll discover Australia's largest hedge maze, featuring a Great Gnome Hunt. At nine feet high and six feet wide, the hedges fill 25 acres. There is also a lavender labyrinth, consisting of 3,000 lavender plants. Or, you may prefer the circular rose maze made with 200 varieties of roses and more than 1,200 rose bushes. Heaven!
Join in the Great Gnome Hunt and write down the name of every garden gnome you find! Each is unique. Some peak around corners and others rise above the fray.
Ancient Aboriginal Astronomy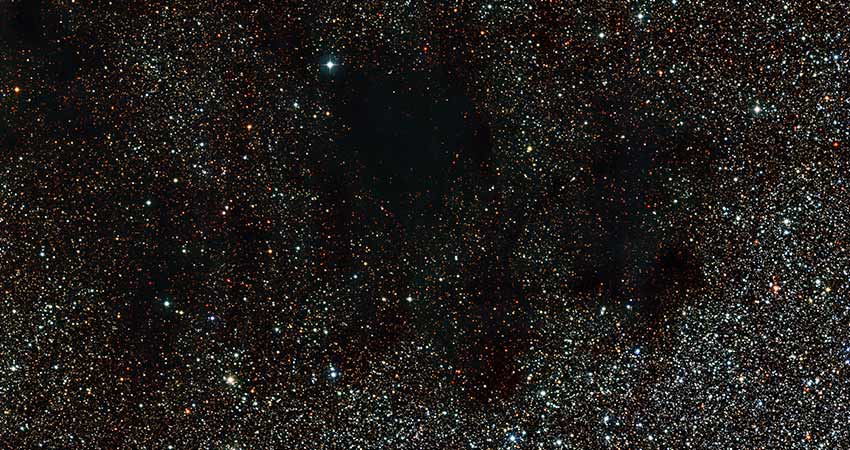 Photo: Part of the Coalsack Dark Nebula. ESO, CC BY 4.0 via Wikipedia Commons
20 miles north of Sydney, you'll find Mount Colah, an ancient area of rock art. We know that Aboriginal culture was, and still is, tied to the earth, symbols, and spirituality. With the rock art in Mount Colah, it also tells us that ancient Aboriginal people used their star knowledge to hunt and gather.
Scientists believe that Aboriginal people were possibly the world's first astronomers. The Coalsack Dark Nebula, inside the Milky Way, is the head of the "Emu in the Sky," according to the Wardman Aboriginal people. The rest of the emu's body is on the left, and is the darkness between stars.
You can also visit Ku-ring-gai Chase National Park, near Sydney. There you'll find a rock carving of the Emu in the Sky, aligned with the nebula, appearing in the sky when real emus lay their eggs.
Wunderkammer
© wunderkammer.com
While in Melbourne, go to the "wonder chamber." This is a curiosity collection that is a museum and a shop. In fact, curiosity collections were a type of museum with specimens from nature, as well as strange objects that are religious, freakish, and mind-boggling.
This particular Wunderkammer specializes in antique botanical prints, fossils, vintage medical instruments, specimens preserved in glass, and insects in hand-blown domes. Ray Meyer, the owner, chooses objects based on their beauty, how rare they are, their history, and their ability to create a state of wonder.
Sound Sculpture: Forgotten Sounds
Photo: Setimmp on Wikimedia Commons
A combination of art and ornithology brings to life the songs and calls of Sydney's lost birds. It is suspended above a pedestrian street, Angel Place, between George and Pitt Streets. Look up. There are dozens and dozens of cages. From each comes the sound of birds that once flourished in Sydney but are now extinct.
The songs and calls change with the time of day, matching the birds' natural rhythms. It is particularly beautiful when the nocturnal birds call at night, and other bird songs greet the dawn.
Gould's Book Arcade
Photo: Toby Hudson on Wikimedia Commons
In the Newtown area of Sydney, just 3 miles from the opera house and bridge, Gould's is Australia's largest used bookstore. Books are stacked in piles from the floor to the ceiling. They cover shelves and racks. They sit on staircases, leading from the first floor to the second. Time Out Sydney wrote, "A hurricane would do a better job of ordering their tens of thousands of books!" No one leaves without finding a treasure.
The website reads, "Our shop is about the size of two tennis courts, and the books are in broad subject areas, so allow a bit of time. Newtown, as well as being renowned for its many bookshops, is also known for its great variety of restaurants, and many customers make a night of it." Books and great food. Could there be a better combination?
Purikura Photoland
© capitolsquare.com.au
Head to the second floor of an old mall in the Haymarket area of Sydney. There you'll find dozens of claw machines, toy machines, unique arcade games, and Japanese photo booths called purikura. Since their invention in the 1990's, purikura have become part of Japan's kawaii culture.
With these photo booths you can enhance, edit, and print your pictures onto stickers, right on the spot. Make an anime of yourself! Each machine has different effects. They are pure fun and inexpensive mementos of your trip to Australia.
St. Kilda Penguin Colony
© JJ Harrison on Wikimedia Commons
Just on the edge of bustling Melbourne, on St. Kilda Pier, there are thousands of lovely penguins. This colony of small birds has lived at the end of the pier since it was built 70 years ago. There is a group of volunteers who protect the penguins and will show you where they are tucked into rocks and crevices.
The penguins are most active after sunset. Take a picnic dinner, prepare to stay a while, and watch them move about! Stay out of their way, don't feed or touch them, and don't use a flash to take pictures. Just enjoy the moment spent up close with these marvelous creatures.
When you travel to Australia surrender to the unique mindset and a different way of looking at the world. Let go, relax, and feel your creativity blossom!
A trip to Australia is cause for celebration. Let your Destination Expert know what interests you have. This is the trip of a lifetime.