Aussies are natural storytellers. In pubs, picnics at the beach, and backyard barbecues, there is plenty of humor to go around, and no worries about trying something new. These characteristics have created some terrific actors.
There is also the presence of the world-renowned National Institute of Dramatic Art, NIDA, in Sydney. Established in 1958, the alumni of this performing arts institution includes luminaries such as Mel Gibson, Cate Blanchett, Tom Burlinson, Judy Davis, Toni Collette, and Sam Worthington, as well as a host of others. These folks have the advantage of a classical dramatic education paired with an easy-going attitude. Here are a few of our favorites:
Christopher Hemsworth
/ Born in Melbourne, August 11, 1983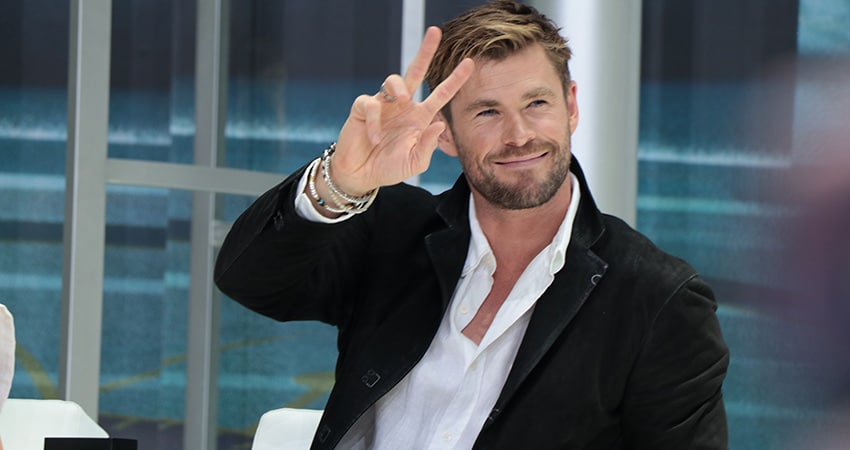 Hemsworth's first prominent role was playing Kim Hyde in the Australian Television series, Home and Away from 2004 – 2007. He moved to Los Angeles and entered the Marvel Cinematic Universe. Hemsworth played Thor, in the movie by the same name. In 2022 Thor: Love and Thunder was released, and he again played the lead character. His salary made him one of the highest paid actors in the world.
Other films of his include Star Trek (2009), Snow White and the Huntsman (2012), Red Dawn (2012), Blackhat (2015) Men in Black: International (2019), the thriller A Perfect Getaway (2009), and Ghostbusters (2016). One of his most critically acclaimed films was Rush (2013) in which he portrayed James Hunt.
Cate Blanchet
/ Born in Melbourne, August 11, 1983
Blanchett is one of the finest performers of her generation. She has worked in blockbusters, stage performances, and indie films. And, she has received two Academy Awards, BAFTAs, three Golden Globe Awards, and was nominated for a Tony and two Emmys. She graduated from the National Institute of Dramatic Arts and launched her acting career on the Australian stage. She came to international attention playing Elizabeth I in 1998, in the film Elizabeth. She received her first Academy nomination for that work.
She is the most Oscar-nominated Australian actor. Her biggest commercial successes include The Lord of the Rings trilogy (2001 – 2003), The Curious Case of Benjamin Button (2008) and Ocean's 8 (2018). Blanchett has performed in over 20 theater productions, and for five years she and her husband were the artistic directors of the Sydney Theatre Company. The Australian government awarded her the Centenary Medal, and she was appointed a Companion of the Order of Australia in 2017. Time magazine named her one of its 100 most influential people in the world in 2007.
Hugh Jackman
/ Born in Sydney, October 12, 1968
Hugh Jackman landed his breakout role as James Howlett/Wolverine in the X-Men film series (2000 – 2017). At that time, the role earned him the Guinness World Record for "longest career as a live-action Marvel character." Multi-talented, he has received two Tony awards, a Grammy Award, an Emmy, and a Golden Globe. He was appointed a Companion of the Order of Australia in the 2019 Queen's Birthday Honours for his service to the performing arts as well as to the international community.
Jackman has headlined in different film genres, ranging from romantic comedy, action, horror, drama, the period romance Australia (2008), the epic musical Les Miserables (2012), thrillers, and the musical The Greatest Showman (2017) among many others. For The Greatest Showman he received a Grammy for Best Soundtrack Album. He also loves the theater, and he won a Tony for his role in The Boy from Oz. And, in 2021, he returned to the theater for a revival of The Music Man. As if that weren't enough, he won an Emmy for hosting the Tony Awards television show.
Nicole Kidman
/ Born in Honolulu, Hawaii, June 20, 1967
Kidman is an American and Australian actress and producer. She has worked in various genres and television productions and is consistently ranked as one of the world's highest paid actresses. She has won an Academy Award, BAFTA, two Emmys, and six Golden Globe Awards. Her career began in Australia with the 1983 films Bush Christmas and BMX Bandits. Her breakthrough role was in the thriller, Dead Calm (1989) and international success came with Days of Thunder, Far and Away, Batman Forever, and Eyes Wide Shut.
Nicole won the Academy Award for Best Actress for her portrayal of Virginia Woolf in the film The Hours (2002.) She also received nominations for four other films, including the musical Moulin Rouge (2001). She has won an Emmy as an executive producer for Big Little Lies. She has served for UNICEF as a Good Will Ambassador since 1994 and for UNIFEM since 2006. In that same year, she was appointed Companion of the Order of Australia.
Heath Ledger
/ Born in Perth, April 4, 1979, died in January, 2008.
After playing roles in Australian television and movies, Ledger moved to the United States in 1998. He worked in twenty films before his untimely death, including 10 Things I Hate About You (1999), the Patriot (2000), Monster's Ball (2001), and Brokeback Mountain (2005). Ledger also produced and directed music videos and had hoped to move into directing films.
In Ang Lee's award-winning film, Brokeback Mountain, Ledger received nominations for the BAFTA Award, Screen Actors Guild Award, Golden Globe, and the Academy Award for Best Actor, making him one of the youngest stars to receive so many nominations in the same category. Ledger died of an accidental overdose of medications. Just a few months before his death, he finished his role playing the Joker in The Dark Knight, winning him universal acclaim. He received numerous awards for that role, including a posthumous Academy Award for Best Supporting Actor. His final dazzling role was in The Imaginarium of Doctor Parnassus, released one year after his death.
Christopher Pang
/ Born in Melbourne, December 29, 1984.
Pang's most famous role is that of Colin Khoo in the popular film Crazy Rich Asians (2018). Pang's parents were martial arts instructors (Pang is distantly related to Bruce Lee) who immigrated to Australia in the 1970's. He was enrolled in the university with a multimedia major. Unsatisfied at school, he took a year off and sold phones. While going about his job, he walked into a casting agency that was looking for someone who could do a voiceover with a Chinese accent. He got the role as Jackie Chan's brother in New Police Story 4, and then he studied acting at TAFTA in Melbourne.
In 2016, he played Flying Blade in the martial arts film titled Crouching Tiger, Hidden Dragon: Sword of Destiny. In 2018, Pang co-starred in the film adaptation of the hugely popular Crazy Rich Asians, directed by Jon M. Chu, playing the character Colin Khoo. Empty by Design was his 2019 debut as a feature film producer.
Hunter Djali Yumunu Page-Lochard
/ Born in Sydney, July 4, 1993
© Cleverman / ABC
Hunter is an Australian stage and screen actor who is of Aboriginal Australian and African-American descent. He is best known for his roles in The Sapphires (2012), Around the Block (2013), and the 2016 TV series, Cleverman. His first film role was in 2010, in the award-winning film Bran Nue Dae. (The Sapphires was an official selection at the Cannes Film Festival.)
He played the lead in Sarah Spillane's feature film, Around the Block with Christina Ricci in 2013—the film was chosen to premier at the Toronto International Film Festival. In 2015, he attended that same film festival for his father's film debut in the movie Spear! Hunter has appeared in numerous guest roles, and his exotic good looks make him a favorite.
Mel Gibson
/ Born in Peerskill, New York on January 3, 1956
Mel Gibson became an international star in action-adventure films in the 1980's. He has since become a successful director and producer. At the age of 12, Mel's family moved to Australia, and at the age of 18 he enrolled in the National Institute of Dramatic Art in Sydney. Only two years after graduating, he starred as a renegade cop in the futuristic film Mad Max and rose to international fame. His Lethal Weapon series began in 1987, while he also won critical acclaim for The Year of Living Dangerously and Hamlet, the first film made by his own production company, ICON.
In 1995, Gibson directed and starred in the film Braveheart, the story of Sir William Wallace. The film won five Academy Awards, including best picture and best actor. After a string of successful films, Gibson's popularity began to wane somewhat, due to offscreen incidents. The Edge of Darkness was his first starring role in eight years. He co-starred with Sean Penn in The Professor and the Madman, a brilliant film about the creation of the Oxford English Dictionary. In 2016, he returned to directing with Hacksaw Ridge, a biopic about a conscientious objector, Desmond Doss, a medic during World War II. The drama was nominated by the Academy for Best Picture, and he received an Oscar nod for Best Director.
Toni Collette
/ Born in Sydney, November 1, 1972
Multi-talented Collette is an actress, producer, singer, and songwriter. She has received a Golden Globe, an Emmy, five AACTA Awards, and has been nominated for an Academy Award, a Tony, and two BAFTAs. Her breakthrough role came in 1994 with the comedy/drama, Muriel's Wedding, for which she received a Golden Globe Award. She also received nominations for the romantic comedy films Little Miss Sunshine in 2006, and About a Boy in 2002. She has a number of other films, and was quite memorable in the 2019 hit, Knives Out.
A popular television actress, she starred in United States of Tara from 2008 – 2011 and earned a well-deserved Primetime Emmy for Outstanding Actress in a Comedy Series. She was nominated for Emmys in two other television roles. Plus, she made her Broadway debut in 2000, with The Wild Party, earning a Tony nomination for Best Actress in a Musical.
Australia is the natural home for people with a dramatic flair, sense of fun, and a bit of the absurd. When you visit Australia, it's easy to see that her people are one of her best natural resources. NIDA's campus is in Kensington, a suburb of Melbourne. There are six performance venues there. Who knows what up-and-coming star you might see on one of its stages? Enjoy!
Ancient sites, cutting-age art, fabulous food and wine, natural wonders, and a rich cultural scene… Australia has it all. Let's design the Australia trip you're dreaming about.