When you visit Bath, Salisbury, and Bristol, you'll experience Southwest England's dreamy villages, ancient sites, cathedrals, and a historic port. The southwest has a long border that includes Wales and almost reaches Scotland. It includes two National Parks and four World Heritage sites. Immersed in legend and traditions, including King Arthur and Glastonbury, Cornwall has its own language and is considered a Celtic Nation.
If you're a foodie, indulge in local Cheddar cheese, originally from the Somerset village of Cheddar, Devon cream teas, Cornish pasties, and fresh cider. The sublime beauty of this area inspired Daphne du Maurier, Agatha Christie, and Thomas Hardy. And when you stroll through the town of Bath, you are in Jane Austen's England.
Bath
Bath is an elegant town with an extraordinary past. 2,000 years ago, the Romans discovered the hot mineral water, and Bath became their favorite spa town. They also built a temple in that valley of the River Avon. Bath has, quite literally, been a place of rejuvenation, relaxation, and well-being for thousands of years.
Exploring Bath is a pure pleasure. There are lovely, locally owned shops and cafes where tea is served. It is a center for global music festivals. Museums and galleries line the streets. Georgian architecture captures buttered-light—it's straight out of an Austen novel or an English movie. After a stroll around Bath, get into Somerset's countryside.
UNESCO named Bath one of the Great Spa Towns of Europe. You can dip into the same healing waters the Romans enjoyed. The Thermae Bath Spa has a rooftop pool with amazing views. The entire space is a heavenly mix of glass, stone, light, and water. There are Roman, Celestial, and Georgian rooms as well as an ice chamber. It is a must!
Salisbury
Salisbury is a cathedral city on the Salisbury Plain, just eight miles from Stonehenge, a UNESCO World Heritage Site. This medieval wonder is on the confluence of the Avon, Nadder, and Bourne rivers. Salisbury Cathedral was originally north of the current city at Old Sarum, an Iron Age hill fort. Moved to its present location in 1227, it is just thirty miles from Bath.
Salisbury is a splendid combination of cutting-edge art and living history. Go to the Salisbury Cathedral, and you have the opportunity to see one of the four original copies of the Magna Carta, dating from 1215 AD. (And the copy here is the best-preserved.) There are museums, historic homes, and heritage houses near the cathedral.
Numerous shops carry local crafts, there is a historic marketplace and several unique tea shops. If you want to explore the countryside, head to Stonehenge or Old Sarum. Travelers too often overlook Sarum, but it is a walk through 5,000 years of history. Salisbury, and the nearby countryside, has it all: National Parks, graceful landforms, Stonehenge, cozy pubs, and a warm welcome.
Bristol
Bristol is a vibrant port city with a long history. Renown for shipbuilding, consider visiting a magnificent passenger steamship or Blackbeard's pirate hideaway cave and his childhood home. The air rings with sea shanties and local stories. For daring and bold souls, the Giant's Cave awaits. Teachers are available to teach you rock climbing on Avon Gorge. Sail to Beese's Tea Garden, ply the waters on a ferry, or go paddle boarding in the harbor. Relax at one of the many floating restaurants and pubs.
Bristol is a good base for day trips to Wales and the whole of southwest England. Iron Age hillforts were built here eons ago, and the Romans built their summer villas in Bristol. Located at the confluence of the River Avon and Frome, it was an idyllic location.
From noir to the unusual, Bristol loves theater, film, and nightlife. The Bristol Old Vic is the oldest continuously-run theater in the UK. Imagine a 3D planetarium, a world-class aquarium, and a fusion of sculpture, circus, and robotics. Buzzing Bristol is innovation and tradition, both.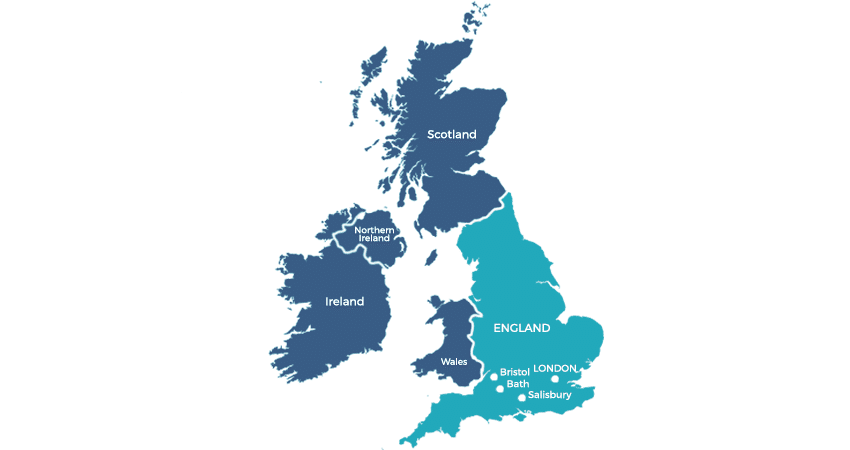 Southwest England has been inhabited for more than 5,000 years. Rivers wind through plains and luscious fields, meeting each other before they run to the sea. Iron Age forts are easy to find and explore. Neolithic monuments dot the plains, and a glorious medieval cathedral looks on. An English port city tells the story of those who came and left. Ancient documents are tucked away in Southwest England. Dining choices are countless.
Ask your Destination Expert about the wonders of Southwest England. It just might be the vacation of a lifetime!