When you visit England, your travel plans may include well-manicured gardens, gardens that feel like living statues, well-tended wilderness, and jungles. The English love their gardens, and when renting or buying a house, a garden is as important to them as an extra bedroom or space inside the home.
An English garden has at least ten varieties of flowers, a garden angel or gnome, a vegetable patch, shed, water feature, greenhouse, a birdbath, and some outdoor furniture. All that on a piece of ground that averages 45 feet long. While traveling through the United Kingdom, take time to visit a nearby notable garden; there is sure to be at least one. Seven of our favorites are listed below:
Hidcote
Near Chipping Campden, Gloucestershire, in the Cotswold Hills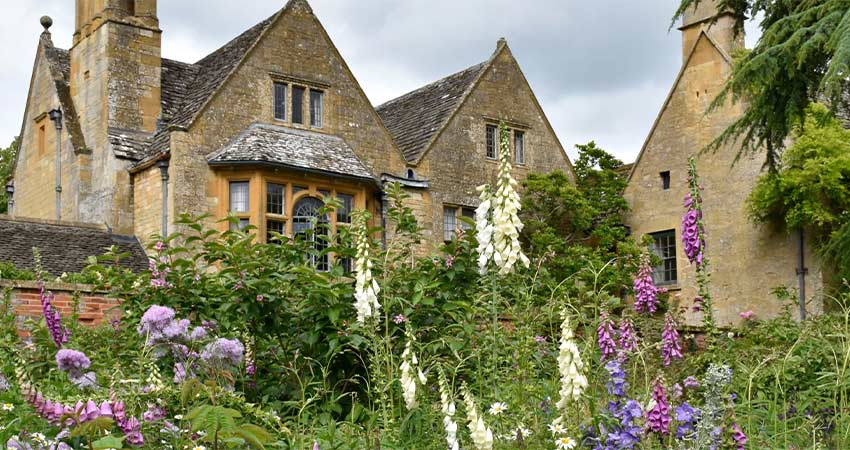 The garden at Hidcote offers much to see throughout the year | © National Trust Images/Sarah Davis
Hidcote is an arts and crafts-inspired garden. These 300 acres were purchased in 1907 by the American horticulturist and plant collector, Major Lawrence Johnston. The outdoor spaces are themed garden rooms, filled with rare and unusual plants that Johnston collected during his world travels. It took over 40 years to create the labyrinthine kitchen gardens, fountains, and seductive ponds.
Tucked into one of the garden spots of the world, the Cotswolds, Johnston's travels to Asia and Africa are revealed with exotic plantings and deep walkways. While there, step into the converted stable. It contains an exhibition space and a lovely second-hand bookshop.
Biddulph Grange Garden
Shropshire and Staffordshire, the West Midlands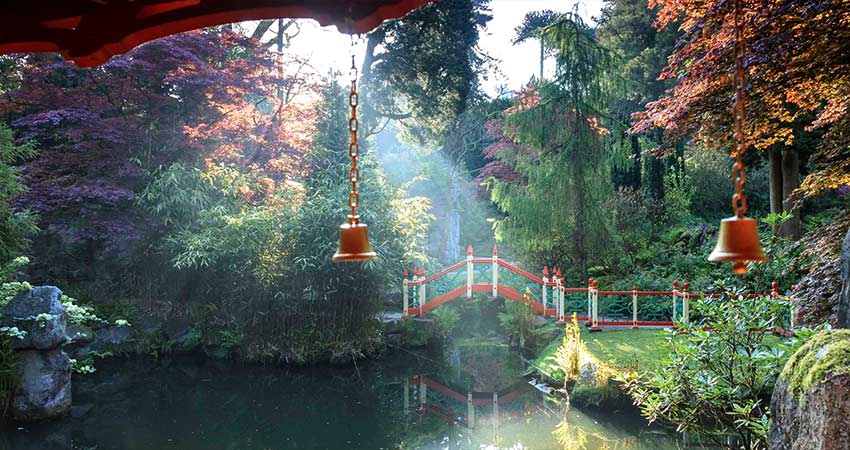 The area known as 'China' in Biddulph Grange Garden, Staffordshire | © National Trust Images/John Miller
The Biddulph Grange Garden is a wild masterpiece. James Bateman spent decades collecting plants from around the world to create his international landscape project in Staffordshire. A Grade I listed historic garden, this Victorian beauty is eclectic and fun. The standard manicured shrubbery exists, but look beyond that and you are welcomed into a wild world.
For example… An Egyptian court is dominated by a sphynx and a mysterious tunnel that leads deeper into the garden. The Chinese garden is a riot of color, gold statues, a watch tower, gilded bells, and a pagoda. The geological gallery has a Victorian display of fossils, laid out in Biblical time. The stumpery is a sunken path that is bordered by upside-down tree roots.
Bowood House
Wiltshire, Southwest England
Bowood is a Grade I listed Georgian country house. Home to the Fitzmaurice family for more than 250 years, the extensive grounds include a garden that was designed by Lancelot "Capability" Brown between 1763 and 1768. Bowood has 100 acres of "pleasure grounds" with a lake, arboretum, a hermit's cave, and a Doric temple. You may also choose to step into the magic of a private walled garden.

Hardwick Hall
Peak District and Derbyshire, Upland England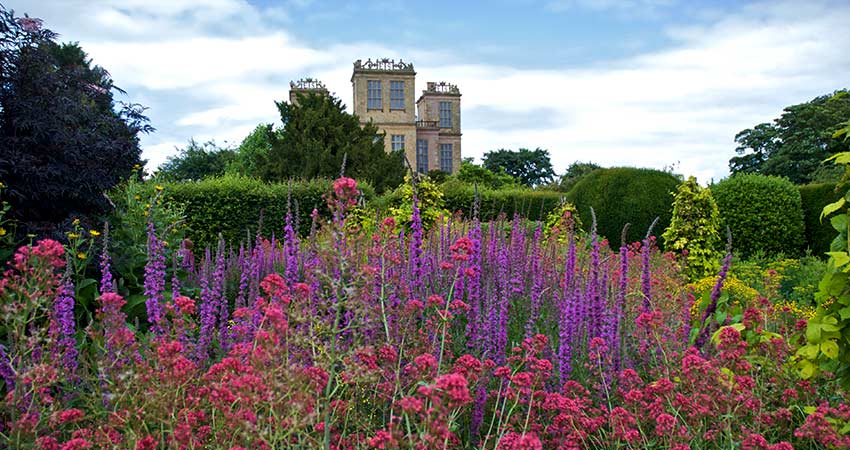 Bess of Hardwick was one of the most powerful women in Elizabethan English society. She had wealth and ambition. Bess used them to create Hardwick Hall and she felt free to explore original ideas and styles. Built in the 16th century on a hilltop location, it was owned by Bess's descendants until the 1950's. It was then transferred to the National Trust. Bess was a proponent of the Renaissance, and the home and gardens were meant to create the feeling of Florence in England.
Each courtyard has unusual features such as fruit orchards, ornamental orchards, formal hedges, and odd statues. During the spring and summer months, the fruit tree branches are alive with bees and blossoms of pink and white. The ornamental garden is best in the autumn. There is a team of full-time gardeners. If you have a question, ask! They're happy to talk with you.
Levens Hall
Lake District National Park, Cumbria, Northwest England
Rbagotlevens via Wikimedia Commons
Levens Hall, originally an imposing Tower built in 1250, is now a beautiful family home. You are invited to this privately-owned property and gardens. Be amazed by the world's oldest topiary gardens on this 9,500 acre agricultural estate. They were designed by Guillaume Beaumont, King James II's gardener. What you'll see is very close to the original design. There are sculpted box hedges and yew trees, wildflower meadows, orchards, and more than 30,000 decorative plants.
The Royal Garden at Highgrove
Tetbury, Gloucestershire, Southwestern England
© highgrovegardens.com
If you've watched the television series, The Crown, you've seen HRH Charles III lovingly designing and tending the gardens at Highgrove. The Duchy of Cornwall acquired Highgrove in 1980. It is the private residence of King Charles III and the Queen Consort. Charles has worked hard to transform the gardens into a series of interconnected areas, each with their own personality. There is also a wildflower meadow with 30 varieties of native plants.
Charles is passionate about creativity and organic gardening. Both are in evidence at Highgrove. While visiting, you can take a tour of the grounds to learn the history of Highgrove. Stop into the Ante Room Shop for a selection of tasty treats, local products, artwork by Charles, and enjoy a delicious cream tea.
Lost Gardens of Heligan
Pentewan, St. Austell, Cornwall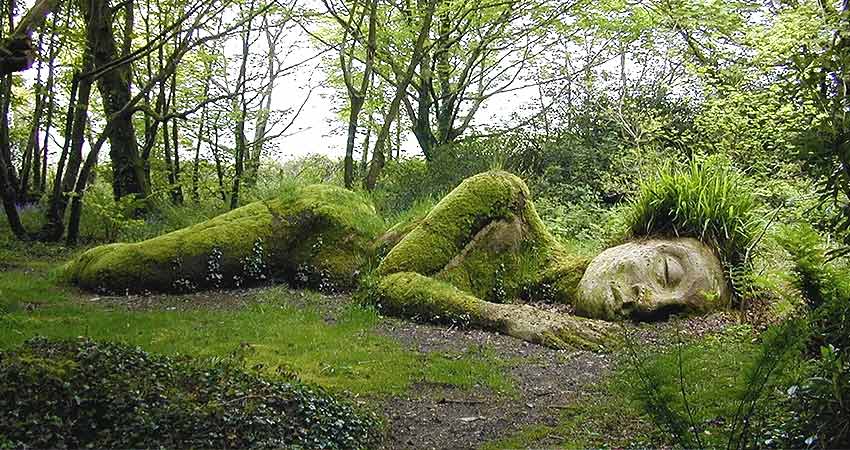 © heligan.com
Beginning in the late 16th century, the grounds of Heligan belonged to the wealthy Tremayne Family. For centuries, gardeners worked the plantings and they flourished. During World War I, the gardeners went to war, the land was abandoned, and it went wild. In the 1990's, the gardens were discovered, and recovery began. It is extravagant, romantic, and mysterious.
Adventure through tropical gardens and a raised boardwalk that lines four ponds, bamboo forests, and a jungle. Pass giant rhubarb, banana plantations, and avenues of palms. Set in a valley with steep sides, the jungle has a microclimate that is ideal for the exotic plants that Victorian plant hunters brought home with them.
Traveling through England, you'll see historic castles, estates, city homes, and farmhouses. Most are bordered by a rainbow of flowers, topiary sculptures, and fragrant herb gardens. Be inspired, and imagine what you can do with your own garden!
Gardens are central to England's heart and soul. Ask your Destination Expert to weave a garden into your itinerary.