Everyone knows Christmas is the most wonderful time of year, but there is something truly magical about Christmas in England. After all, many North American Yuletide traditions can be traced back to Britain, including putting up a tree, giving gifts and gathering the family together for a big holiday feast. So travelers searching for an authentic Christmas experience can do no better than to take an England vacation in December. Here are five cities that offer up the best Christmas traditions in England.
London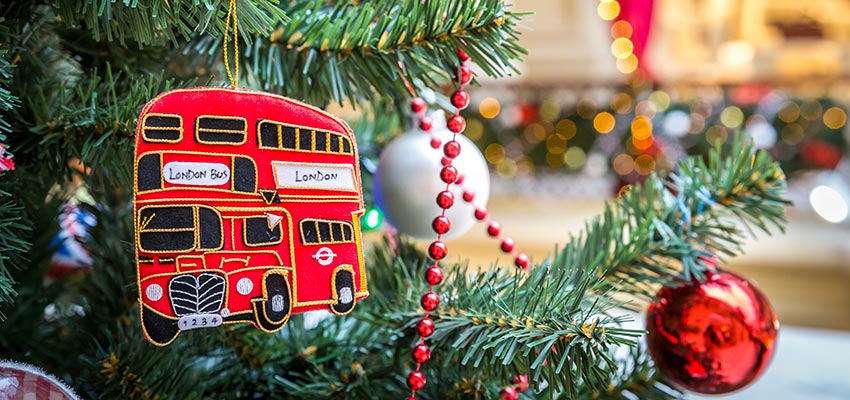 Christmas in Britain's capital is all one could hope for. Oxford, Carnaby and Bond Streets are strung top to bottom with festive lights, and Covent Garden's cobble-stoned shopping square is bursting with holiday cheer. Meanwhile, Hyde Park puts on its annual Winter Wonderland with lights, rides and an outdoor skating rink. However, travelers hoping for a traditional Christmas in England will love strolling along the Southbank Centre's Wintertime Market, where they can enjoy mulled wine, baked goods, German sausages and a diverse selection of gifts and wares.
Meanwhile, those wanting to experience a true Victorian Christmas can head to Kensington Palace, which features a glorious 25-foot-tall Christmas tree, choirs singing traditional holiday carols and a workshop to make a Christmas ornament. When it's time to enjoy an authentic English Christmas dinner, check out one of London's many traditional pubs. The Ship under Wandsworth Bridge, The Red Lion on Castelnau Road and The Grazing Goat on New Quebec Street all serve delectable Christmas menus.
Bath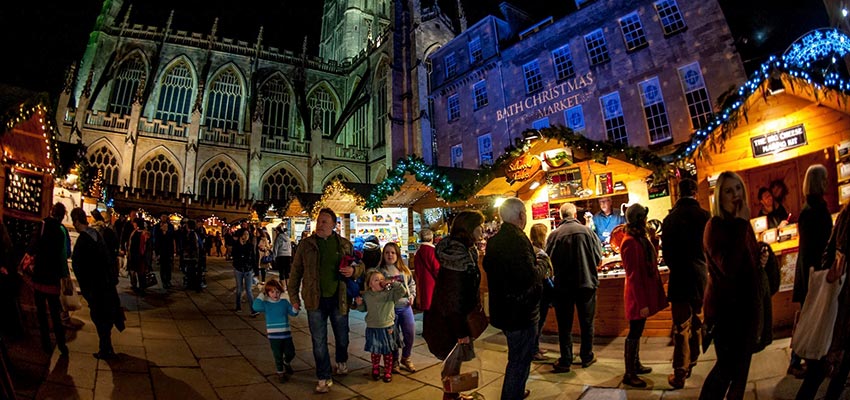 The Georgian-styled Bath Christmas Market is world-renowned, with more than 200 chalets selling locally made Christmas foods and gifts. It also features holiday-themed family events, an impressive collection of restaurants and traditional pubs and the Thermae Bath Spa, the U.K.'s only natural thermal spa. Bath on Ice at Royal Victoria Park offers up ice skating and tasty holiday treats, and the Jane Austen Centre serves up daily traditional English tea in the museum's Regency Tea Rooms. Be sure to catch a holiday play or concert at the Theatre Royal, which Austen mentioned in two of her novels. For sustenance, Victoria Pub and Kitchen on Upper Bristol Road, The Beaufort on Beaufort West and The Garricks Head Pub and Dining Room on St. John's Place are all known to serve amazing holiday meals.
York
York is beautiful all year round, but it's especially appealing at Christmas. Surrounded by the gorgeous, snow-capped Yorkshire Dales and exuding quaint, medieval charm, the ancient city is one of the best places to spend Christmas in England. The massive Christmas tree in St. Helen's Square immediately puts visitors in a festive mood, and the twinkling market chalets at St. Nicholas Fair provide all the treats and gifts anyone could desire. History lovers will want to check at Jorvik Viking Centre to experience what city life was like for the Vikings. End the day at The Hole in the Wall pub on High Petergate to experience one of the great holiday English traditions: Yorkshire Pudding.
Lincoln
Lincoln is a gorgeous hilltop city that boasts the jaw-droppingly beautiful Lincoln Cathedral, which is the second highest central tower in the United Kingdom. The famous Lincoln Christmas Market was Britain's first German-style market, and it now features over 250 vendor stalls in its medieval central square. For a truly unique experience, head to the Norman-era Lincoln Castle to view one of the remaining four copies of the Magna Carta. Cap off the day with a drink at 15th-century Lion and Snake pub on Bailgate or a meal at the rustic Old Bakery near Cathedral Quarter.
Winchester
Sitting on the edge of South Downs National Park, Winchester is known as a "perfect English city." A former capital of ancient England, it now considers itself to be England's Christmas capital. Picturesque Winchester Cathedral offers everything a visitor needs to experience an authentic English Christmas, from a real ice rink to a never-ending cascade of Christmas concerts and programs. The Christmas Market is considered to be one of the best in Europe, with over 100 independent traders offering artisan foods and hand-made British crafts. Food lovers will enjoy the delicious offerings of the Winchester Farmer's Market, which was highlighted on celebrity chef Rick Stein's TV show. Meanwhile, families will enjoy the Marwell Zoo, which features a new Christmas theme each year. On Christmas Day, stroll into Wykeam Arms on Kingsgate Street for a multi-course holiday meal and plenty of Yuletide cheer. For a high-end seafood experience, check out the Rick Stein Restaurant on High Street. View England vacations here.