Travel to Cornwall, Devon, Dorset, and Somerset—you'll find these areas of Southwest England are ideal for discovering the beautiful ritual of Cream Tea. This is not the Afternoon Tea in a fine hotel or that you see offered in films with upper-class characters. There are no crumpets, nor are there cucumber, egg, or watercress sandwiches. There is no Battenberg or Victoria sponge cake that's prettily sliced on a tiered plate. What is it? Luscious strawberry jam, clotted cream, and a warm scone. Heaven…
Should you use loose leaf tea or tea bags? Is it all right to leave the table once tea is served? Should the tea or the milk be poured first? These grave issues are a matter of consideration. With cream tea, quite a simple treat, residents arm wrestle over which is spread on the scone first, the jam or the cream. The entire dispute is a regional minefield.
The history of cream tea, too, is up for grabs. Some believe the first cream tea was served in the 11th century at Devon's Tavistock Abbey. Others think it was first served in Cornwall. Regardless, it is enjoyed in both neighboring counties. Even more important than where and when it originated is this burning question: Do you spread jam on your scone first, or should you spread the cream first?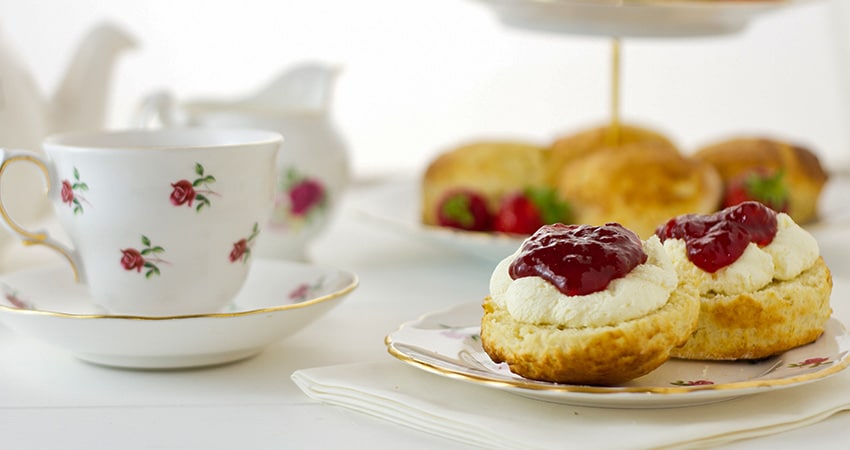 The Devonshire method, called Devon cream tea, is to spread the clotted cream on the scone first and then top it with jam. Devotees of Cornish cream tea spread the jam first and top it with clotted cream. In a pinch, whipped cream can be used instead of clotted cream. But don't do it. Butter is generally a no-no, too. Although created in Southwest England, you can enjoy cream tea throughout the Commonwealth. (In Australia, you'll have Devonshire cream tea.)
There are some variations on cream tea. A "Devon Split" is lighter than a scone. In Cornwall, you might find a "Cornish Split." In place of a scone, a slightly sweet, white roll is used. You'll rarely see this in a Cornwall restaurant, but it is enjoyed by the locals in their own homes. "Thunder and Lightning" is a Cornish split that's topped with clotted cream and honey, while "savoury cream tea" uses cheese scones, cream cheese instead of clotted cream, and topped with chutney instead of strawberry jam.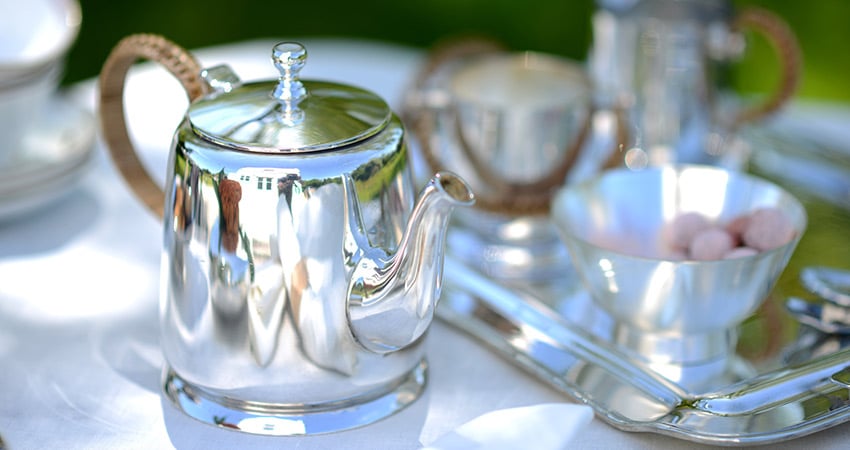 Finally, of course, there is the tea and the tea pot. This is an area of agreement for residents of Cornwall and of Devon. Tea bags are an American invention—always go with loose tea. And if you have a silver tea pot, use it instead of a ceramic one. Silver keeps the water hot, ceramic chips, and silver spouts are designed in such a way that, when pouring, never a drop of tea will spill and stain your nice tablecloth.
When you visit England, give in to the ritual of tea several times. Make reservations at a grand hotel in London for high tea. Dip into a local tea shop in Southwest England and decide whether you prefer Devon tea or Cornish tea. Dive into a neighborhood café in York and enjoy their particular treats.
Fuel your sense of fun, taste, and tradition. Ask your Destination Expert about a Cream Tea or High Tea experience when you visit England!