England is small, but it is mighty. Fabled woodlands, white cliffs, and 2,795 miles of coastline are yours to explore. 5,000 years of history sits comfortably beside cutting-edge theater, art, and cuisine. Mysterious standing stones and ancient castles pop up in lonely fields, while London, Bath, and Stratford-upon-Avon buzz with excitement. England's people are welcoming—slip into a pub, strike up a conversation, and ask questions!
Money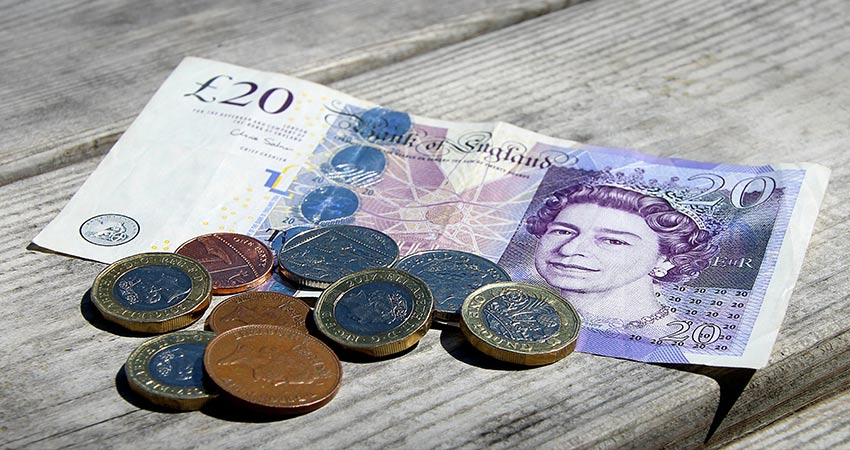 England uses the Pound Sterling, £. Paper money comes in 5, 10, 20, and 50 denominations, although some shops do not take the £50. Several weeks before you leave, it's handy to stop into your bank and order some Pounds to have on hand when you touch down. If you don't have time, there are plenty of places in the airport to change your US Dollars to Pounds—the charge is simply a bit higher than what your bank will charge you.
ATM's
In cities and larger towns, there are ATMs (usually called 'cash machines' in England) where you can get Pounds on many street corners. ATMs are also inside banks, grocery stores, hotels, and gas stations. In small towns, they are often in post offices, too. Before you leave home, give your credit card or debit companies a call and let them know you'll be traveling in England. And remember your PIN numbers—a must.
Credit Cards
MasterCard and Visa credit cards are accepted just about everywhere. American Express cards, prepaid cards, and traveler's checks are less common.
VAT Tax Refund
England charges a Value Added Tax (VAT) on all goods and services. Currently, it is 20%. The VAT tax is included in the price tag of an item that you purchase. Most stores display a "tax-free shopping" sign in their window. You can only reclaim this 20% VAT if you have the item shipped directly to your home.
Electricity
The England power sockets are type G, fitting three-pronged, rectangular pins. Their voltage is 230, twice that of the US. Simply purchase an adapter for your plug before leaving. They are inexpensive, small, and easy to purchase online or in many stores. If you forget, you can purchase one in England, but it's much easier to get it in advance!
Chauffeured Driving
Many people like to have a chauffeured driver for their trip. It is reasonably priced, great for several people traveling together, there's room for your luggage, and you get to relax and simply enjoy your vacation. And a local driver can share off-the-beaten-path possibilities with you. Ask your Authentic Destination Expert about this option.
Driving England Yourself
All drivers must carry their car rental insurance documents and driver's license. Road signs are in English, and distances are shown in miles/per/hour. Drive on the left! When you approach a roundabout, yield to traffic coming from the right. (As in the States, pull over for emergency vehicles.) Drivers must pass on the outside, or right-hand, lane. (TIP: Don't plan to drive in Central London. This is an ancient city, the streets can be confusing for a tourist, and parking is both difficult and expensive. Plus, public transportation is easy!)
Seatbelts must be worn at all times. Children 12 and under must have the proper restraint for their age and size.
Do not use your cell phone while driving unless you have a hands-free device. Random breath-testing is common—the legal limit of alcohol is .08%, and the fines are stiff.
When parking, note any yellow lines. A single yellow line on the side means there are restrictions—these will be posted. A double yellow line indicates that no parking is allowed at any time.
Driving Distances
The speed limits in England are posted in mph—miles/per/hour. Below are listed examples of common driving distances. We suggest that you keep your driving to under 125 miles/day. You're on vacation! Relax.
Our tours are set so that you pick up your rental car when you leave London.
London to Bath: 122 miles, 2 hours 45 minutes
Bath to Salisbury: 41 miles, 1 hour
Bath to Bristol: 15 miles, 35 minutes
Stonehenge to London: 94 miles, 1 hours 45 minutes
London to Stratford-upon-Avon: 102 miles, 1 hour 55 minutes
London to York: 217 miles, 4 hours
London to Edinburgh: 405 miles, 7 hours
Liverpool to London: 211 miles, 4 hours
London to Cardiff 155 miles, 3 hours 10 minutes
GPS
We strongly suggest use of a GPS. Tell your Authentic Travel Expert you want one when setting up your car rental. If you forget to do that, ask for one at the rental agency desk at the airport. But, best to plan in advance.
Speed Limits
Motorways (freeways): 70 mph
Single Highways: 60 mph
Urban Areas:  30 mph
Road Signs
All road signs are in English and are quite clear.
Marketplaces
London is one of the great marketplace cities in the world. We suggest Burrough Market, foodie heaven in the city; Camden Market for crafts, jewelry, and ethnic fabrics; and Portobello Road, considered the best marketplace for collectibles and antiques. Outside London, check Oxford Covered Market, built in 1774, a traditional marketplace; Bristol's St. Nicholas Marketplace, an indoor glass arcade that's the largest outside London; and Norwich, a 1,000-year-old marketplace that sells everything under the sun!
Roll out the Fun!
For the young, young at heart, and the adventurers, England has it all going on! Zip Now, in the heart of London, has the fastest and highest zip wire in the entire world. BeWILDerwood, in Norfolk, is great for smaller kids with stories, easy zips, and magical creatures. At Adrenalin Quarry, in mystical Cornwall, you'll zip over a 150 ft. flooded quarry at speeds of up to 40 mph. Exhilarating and beautiful! Head to Helvellyn, in the Lake District, for gorgeous mountain hikes. Experience the weird rock formations in Harrowgate, or head to the Staffordshire woodlands for the Trentham Monkey Forest, a sublime favorite.
Tipping
Gone are the days when no service workers in England expected, or wanted, a tip. And it is only common courtesy to tip someone who gave you excellent service and friendly conversation. Here is a general guide, but as in the States, go up or down, depending on the service you received.
Waiters:  10%, 15% in upscale restaurants

Hotel Porter: 1 Pound/bag

Housekeeping: 1 Pound/day

Concierge: 2 – 3 Pounds

Taxi Driver:  10%. Round up to the nearest Pound
Holidays & Public Closures
On public holidays, some small museums and places of interest close, but this is when the big attractions draw their largest crowds. Some museums and other attractions are closed Mondays. If a holiday such as Christmas falls on a Sunday, the following Monday is a holiday.
Hours For Shops & Banks
Most stores hours are from 9 am – 6 pm, Monday – Saturday. Some stores have reduced hours on Sunday, open from 12 pm – 6 pm. In London and other cities convenience stores are open 24/7.
Banks are open Monday – Friday, 9:30 am – 4 or 5 pm. Some banks are open from 9:30 am – 1 pm Saturday. In small towns, banks often close for lunch from 12:30 pm – 1:30 pm.
Post Office hours are from 9 am – 5:00 pm, M – F and 9 am – 12:30 pm Saturday.
Smoking, Drugs, & Alcohol
Smoking is banned in pubs, restaurants, shopping malls, and all public, indoor places. You may smoke outdoors or in a few private hotel rooms, where permitted. The possession of illegal drugs is prohibited and could result in a prison sentence. The legal limit for Blood Alcohol Content is .08% and is strictly enforced.
Time Zone
Britain is on GMT/UTC. In the summer, the clocks jump ahead one hour, and they fall back at the end of October. A 24-hour clock is used for transportation timetables.
Visiting Churches & Cathedrals
When you visit a church or cathedral, remember you are on sacred ground and show respect. Unless allowed, don't wander around taking photos, and do dress modestly.
What to Pack
Pack to wear clothes in layers. You can walk down a street in London in the morning with a light sweater, head to Stonehenge and feel a cold wind across the plain. Of course, be prepared for rain. (This is the perfect time to dip inside a pub.) Bring warm socks and good walking shoes, remembering that due to the damp air, many things rinsed in a sink will not be dry by morning. Bring a lightweight poncho. In castles, the dress is casual-chic. In the countryside, smart clothing can take you throughout the day.
Pack your electrical adapter, a copy of your passport and credit or debit cards. (Best to only bring two or three of these.) Make copies of your health insurance. Keep your meds, important copies of docs, and some cash in one small, convenient bag.
Cell Phones & Wi-Fi
Free hotspots are available in main towns and cities. Your lodgings have Wi-Fi, although, as with anywhere, small towns have spotty coverage. Before leaving, contact your cell phone carrier. Most will charge you a relatively small fee, usually $10/day, for making calls back to the US and within Ireland on your cell phone. This is very handy!
Emergency Phone Numbers
Dial 112 or 999.
Health
Drugs and medicines are sold at pharmacies, generally known as "Chemists." You will spot them on the street by their green cross on a white background. You can get most supplies for minor medical ailments at even the smallest chemist shop. In a large city, there is always at least one 24-hour chemist available. If you need medical attention, ask the hotel owner or concierge to get in touch with a General Practitioner for you.
Quality healthcare is available at National Health Service (NHS) hospitals throughout the country as well as at private practitioners.
ID
You will need your US driver's license at the car rental desk in the airport.
Hair Dryers
Hairdryers are generally supplied in our accommodations.
Wash Cloths
Wash cloths are an American invention, and you will rarely see them in England. If this is something you absolutely must have, pack your own.