Ireland is in love with marriage, weddings, and relationships. It is the perfect destination for marriage ceremonies, vow renewals, and luring your guests. (Your friends and family can create travel plans for Ireland and Scotland, a dream trip for themselves, after the festivities!)
Close your eyes… Now, imagine getting married in a castle. Perhaps your relationship feels more like the Wild Atlantic Way, and you'd prefer a ceremony with dramatic views. Do soft rolling hills and a Landmark Manor Hotel feel more like your union? Whatever you imagine, it can happen in Ireland. While there, consider adding some traditional Irish rituals.
Honeymoons
In ancient Ireland, newlyweds were toasted with a mead made of honey, spices, grains, and fruits—with an alcohol content of up to 18%. The couple was given enough divine wine to drink for one complete phase of the moon. This is where we get the word "honeymoon." The brew was to ward off any evil spirits that might choose to tease the new pair, and it was thought to invite fertility and good luck.
Braids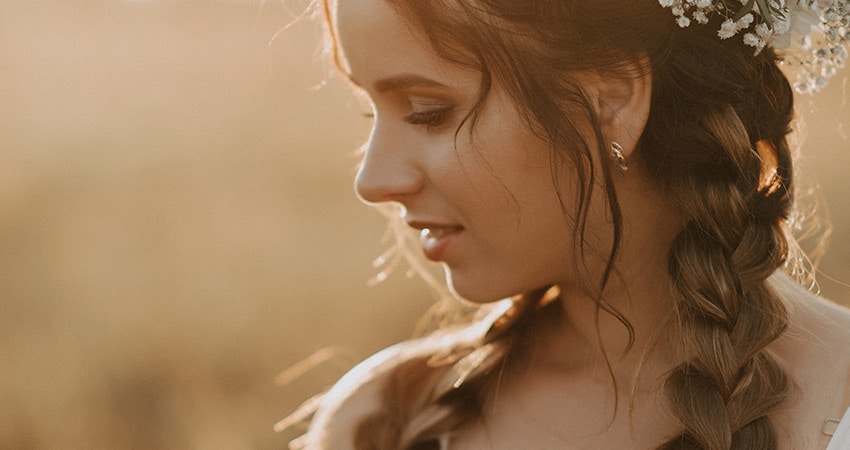 Consider wearing a braid in your hair. It could be a narrow braid that forms a crown with ribbons, or it could be a thick French braid. Let your imagination run wild, and braid some fabric, too. For Celts, the braid represents feminine power and good fortune.
The Claddagh Ring
Look at a Claddagh ring and you immediately think of romantic Ireland. The ring is designed to incorporate three important parts of a good marriage—friendship, in the form of hands; loyalty, as symbolized by the crown; and love, with the heart being in the center of the ring.
When a woman is single, this ring is worn on the right hand with the point of the heart toward the tips of her fingers. When she is engaged, the ring moves to the left hand, in the same position. After marriage, the ring is flipped and the heart points to the hand. This lovely design can create a theme for the ceremony and the reception.
Quote Irish Poetry or Literature
Ireland has a rich tradition of literature and poetry. Consider using a line or two from a local poet or writer in your ceremony or vows. Peruse the works of James Joyce, Seamus Heaney, or Oscar Wilde. William Butler Yeats, the most famous of Irish poets, spent his life longing for a lost love, so his verse might not set the proper tone for a happy wedding!
Handfasting
Ask almost any local, and they'll tell you that handfasting was invented by the Irish. In fact, this tradition is thousands of years old and is seen in diverse cultures around the world. A slim piece of richly decorated fabric is loosely placed around the lovers' hands, as the words of blessing are given, and vows are spoken. The Irish did, however, invent the term we use for marriage from this ritual, known as "tying the knot."
Blue is for Brides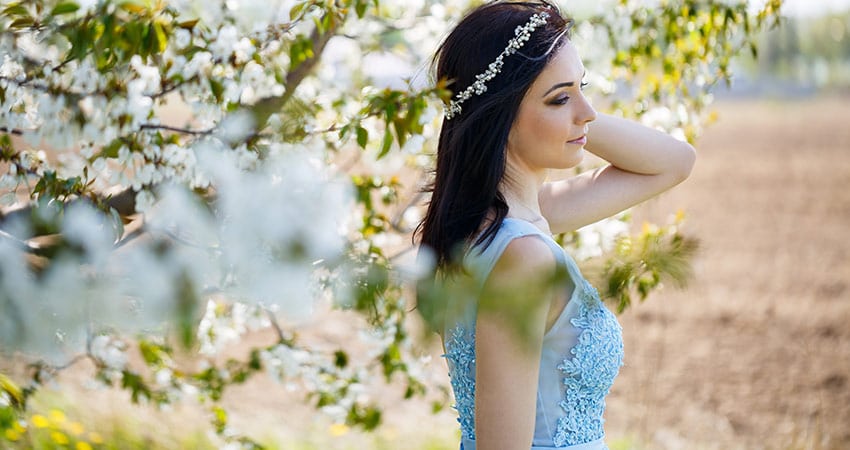 In China, the bride wears red, symbolizing good luck. In the Afghan culture, the bride is dressed in emerald green. From the 6th century onward, Saxon tradition held that a girl wore white to a wedding if she was from a poor family and brought nothing to her marriage. During England's Victorian era, a girl in her 20's wore a cream or brown dress. Older women wore black. In Ireland, blue symbolizes the purity of the sky, and the bride's dress has a lovely shade of that color we all love so well.
Music, of Course!
Uilleann pipes, which are Ireland's bagpipes, have a sweeter sound than Scottish pipes. They can be played indoors because of that softer tone. They also make a grand music for the processional. A Gaelic harpist fills the background with dreamy notes. For the reception, nothing creates a celebratory feeling like a rousing Irish band!
Wildflowers
It's traditional for brides to hold a batch of wildflowers or to place them in their headpiece. Some brides even weave them into their veil. Lavender is a particularly sweet addition. These wildflowers represent devotion, soft strength, love, loyalty, and a bit of luck.
Kilts
Gentlemen, show off those legs. It was traditional for grooms to wear an Irish kilt, as well as the men who were his attendants. Go for it!
Grushie
In the United States, brides toss their bouquets with a flourish. In Ireland, the groom tosses coins to the wedding guests. It's for shared fortune and happiness.
Irish Wedding Toasts
A wedding toast is a beautiful, shared blessing given to the wedding couple with sincere words and plenty of good cheer. All guests, of course, wish the bride and groom love, thankfulness, a loving future, and lots of laughs. Consider using an Irish blessing, straight from the heart, in your own ceremony. Or toast each other in the same spirit of sheer joy.
There are hundreds to choose from, but here's a few of our favorites:
"May love and laughter light your days and warm your heart and home.
May good and faithful friends be yours, wherever you may roam.
May peace and plenty bless your world with joy that long endures.
May all life's passing seasons bring the best to you and yours!"
"May you live as long as your want, and never want as long as you live!
"May you have love that never ends,
Lots of money, and lots of friends.
Health be yours, whatever you do,
And may God send many blessings to you!"
In all the western world, Ireland has the longest history of being discussed by lawyers (in 700 AD) and written about in romantic forms and songs by those who were to be married. What better place to get married, renew your vows, invite guests, or take an extended honeymoon than the country that is in love with love? Ireland is the ideal, joyous wedding destination.