The Scots call them Highland Coos or Hairy Coos; these large cows have been grazing in Scotland's Highlands and Islands since the 6th century. They have furry coats, weigh 1,100 pounds, and their horns are quite impressive. Most of them have long red fur, and they are a wonder to see in real life. This oldest registered cattle breed in the world came from Scotland, but they're now in Australia, Canada, the USA, and Europe, too.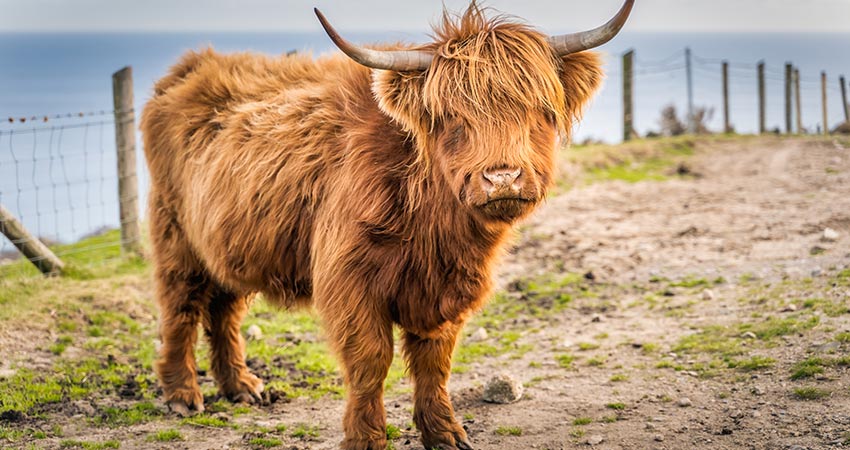 We love the shaggy coos. The Scots believe they are an almost mystical manifestation of their own cultural and personal characteristics. They are hardy, tough when they need to be, often ginger-colored, friendly if you don't annoy them, tolerant of cold weather, and a beautiful, appreciative part of the natural world.
Originally, Highland cattle were mostly black. The Victorians loved the look of the ginger cows. After breeding for it, that red is now the standard Highland color we see today. But, when you come across a fold, you'll see white, black, yellow, and brindle coos mixed in with the shaggy ginger animals. (The collective name for them is not herd. They are called a fold after the open, stone shelters they winter in. They do not like to be inside a barn!)
In the Scots dialect, a Highland cow is called a "Hielan coo." They were very important to Scotland's economy in the 18th century. At the markets in Crieff and Falkirk (we see those markets portrayed in the movie Rob Roy) many cattle were bought by English drovers. They were moved to Northern England to be fattened up. By 1723, over 30,000 Scottish cattle were sold to England.
At one time, they were near extinction. In 2002, the number of breeding cows in the UK was about 2,500. By 2012 the number had risen to 6,000. Queen Elizabeth II loved Highland cattle. In 1954 she ordered some to be kept at Balmoral Castle. They are there still, and the region is ideal for them.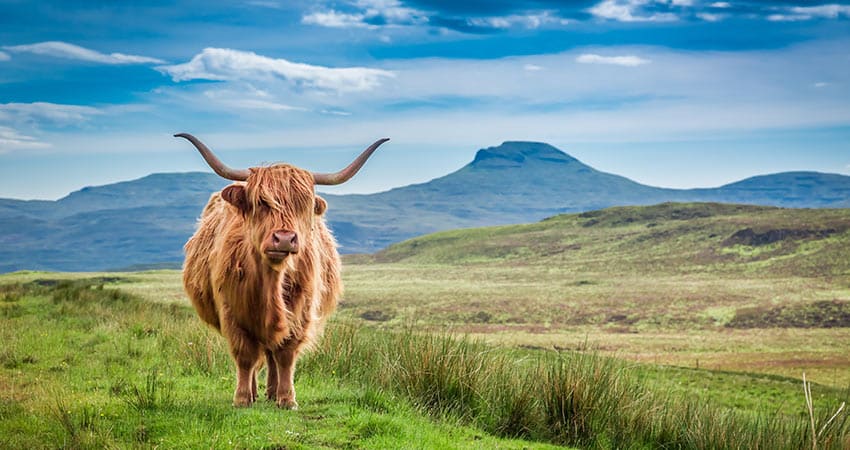 We do love their coats! Their hair is exceptionally long, sometimes up to 13 inches, and it is wavy. That distinctive shaggy fur insulates them from extreme cold and wet Scottish winters. The top layer of their coat is oily, and water doesn't penetrate to their skin. Underneath the shaggy layer, there is soft fur to help them stay warm. Both males and females have horns. A male's horn points straight out for fighting off rivals. A female's horns tend to point up. All use their horns to scratch winter ground for roots.
They don't produce much milk but it is very rich in butter fat, about 3 to 4 times more than a cow's milk. When in Scotland, try Caboc. It's a double cream cheese made from coo milk, and it's one of Scotland's oldest cheeses.
Highland cows are gentle and they are friendly. Still, they're very large animals, and they're not pets! It's best to enjoy them from a distance. And, as with any animal, you don't want to get between a mother with calves. They are super-protective of their young. And those young will live longer than most breeds of cattle, sometimes up to 20 years.
The wild islands off the north and western coast of Scotland are raw, lost-in-time, and great places for coo spotting. On Orkney, head to Hushinish Beach. In the southern Isle of Skye, you'll find them on unfenced roads around Elgol. They also wander across fields and untamed beaches on the hidden island gem of Barra. On the Isle of Mull, too, they roam freely. At Iona Abbey, on the Isle of Iona, Highland coos have the run of the land.
These beautiful Highland coos are popular because of their shaggy fur and expressive faces. Their long hair and gorgeous eyelashes protect them from rain, sleet, snow, and insects. They are as much a part of Scotland's identity as whisky, kilts, and wild lands.
Coming upon a Highland Coo is an unforgettable, almost magical, experience. Ask your Destination Expert about putting a trip to the Highlands in your Scotland vacation!