One of the experiences in Scotland visitors love is spotting the lovable, shaggy Highland Cows. The Scots call them Highland Coos… whatever name you choose, they are photogenic, cute, and pure Scotland. These hardy cattle can be found throughout Scotland, but here we offer a guide to the places you're most likely to experience the joy of seeing a fold (herd) of them in villages, mountains, castles, and beaches.
The North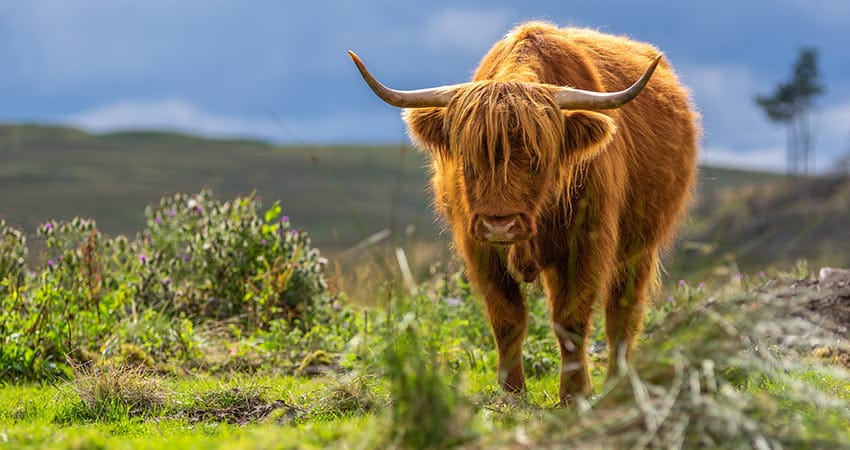 Coos have been in the Highlands since the 6th century, and that's still a great place to find them. The scenery is epic, and coos are part of the Highland experience. On the North Coast 500 route, they're standing in fields, simply looking adorable. There are Highland farms between Thurso and Durness that offer buggy rides around their properties. Head to Clachtoll Beach, and you'll see coos lumbering by the sea.
Duirnish is a small crofting village that's worth a visit. Highland cows roam freely here, and you won't find a finer example of a crofting township. The nearby town of Plockton is on a lovely, sheltered bay, overlooking Loch Carron in the Highlands. Take a small coastal road named Bealach Na Ba—it's a historic coo drover road between the towns of Applecross and Shieldaig. Applecross is known for spectacular views as well as Highland coos. It's situated on a peninsula that is remote and wild.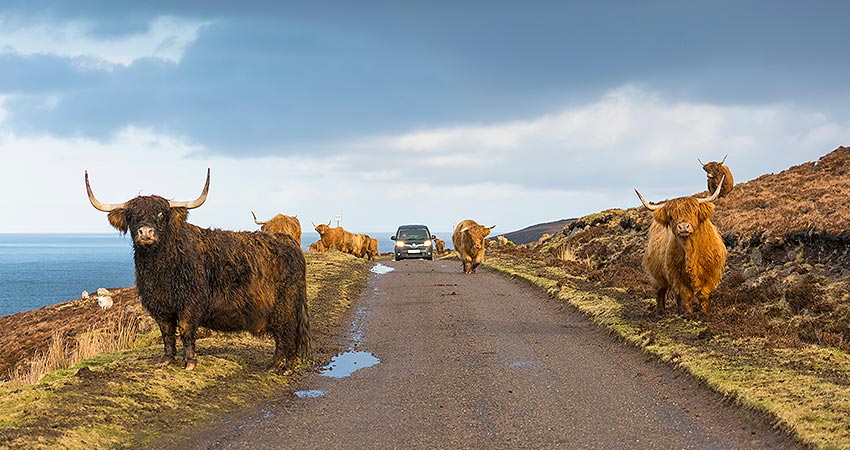 Most Scotland vacations that include the Highlands will take you to Fort William. While there, check the Old Inverlochy Castle. Now in ruins, it was one of the most important castles in Scottish history. You'll see Highland cows in the fields just at the edge of town in Fort William on, yes, Cow Hill. You're also likely to spot them in Glen Nevis and Glen Coe. They also wander freely at nearby Sanna Beach.
Planning to visit the Glenlivet Distillery for some famous single malt Scotch whisky? In the northern part of the Cairngorms National Park, keep your eye out for cattle in the surrounding fields. Also, consider a trip to Rothiemurchus, a woodland estate with a castle and wildlife. You may also meet the cows at the Highland Folk Museum.
Another place you're likely to visit in the Highlands is the Culloden Battlefield. This powerfully emotive battlefield is where the 1745 Jacobite Rising came to a sad end. The visitor's center has a 360-degree battle immersion theater, putting you in the heart of the events. Highland cows now graze on the battlefield. At Inverness, the gateway city to the Highlands you'll see a small fold of cattle in the fields beside Cardhu Distillery. Take time to enjoy a dram! And of course, you'll go to Loch Ness. The fields beside the cozy Cameron's Tea Room is home to a sweet fold of coos.
Northeast Scotland
Aberdeenshire has an extraordinary prehistoric and historical heritage. There are numerous Neolithic and Bronze Age sites that you can explore. Are you into castles? This area has more castles than anywhere else in Scotland. Imagine seeing Highland coos grazing on castle grounds. The Macallan Distillery is in Aberdeenshire, and they have their own fold of Highland cattle. Head to Crathes, and you'll find coos at the castle driveway. (Drum Castle is also closeby.) Kincardine Castle has cattle grazing in the fields. Explore the castle grounds.
Central Scotland
Edinburgh, the Lothians, Dundee, Angus, The Kingdom of Fife, Argyll, Perthsire, Loch Lomond, the Trossachs, Stirling, and Forth Valley stretch from one coast to the other in the central heart of Scotland. And, they are all easy to get to from Glasgow and Edinburgh. Glamis Castle is the setting of Macbeth, and the grounds are home to Highland coos. Glamis is renowned for 650 years of stories and visitors, including Mary Queen of Scots and James V. HRH Princess Margaret was born at Glamis.
Head to St. Andrews in Fife and stop in at the Balgove Larder Farm Shop. The café has delicious food and you can meet docile cows in the field just outside. 30 minutes away, and you'll see them grazing around Largo Law, an ancient volcano. This is a great place to stretch your legs! Go to Glen Lyon and you'll come upon an amazing site—Highland coos bathing in the river.
North of Perth, just a short drive from Pitlochry, notice Highland cattle as you come upon Blair Castle. A visitor favorite, in the Pentland Hills west of Edinburgh, is Swanston Farm. There are gorgeous views of the city, and it's a fun place to meet the Highland coos. Just a short drive north of Perth, Scone Palace was the place where Scottish kings were crowned. Highland cows are on the grounds. Of course.
They also happily graze at legendary Stirling Castle. Take the footpath down from the castle to find them. Highland coos are on the eastern edge of Loch Lomond & the Trossachs National Park—they're in the field just outside the mill. One hour north of Glasgow is Ardardan Estate. Visit their farm shop, gardens, café, and walk the grounds that are home to coos. In charming Linlithgow, the Beecraigs Country Park has a fold of coos, as well as magnificent red deer and Hebridean sheep!
South and Southwest Scotland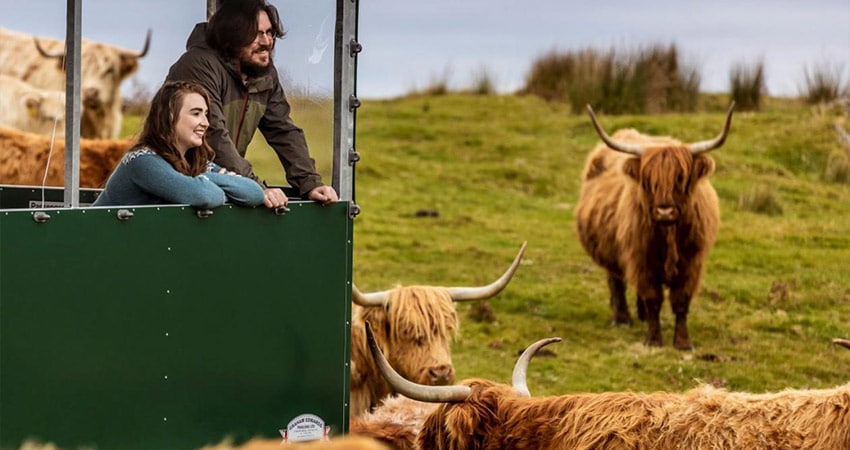 © kitchencoosandewes.com
This area includes the historic, and bucolic, Scottish Borders. There are lovely villages, beautiful scenery, and historic towns to discover here. And plenty of Highland cattle! Northwest of Glasgow, the Auchentoshan Distillery has Highland coos. Go for a tasting, and then relax with the fold. To the south of Glasgow, the amazing Pollok Park has great attractions, among them Highland cattle living on the grounds.
In the region of Dumfries & Galloway, Galloway Forest Park is the largest forest park in the UK. There are areas of farmland with Highland cattle, and plenty of walking routes. West of Galloway Forest Park, you'll come upon Kitchen Coos & Ewes at High Airyolland Farm. The owners, Janet and Neale, are happy to introduce you to their Highland coos and sheep on a buggy ride. Afterward, enjoy southern Scotland's farmhouse baking!
Islands
The wild islands off the north and western coast of Scotland are raw, lost-in-time, and great places for coo spotting. On Orkney, head to Hushinish Beach. In the southern Isle of Skye, you'll find them on unfenced roads around Elgol. They also wander across fields and untamed beaches on the hidden island gem of Barra. On the Isle of Mull, too, they roam freely. At Iona Abbey, on the Isle of Iona, Highland coos have the run of the land.
There is nothing like topping a Scottish hill and coming upon a fold of Highland coos. They are ancient. They are placid, wooly, and beautiful in color. In short, they are a high point of many visitors' travels through Scotland.
Ask your Destination Expert to place a few spots where you might best see Highland Coos on your itinerary!