One of the most relaxing ways to travel Ireland is by train; no worries about driving on the other side of the road or parking. The rail routes give you off-the-beaten path beauty, all the places you want to see, and a few enchanting surprises. Authentic Vacations has the personal experience, and the team, that can organize it for you.
Dublin is the perfect starting point. DART, Dublin Area Rapid Transit, takes you to the heart of Dublin and Malahide to the north. Head south on DART, and pass by sweet coastal towns and villages, ending in Greystones, County Wicklow. The ocean views are breathtaking. DART is a terrific, no-stress way to explore the city and surrounding areas. Get off and on as you please—enjoy ice cream on the pier in Dun Loaghaire, and fish and chips by the waterside!
While in Dublin, you might choose to hop aboard Luas, a fast tram service, with a red and green line, that takes you around the city center. (Of course, taxis are also available.) This is authentic Ireland with none of the hassle.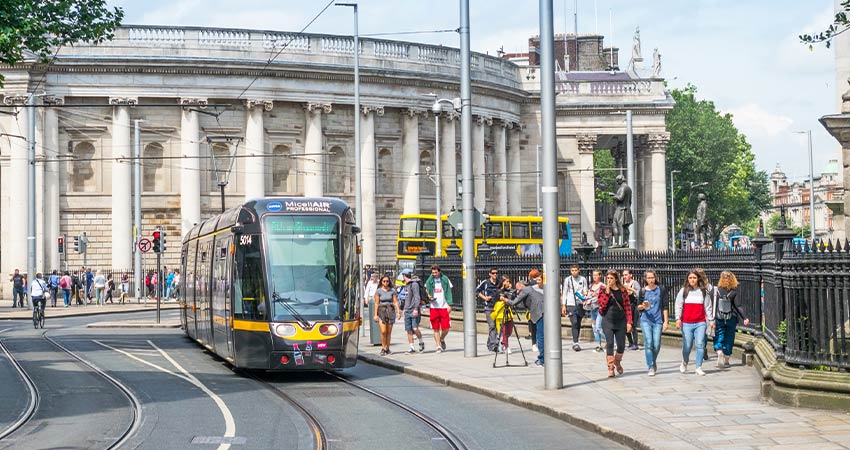 After you've spent several days discovering the best of Dublin, you can get on board Iarnród Éireann, Irish Rail, and visit the Ireland you've always dreamed about. There are two main stations in Dublin, Heuston and Connolly, both easy.
Leaving from Heuston, one of the most stunning rail journeys takes you along the southeast, to the Rosslare Europort, and through Ireland's ancient east. This is a lush land of green, rolling hills, lovely villages, and the River Shannon. With more than 5,000 years of history, this area is one of myths, rituals, and mysteries.
Also leaving from Heuston, we suggest a train journey that leaves from Dublin, with options that include Cork, Killarney, Limerick, Ennis, Galway, Westport, and Sligo. Each town is worth an overnight or two, depending upon your heart's desire. Arrangements can be made for extraordinary day trips from each town. For example, from Galway you can experience a day trip back in time on a ferry to the Aran Islands.
One of the most scenic trips in Ireland is the journey that takes you from Ennis to Galway and the Cliffs of Moher. No worrying about taking hairpin curves or wondering if you're on the correct road. This tour gives you the beauty, plus the time, to relax and enjoy Ireland's magnificent countryside.
If you want to visit the north of Ireland, make Belfast your base. (It's also an easy journey on the train from Dublin.) Head to Dublin's Connolly Station and take the 2 ½ hour train ride to Belfast. From there, day trip to the Giant's Causeway, Old Bushmills, and the mystic spell of the ancient Irish chieftains. Day trips can also be arranged for visiting your favorite movie locations, including the Game of Thrones.
Below are train times, from station to station, including transfers:
Dublin to Belfast: 2.5 hours
Belfast to Londonderry: 2 hours
Dublin to Cork: 2.5 hours
Dublin to Galway: 2.5 hours
Dublin to Ennis: 4 hours
Dublin to Limerick: 2.25 hours
This is the ideal time to take it easy. It is a sublime time to breathe, relax, and truly experience the journey. The romance of the rails is real. Let it happen.