From Belfast, head to Northern Ireland's stunning Causeway Coastal Route. Recently chosen as one of the world's best regions to visit, this is the perfect time to discover the area's unique beauty. Northern Ireland's only UNESCO World Heritage Site, this byway has a lot to offer… there's even a designated whiskey stop along the way.
The Titanic
No trip to Northern Ireland's capital city is complete without visiting Titanic Belfast. Just a short walk from the city center, the Titanic Experience offers a comprehensive history of the doomed RMS Titanic from its initial conception in 1907 to its eventual demise during its 1912 maiden voyage. An immersive attraction, the Titanic Experience encompasses nine interactive galleries in multiple mediums, including special effects, interactive features, and full-scale reproductions.
The Carrickfergus Castle
One of the best-preserved medieval castles in the country, Carrickfergus Castle has picturesque harbor views and a turbulent history. Built in 1177, this much-besieged castle withstood invasions from Irish, English, Scottish, and French armies. Then it served as a garrison during World War I and an air raid shelter during World War II. Today, this ancient monument is preserved by the Government of Northern Ireland. It is a peaceful place and occasionally even serves as a wedding venue.
The Gobbins
Experience the raw power of nature with a trip to The Gobbins. This stunning cliff-face walk is in Islandmagee, County Antrim. First opened to the public in 1902, The Gobbins is a journey of winding cliff paths, dramatic bridges, and underground tunnels—and some of them run below sea level. With bird-watching opportunities galore, and views that stretch over the sea to Scotland, The Gobbins is an extraordinary experience that must be seen to be believed. If the cliff-walk sounds a little too exhilarating, the nearby visitor center provides a less gravity-defying, interactive experience.
The Dark Hedges
Instantly recognizable to fans of HBO's Game of Thrones, the Dark Hedges is a distinctive avenue of interlocking beech trees near Ballymoney in County Antrim. It is one of the most photographed attractions in Northern Ireland. Dating from the 18th century, these evocative trees were planted by James Stewart, who wanted to impress visitors as they approached his Georgian mansion, Gracehill House. To experience the true magic of the Dark Hedges, visit early in the morning or at dusk, when you may meet the Dark Hedges' resident ghost, The Grey Lady.
Rathlin Island
Home to 150 people, Rathlin Island is Northern Ireland's only inhabited offshore island. It is well-loved by day-trippers looking for stunning scenery, bracing walks, and fresh sea air. A bird watchers' paradise, Rathlin is home to thousands of seabirds, including puffins, guillemots, and razorbills; it is designated a special conservation area. One of Rathlin's more unusual attractions is its 'upside-down' lighthouse, so called because it light is positioned on the base, rather than the top, of the structure.
Carrick-a-Rede Rope Bridge
For the adventurous traveler, a visit to the Carrick-a-Rede Rope Bridge, near Ballintoy in County Antrim, is a must. Suspended 100 feet above the rocks, this simple rope bridge was first constructed by salmon fishermen in the mid-1700's. Today it is maintained by the National Trust. If you are planning to visit the Carrick-a-Rede Rope Bridge, check the weather forecast before you go. Crossings may be suspended if there are high winds and heavy rains.
Giant's Causeway
The Giant's Causeway, a UNESCO World Heritage Site, is an interlocking series of 40,000 basalt columns formed millions of years ago by a volcanic eruption. The locals, though, believe in a more fantastical origin story for the Giant's Causeway. Steeped in the myths and legends of Ireland's ancient past, it involves Ireland's heroic character Finn MacCool. It is said that when he was challenged to fight the Scottish giant, Benandonner, Finn built this basalt path across the sea in order to best his adversary.
Old Bushmills Distillery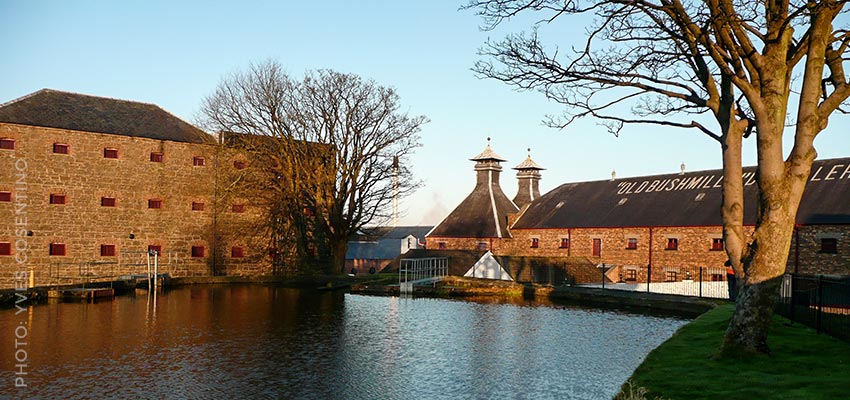 If your travels have made you thirsty, visit Old Bushmills Distillery. Ireland's oldest working distillery has been in operation since 1608 when their grant to distill was signed by King James I. Bushmills produces its world famous whiskey, using Irish Barley and water drawn from the distillery's own stream. The 1608 Bar is the ideal spot for a tasting.
Dunluce Castle
Situated at the edge of a cliff on the County Antrim coast, the medieval ruin of Dunluce Castle is the location of House Greyjoy on HBO's Game of Thrones. This striking ruin has provided inspiration for filmmakers, artists, writers, and musicians for centuries. Dunluce Castle is said to be the inspiration for Cair Paraval in The Chronicles of Narnia by C.S. Lewis. An image of the castle is featured on Led Zeppelin's 1973 album, House of the Holy. The castle, accessible via a bridge from the mainland, is open to visitors all year round.
Londonderry
Wrap up your exploration of this stunning coastal route with a stay in Londonderry, Northern Ireland's second-largest city. Famous for its 17th century walls, Derry is a lively, energetic city that comes alive at night. Stop into Peadar O'Donnell's pub. It's got a spectacular live music scene as well as "The best pint of Guinness in Derry!"
Northern Ireland is the original home of the Irish Chieftains and ancient Celtic culture. Add it to any Ireland itinerary for its scenery, its stories, and its fabled magic.
Your Authentic Travel Expert is happy to design unique experiences for your Ireland Travel adventure.