An award-winning getaway awaits with a trip to the vibrant city of Belfast and Northern Ireland's scenic Causeway Coastal Route. Recently voted Lonely Planet's best region in the world to visit in 2018, where it beat Alaska and the Julian Alps in Slovenia into second and third place respectively, now is the perfect time to visit this area of unique and spectacular beauty. From the winner of the 2016 'World's Leading Tourist Attraction' to Northern Ireland's only UNESCO World Heritage Site, a trip around Northern Ireland's Causeway Coastal Route has a whole lot to offer. There's even a designated whiskey stop along the way!
Titanic Belfast
Voted the World's Leading Tourist Attraction for 2016 at the prestigious World Travel Awards, no trip to Northern Ireland's capital city is complete without first paying a visit to Titanic Belfast. Situated just a short walk from the city centre, the Titanic Experience offers a comprehensive history of the doomed RMS Titanic from its initial conception in 1907 to its eventual demise during its maiden voyage in 1912. A truly immersive attraction, the Titanic Experience encompasses nine interactive galleries in multiple mediums, including special effects, interactive features and full-scale reproductions. Top Tip: Skip the queue when you book tickets online.
Carrickfergus Castle
One of the best-preserved medieval castles in the country, Carrickfergus Castle offers picturesque harbour views alongside its often turbulent history. Built in 1177, this much-besieged castle withstood invasions from Irish, English, Scottish and French armies, before going on to serve as a garrison during World War I and an air raid shelter during World War II. Today, preserved as an ancient monument by the Government of Northern Ireland, Carrickfergus Castle enjoys an altogether tranquil existence as a wedding venue and year-round visitor attraction.
The Gobbins
Get back to nature and experience all the power and beauty of nature with a trip to The Gobbins, a stunning cliff-face walk, in Islandmagee, County Antrim. First opened to the public in 1902, The Gobbins comprises a journey of winding cliff paths, dramatic bridges and underground tunnels, some of which run below sea level. With bird watching opportunities galore and views that stretch out over the sea to Scotland, The Gobbins is a truly extraordinary experience that has to be seen to be believed. Access to the cliff path, which re-opens in spring 2018, is available strictly via guided tour. If The Gobbins cliff-walk sounds a little too exhilarating for your tastes, the nearby visitor centre provides an altogether less gravity-defying interactive experience.
The Dark Hedges
Instantly recognisable to fans of HBO's Game of Thrones, the Dark Hedges, a distinctive avenue of interlocking beech trees near Ballymoney in County Antrim, is one of the most photographed tourist attractions in all of Northern Ireland. Dating from the Eighteenth Century, this atmospheric avenue was planted by James Stewart, who wanted visitors to be suitably wowed as they approached his Georgian mansion, Gracehill House. I think it can be agreed that he achieved his objective! To experience the true magical wonder of the Dark Hedges, visit early in the morning to avoid the crowds, or at dusk, when you may encounter the Dark Hedges resident ghost, 'The Grey Lady'.
Rathlin Island
Home to approximately 150 people, Rathlin Island, Northern Ireland's only inhabited offshore island, is popular among day trippers in search of beautiful scenery, bracing walks and fresh sea air. A birdwatchers paradise, Rathlin is home to thousands of seabirds, including puffins, guillemots and razorbills, and as such is designated a special area of conservation in Northern Ireland. One of Rathlin's more unusual attractions is its 'upside-down' lighthouse, so called due to the fact that the light is positioned on the base, rather than at the top, of the structure.
Carrick-a-Rede Rope Bridge
For the truly adventurous traveller, a visit to the Carrick-a-Rede Rope Bridge, near Ballintoy in County Antrim, is a must. Suspended thirty meters above the rocks below, this simple rope bridge, which was first constructed by salmon fishermen in the mid-1700's, is today maintained by the National Trust. If you are planning to visit the Carrick-a-Rede rope bridge, be sure to check the weather forecast before you go. Crossings, which cost £7, are often suspended in the wake of unfavourable conditions, such as heavy rain and high winds.
Giant's Causeway
The Giant's Causeway, Northern Ireland's only UNESCO World Heritage Site, is an interlocking series of approximately 40,000 basalt columns, formed tens of millions of years ago, following a volcanic eruption. At least that's what science would have you believe. The locals, on the other hand, believe in a rather more fantastical origin story for the Giant's Causeway, one that is steeped in the myths and legends synonymous with Ireland's ancient past. When challenged to fight the Scottish giant Benandonner, legend has it that Ireland's Fionn mac Cumhaill built this basalt path across the sea, in order to face his adversary.
Old Bushmills Distillery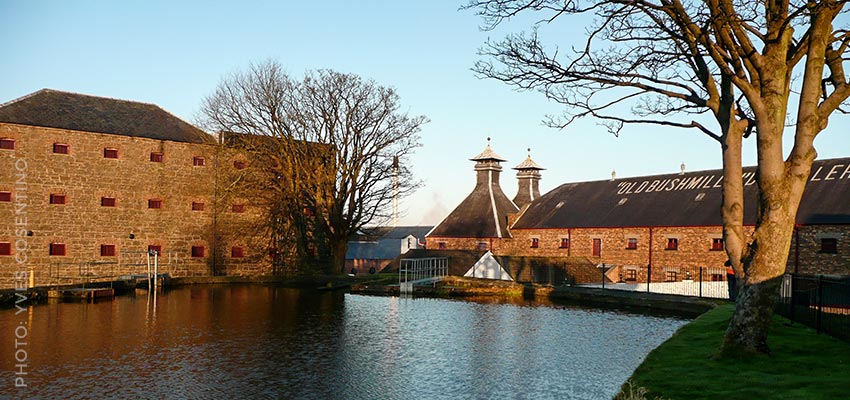 If all the salty air of this coastal route has left you thirsty, then it's time to pay a visit to the Old Bushmills Distillery. Ireland's oldest working distillery, in operation since 1608 when the first grant to distil was signed by King James I, Bushmills produces its world famous whiskey using Irish Barley and water drawn from the distillery's own stream. Guided tours of the distillery conclude with a complimentary whiskey in the 1608 Bar.
Dunluce Castle
Situated right at the edge of a cliff on the County Antrim coast, the medieval ruin of Dunluce Castle will be recognisable to many as the location of House Greyjoy on HBO's Game of Thrones. This striking ruin with its dramatic clifftop location has, in fact, provided inspiration for many artists, writers and musicians over the years. Dunluce Castle is said to be the inspiration for Cair Paraval in The Chronicles of Narnia by C.S. Lewis, while an image of the castle is featured on the gatefold of Led Zeppelin's 1973 album, House of the Holy. The castle, accessible via a bridge from the mainland, is open to visitors all year round.
Londonderry
Wrap up this tour of Northern Ireland's award-winning coastal route in Londonderry, Northern Ireland's second-largest city. Famous for its Seventeenth Century city walls, Derry is a lively, energetic city that positively comes alive at night. Indeed, it is said that no trip to the city is complete without first paying a visit to the award-winning Peadar O' Donnell's, which boasts a great live music scene along with 'the best pint of Guinness in Derry.'
Be sure include the celebrated Causeway Coastal Route on the itinerary of your next Ireland vacation.