Love is a lot like the best of Dublin—spontaneous, fun, mythic, and surprising. Dublin is an ideal place to fuel your romance. There are castles, late-night pubs and live music, exquisite dining experiences, ancient mysteries, drafts of Guinness, and lovely winding lanes to explore. These are our ten favorite spots to kiss in the city, but every place is a good one!
Temple Bar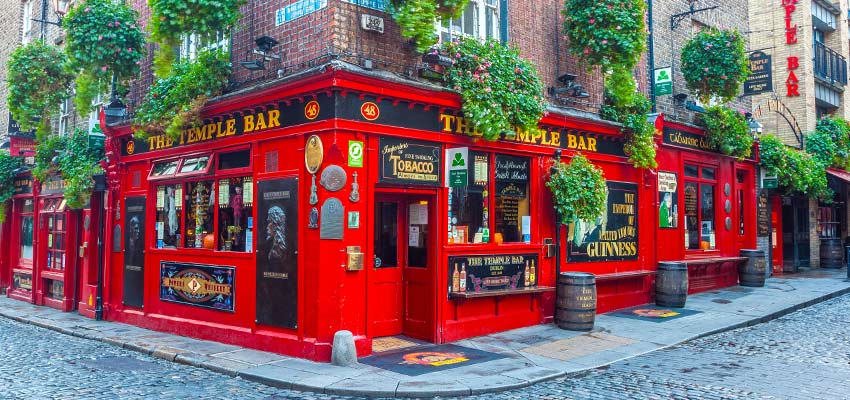 There's always something going on in this district of cafes, street theater, and outdoor movie showings.  Take your sweetheart in your arms and kiss many times—this is a place for joy.  Let your laughter bounce on the cobbled streets.  Hold hands.   
A traditional Irish pub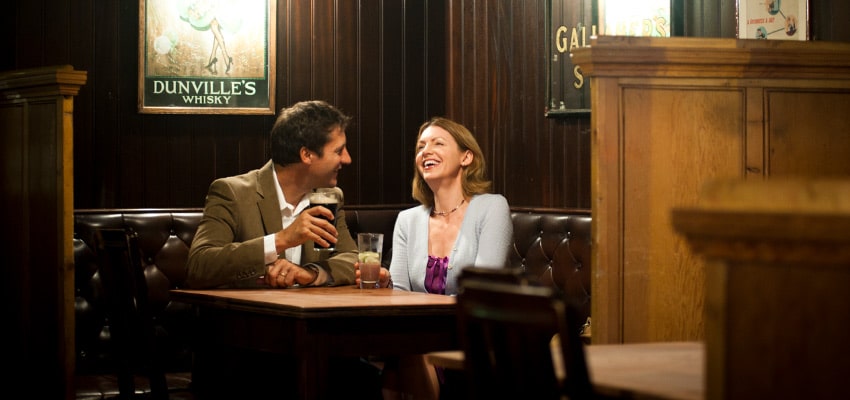 When the music starts up, all eyes are fixed on the band, and you can get away with, almost, anything. Try The Quays pub in Temple Bar. It's one of the tops for traditional Irish food, music, and rowdy good fun.  Kiss unabashedly in time with the music. 
The Abbey Theater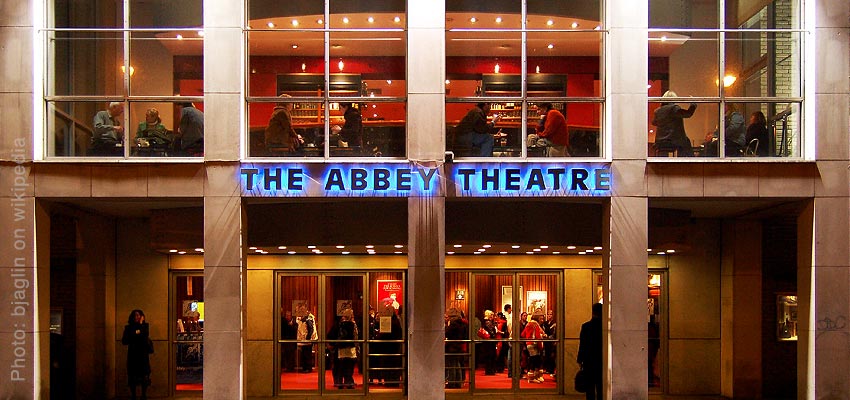 When this theater opened at the beginning of the 20th century, started by Irish writer William Butler Yeats and his literary circle, the plays sometimes caused actual riots—it was that cutting edge.  Now the material is legendary, and the interior is everything a theater should be.  The best love often starts as a riot and endures as a truth and comfort.  Go there with your sweetheart.  Kiss deeply when the lights go down.
Dublin Castle
Kiss in a royal castle?  Built in the 13th century, this medieval fortress has had its share of trials and tribulations.  But it still stands, and it is glorious. We suggest a bold smooch in the Throne Room or a passionate kiss in the Dubh Linn gardens behind the chapel.  Linger.
The Guinness Storehouse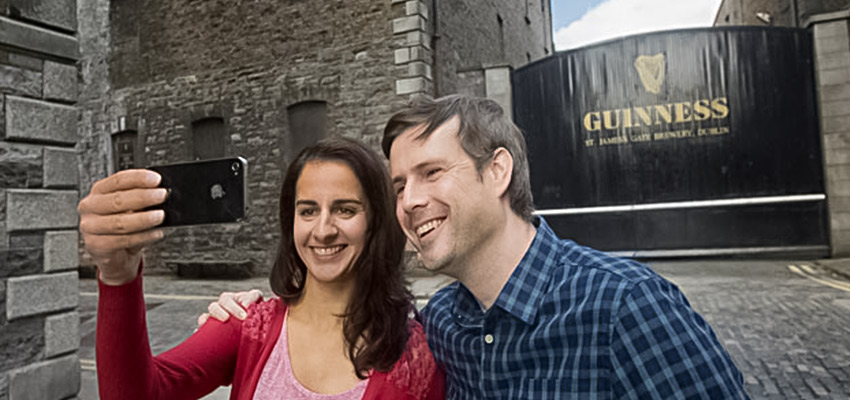 Founded in 1759, Guinness is synonymous with Ireland, specifically Dublin. Go to the tasting room, a multi-sensory delight, where bartenders show off their ability to pour a draft.  Savor the smooth flavor and enjoy the creamy head that Guinness is known for.  A kiss here truly has the taste of Dublin.  Expect a rousing cheer.
Jam Art Factory
While at Guinness you're near Jam Art in the Liberties District southwest of Dublin's heart.  This is a gem of an outlet for Irish-made and designed pottery, jewelry, and street art.  Nothing stodgy here—creativity runs amok. Did we mention they have jewelry?  That's right, we did.  Trade a kiss or three for a gift. Treat each other. No holding back.
Indulge at Trocadero Restaurant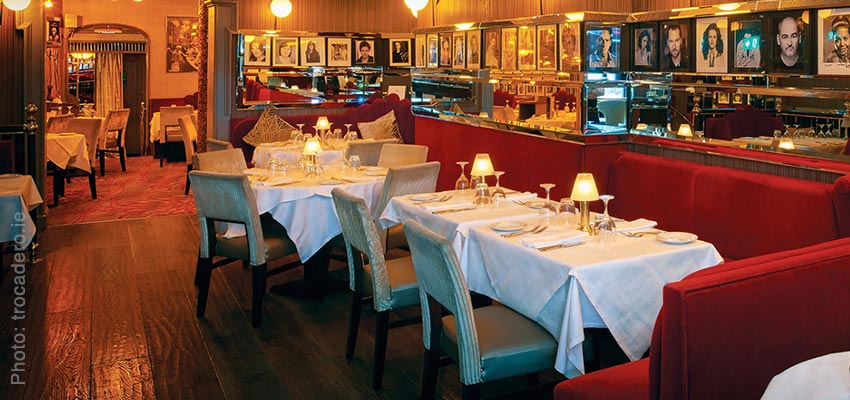 Loved by theater devotees and stars for sixty years, this is an ultimate experience in fine dining and exquisite service. (They use only the freshest local produce and seafood.) Order dessert, stay late, and make up a story about one of the stars whose picture is hanging on the wall.  Is the story naughty or nice? It's all up to you . . .
Go to the ocean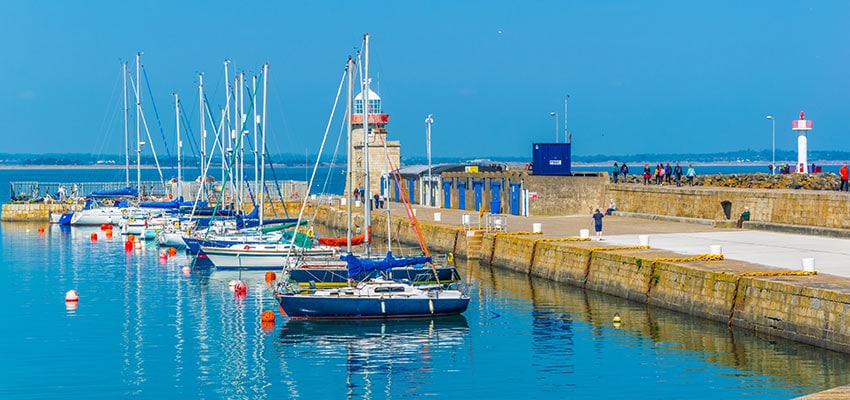 In Dublin people say, "We're going to the seaside," and that's what you'll do. Howth is a bustling fishing port, the place to go when you want to explore the headlands, watch for seals, and delight in harbor boats.  End the day with traditional fish and chips.  Is there anything much more romantic than the scent and feel and power of the ocean?  Kiss on the hills, and let the ocean breeze do its magic.
The Spire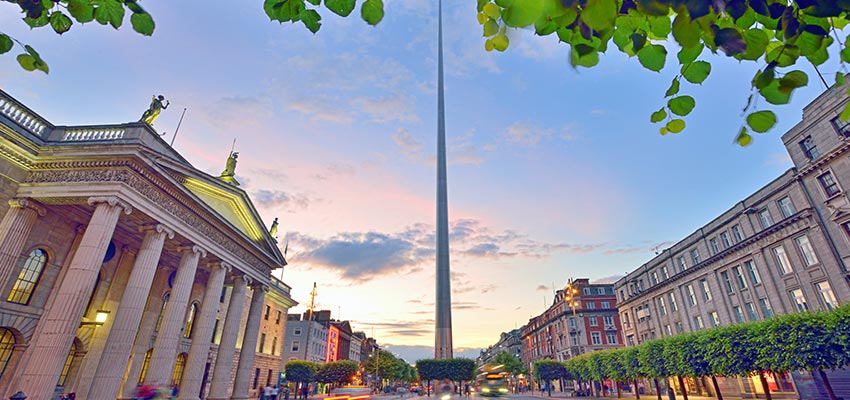 The world's tallest sculpture is in Dublin. Amazing! It's on O'Connell St. and easy to get to.  It's a stainless hollow, metal cone, shaped like a pin, that rises 39o feet above the city.  (It was fashioned and made in Waterford.)  When dusk rolls around, the base of the monument lights up, and the top light filters through, count them, 11,884 holes.  Bathe in the light at the base, and bask in the upper glow.  Kiss here, please.
Butler's Chocolate Café
Any list that involves love must include chocolate. Head to trendy Grafton Street and dive into Dublin's own, Butler's.  This is an emporium of divine chocolates, creamy toffee, teas, coffee, and hot chocolate drinks.  Besides tasting like bliss, the treats are beautiful. Take two boxes back to your hotel.  One will go home with you.  The other is to enjoy in the moment.  Kisses and chocolate?  Let yourselves get carried away.
Romance is where you find it, and how you make it, but Dublin is certainly one of the top cities in the world to celebrate love.
Ask your Destination Expert to have romance in mind as they plan your dream vacation to Ireland!