A stunning coastline, spectacular views and…a whole lot of ghosts! When you think of Ireland, ghosts and ghouls may not immediately spring to mind, but rest assured, this island in 'forty shades of green' is a hive of paranormal activity. If you are an avid ghost hunter or even if you are someone who just loves a really good scare, then you've come to the right place. While the 'White Lady' haunts Ireland's country roads and the 'Banshee' wails in the dead of night, those in the know will tell you that all of Ireland's best ghosts are to be found in its castles. With over 30,000 castles on the island of Ireland, many of which lie in ruins and thus are ripe for haunting, these haunted Irish castles have a whole lot of ghosts who would love to meet you – if you dare!
Leap Castle, County Offaly.
Of all the haunted castles in Ireland, there is none more notorious than Leap Castle in County Offaly. In fact, County Offaly itself has a pretty notorious reputation in the 'most haunted' stakes having recently been declared by paranormal investigators as not only the most haunted county in Ireland, but also one of the spookiest areas in all of Europe. This is due to its famous 'haunted triangle' of castles, comprising Leap, along with Kinnitty and Charleville. Top tip: for some real scares, visit Offaly at Halloween when the nights are drawing in and you're sure to encounter a ghostly presence or ten on its quiet country roads.
As for Leap, this is a castle with a history that is not for the faint of heart. Rather, it is steeped in the blood and betrayal of brothers. Following their clan leader father's death, brothers Thaddeus and Teighe O' Connell fought a succession battle which ended when Thaddeus, a priest, was stabbed to death by his brother while saying mass in a chapel at Leap Castle. To this day, Thaddeus is said to haunt this chapel, which has come to be known as the Bloody Chapel.
Charleville Castle, County Offaly.
Staying in County Offaly and to Charleville Castle, which was constructed in 1798 for the first Earl of Charleville, William Bury. While Charleville Castle may have been built mere centuries ago, the land the castle is built on is older than time itself, something William Bury might have taken into account before deciding to build his abode atop an ancient druid stomping ground. He didn't, and to this day there are reported sightings of ghostly hooded figures around the castle grounds.
However, the spirits of disgruntled druids are not the only ghosts to have taken up residence in this most haunted of Irish castles. Charleville's most notorious ghost is that of an eight-year-old girl called Harriet, who fell to her death while playing on the stairs at Charleville Castle in 1861. The daughter of the third Earl of Charleville, Harriet is fond of screaming, laughing and singing in the dead of night.
Ballygally Castle, County Antrim.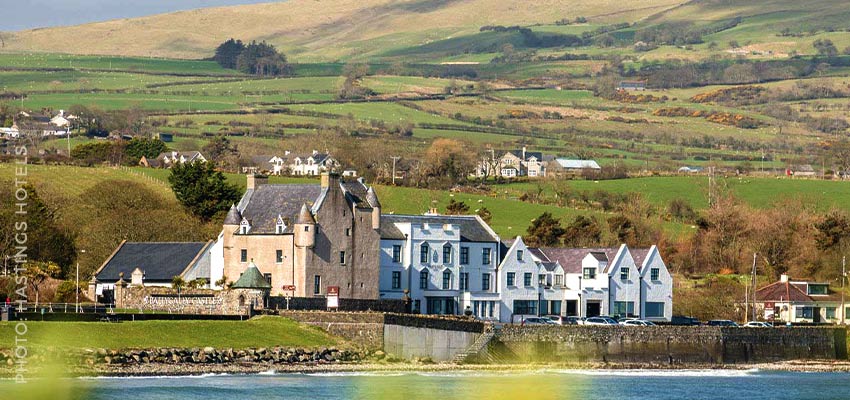 Described as 'a living postcard,' Ballygally Castle may be picture pretty, but it is also one of the most haunted castles in Ireland, with various resident ghosts who love nothing more than to frighten the living daylights out of the paying guests. Not all ghosts are mischief makers though, and that's the case with Ballygally's most well-known ghost, that of Lady Isabella Shaw, who wanders the hallways of Ballygally Castle at night, in search of the child who was snatched from her at birth. Legend has it that Lady Isabella's husband, on learning that he was in possession of an heir, disposed of his wife, locking her away in a tower, where she fell – or was likely pushed – to her death some time later.
While Lady Isabella roams the halls in search of her lost child, another of Ballygally's ghosts, Madame Nixon, who stayed in the hotel in the 19th Century, likes to play a game of 'knock and run' while wearing a fetching silk dress.
Castle Leslie, County Monaghan.
Beloved by celebrities and ghosts alike, Castle Leslie in County Monaghan is a sumptuous rural retreat of rolling green hills and tranquil lakes. Leslie is also notoriously haunted, so much so that this castle, which dates from 1871, even has a dedicated 'Most Haunted' fan site. However, like many of the castles mentioned here, Castle Leslie's ghosts are of the friendly variety. Indeed, many are former inhabitants of the castle, such as Norman Leslie who, following his death in World War I, is said to have swapped the trenches for the Red Room at the castle. Unlike many of the mischievous ghosts mentioned in this article, Norman values his peace and quiet, so much so that it is said he is fond of hushing guests who make too much noise.
Ross Castle, County Meath.
We conclude this round-up of haunted Irish castles with a tragic tale of star-crossed lovers. The Romeo and Juliet of their time, it was love at first sight when Sabina Nugent met Orwin O' Reilly in 1536. However, as The Bard wrote, 'the course of true love never did run smooth,' and that proved the case for Sabina and Orwin. Since Sabina, daughter of the Lord of Devon, Richard Nugent, otherwise known as the 'Black Baron,' was English, she was forbidden to marry a boy of Irish descent. Orwin, the son of an Irish Chieftain, was most definitely off limits. Undeterred by such parental interference and determined to always be together, the two decided to elope. However, this love story does not have a happy ending. Their getaway boat was overturned on stormy seas, resulting in Orwin's death. Though she survived the storm, Sabina never recovered from the loss of her love. Instead, she locked herself in a tower at Ross Castle, refusing to eat or drink, until she fell into a deep sleep from which she never awoke.
Today, Sabina's agonizing wails can be heard throughout Ross Castle, as she continues to search for her lost love.
Experience the darker side of the emerald isle with a haunted Ireland vacation from Authentic Vacations. We can create a customized itinerary that visits many of these haunted castles and throw in a few secret insider haunts too!