When people think of Norway, they often think of mountains, hiking, nature, and Northern Lights, but rarely about food. From fish and potatoes, to porridge and pastries, Norwegian cuisine is unique. Traditional Norwegian meals include stews and soups during long winter months, with meats of all varieties served during Christmas holidays. Sweet treats are baked throughout the year. During your Norway vacation, be bold and eat like the locals!
Fårikål, Mutton and Cabbage Stew
This hearty mutton and cabbage stew is Norway's national dish. Norwegians have even designated a day in September, Fårikål Day, to celebrate it. This is a minimalistic one-pot stew consisting of mutton (sometimes replaced by lamb) and cabbage, which are boiled together with whole black peppercorns. The broth is rich, and the steam is heady.
Brun Lapskaus, Brown Potato Stew
Norwegians love stew, and this particular meat and potato dish is another favorite. The traditional lapskaus recipe calls for meat leftovers or cheap cuts of meat, usually lamb, pork, or beef. The meat is tossed together with potatoes to give the dish a thick base, and a variety of root vegetables, such as carrots and leeks, is added. It's the perfect way to use leftovers or make less-expensive cuts of meat go a long way.
Kjøttkaker med Brunsaus, Meat Cakes with Gravy
Meat is a large part of the Norwegian diet—these folks were hunters and gatherers and fishermen. Kjøttkakers, also called kjøttboller, are Norwegian meatballs that are a combination of beef, pork, and veal. The meat is drowned in gravy and usually served with potatoes and cranberry sauce. (The cranberry sauce is heaven.) They have an important place on the dinner table during Christmas festivities.
Pinnekjøtt, Dried Mutton Ribs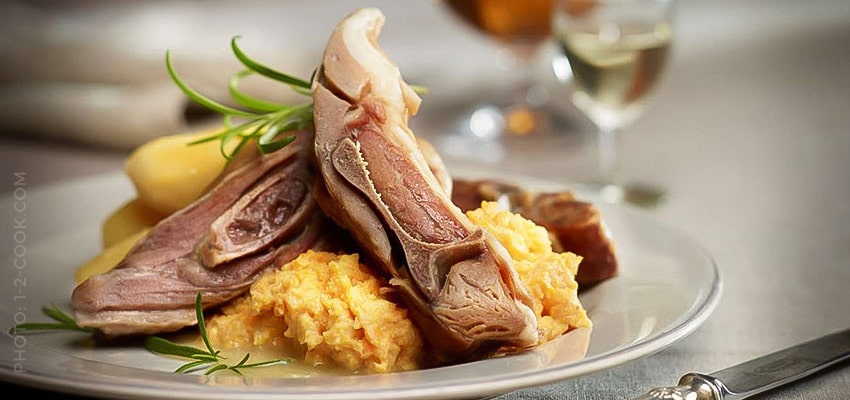 Another popular Norwegian recipe at Christmas is 'stick meat', a lamb-based dish made from mutton ribs that have been salted and dried. This process results in a salty, almost chewy, and tender piece of meat which many consider a "must" during the holidays. This particular meal can have various side dishes, but most often it's served with boiled potatoes and mashed rutabagas.
Lutefisk, Cod Cured in Lye
Because of its Atlantic shoreline, fish is a major part of Norwegian Cuisine. Lutefisk is a name given to dried cod, or sometimes another whitefish, that has been rehydrated in a lye solution for several days. Then it's rinsed in cold water and boiled or baked. When the fish is cooked, it's topped with butter, salt, and pepper. Typical side dishes are potatoes, green peas, pickled beets, or dumplings.
Kremet Fiskesuppe, Creamy Fish Soup
This beautiful and hearty soup is another Norwegian favorite. The exact ingredients vary from recipe to recipe, ranging from cod and salmon, to shrimp and scallops, or any combination of available fish. Butter, flour, heavy cream, and fish stock make the creamy base, and an assortment of vegetables are thrown into the mix.
Rømmegrøt, Sour Cream Porridge
Porridge is enjoyed around the world, but sour cream porridge is unique to Norway. If you haven't grown up with it, it may seem odd, but give it a whirl. A savory sour cream base is topped with cinnamon, sugar, and butter and is enjoyed all year round.
Skolebrød, Custard and Coconut Buns
Bakeries and cafes overflow with delicious Norwegian treats. Skolebrød, also known as skolebolle, is a sweet bun filled with vanilla cream and topped with coconut shavings. These pastries are sold in most bakeries and cafés, and they pair nicely with a steaming cup of coffee. Making Skolebrød is a fun affair, and it's often baked by the whole family.
The number of Norwegian recipes is legion, and yet we rarely think of the country as a foodie paradise. The country's location makes fish-based meals a natural, but the cuisine is more diverse than shrimp and salmon. (Although, those two are reason enough to love the food.) On your Norway vacation, eat like a local. Food is a deep part of the culture and heritage. Enjoy!
If you're a foodie, or simply want some new taste sensations and experiences, let your Destination Expert know!