When you travel through Italy, you'll notice music is in the air. A baker sings opera while kneading his bread and a woman doing laundry hums a folk song she knew when she was a girl. A stylish professional is whistling Puccini while sitting on a bench beneath a shady tree. Music is part of Italy's national identity.
Their culture is distinctive, and their appreciation for beauty and soaring emotions is expressed through music. Italy is a center for Europe's classical music. As opposed to other countries, Italy's instruments do not overshadow the rich vocals—this is, after all, the country that invented opera. Italy's politics, beliefs, and cultural identity is woven inside its music. It is atmospheric and expresses the full range of human emotions.
Consider creating your itinerary around musical museums, concerts, sites, and festivals. You may fall in love with the way music moves the heart and touches your soul on your vacation. Wherever you are in Italy, you walk in the footsteps of musical giants. Here are a few notables and their hometowns.
Verdi
Born in the province of Parma during the height of Beethoven's popularity, Verdi was a contemporary of Wagner, Brahms, and Tchaikovsky. He lived to see Italy become an independent country; it was a cause he was passionate about.
His small village of Busetto could not give him the connections he needed to grow his musical talent, and he moved to Milan. Verdi was a hard worker, and he didn't have instant fame. Undaunted, he kept composing. He began earning good money in his 40's. Unlike many other artists, he paid attention to his finances and began buying up farmland near the village where he was born. He built a house for his parents, and then built Villa Verdi where he and his wife lived until the time of his death.
He was beloved for both his music and his big heart. In all he wrote 26 operas, including Aida, Requiem, Otello, Falstaff, Rigoletto Il Trovatore, La Traviata (the most performed), and Nabucco. Verdi was the most powerful Italian dramatist of the 19th century.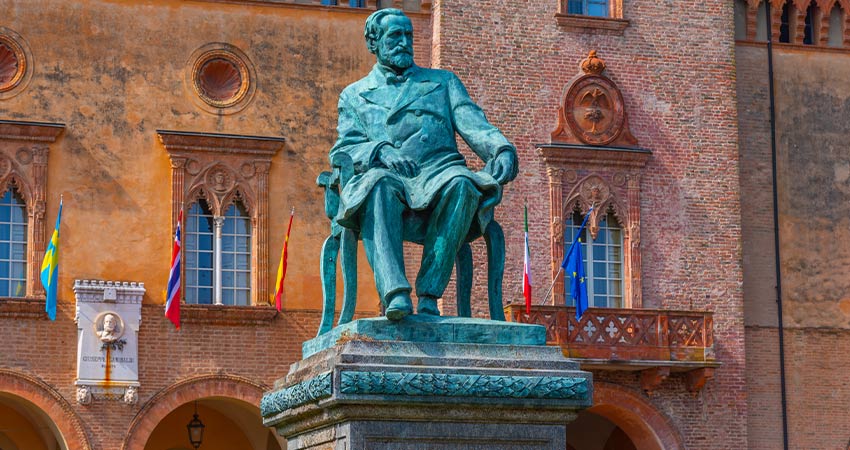 He had wished for a simple funeral, but that was not to be. 300,000 people crammed the streets of Milan. Shops closed, and life in Italy stood still. A funeral carriage drawn by six horses was followed by politicians, foreign representatives, dignitaries, and more carriages. His 'Va persiero' was sung by a chorus of 820, conducted by Toscanini. When the group reached his Casa di Riposa, all in the crowd sang 'Miserere' from Il Trovatore.
You can visit the museum rooms and the Great Room of Honor with a reservation. You'll be immersed in a home with a thousand stories from Verdi, his wife, and the many guests who stayed there over the decades. You can also visit Verdi's crypt without a reservation. It is magnificent.
Bellini
From Catania, the Kingdom of Sicily, Bellini was born in 1801 and was a child prodigy. Composing his first pieces at the age of 15, he had completed several major orchestral works by the time he was 17. He needed further instruction. Bellini received a stipend from the city fathers to attend Italy's premier music academy in Naples. Catania's Duke and Duchess gave him letters of introduction to powerful people in Naples, and he lived, composed, and taught there for the next eight years.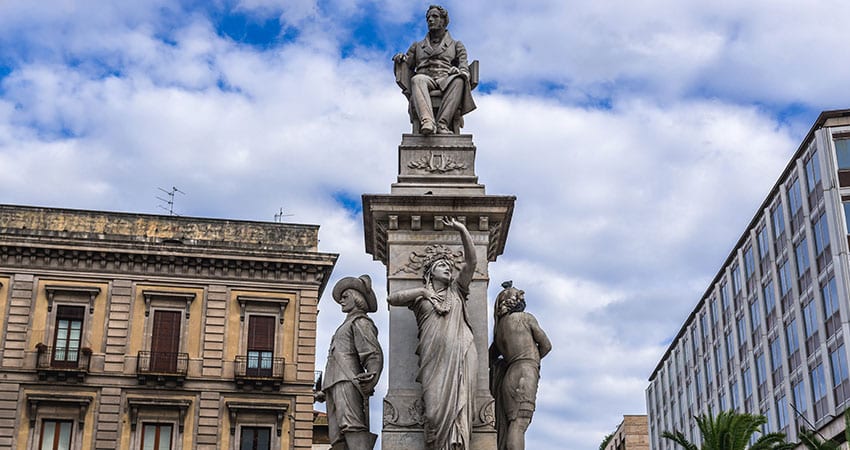 He then moved to the center of Italian music, Milan, revisited his home in Sicily often, and had stays in Paris, London, and Rome. Devoted to his career, he had numerous women, but was afraid attachment would distract him. He died at the age of 33, but during his short life composed 49 orchestral pieces and operas. Verdi was influenced by him and praised the broad curves of Bellini's melody, saying, "There are extremely long melodies as no one else has ever made before."
When in Sicily, head to Catania's Museo Civico Belliniano. The home that the young genius grew up in has been made into a museum. There are six rooms that contain tapestries embroidered by Bellini's female admirers, original autographed manuscripts of his opera scores, pianos played by Bellini, and his death mask. A must-visit for music lovers!
Puccini
Puccini was born in Lucca, Italy in 1858 and is regarded as the greatest proponent of opera after Verdi. His first works were in the traditional 19th century Romantic style. Later, he changed his style to verismo, a movement that embraced a more natural and realistic style of art, music, and literature. His best-known works are La bohème, Tosca, Madame Butterfly, and Turandot. These four are among the most frequently performed and recorded operas in the world.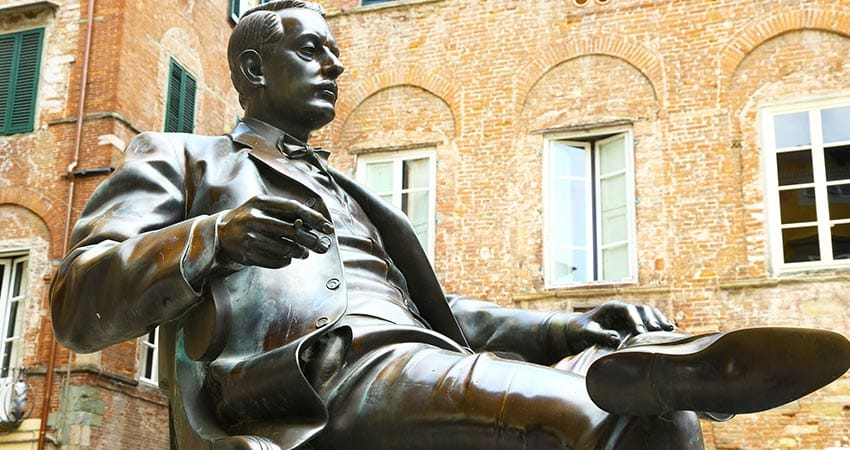 The Puccini family was Lucca's musical dynasty, beginning with Puccini's great-great grandfather. Puccini studied with his uncle, and then another uncle persuaded Queen Margherita to provide the money needed to send the young composer to the Milan Conservatory. A piece of his was performed in Milan when he was 24, and he was on the path to success.
His life was filled with drama, scandal, huge passions, terrible tragedies, love, women, and children. At the time of his death, at the age of 65, he had written 51 compositions. A British opera scholar and broadcaster later said of him, "No composer communicates more directly with his audience than Puccini… this composer so admired by Schoenberg, Ravel, and Stravinsky has emerged in his full stature."
Lucca is a glorious medieval town, and the city embraces Puccini as a favorite son. When there, visit the Puccini House Museum. Each room has a description of what the room was used for plus manuscripts, his opera scores, photos, paintings, a piano, an opera costume, plus memorabilia. While there, you'll also want to attend Puccini Festival Opera Recitals and Concerts. Heaven!
Vivaldi
Born in Venice in 1678, Antonio Vivaldi was a virtuoso unlike any other. Also named The Red Priest, for his flaming red hair, he entered the priesthood in 1703 at the age of twenty-five. In the same year, he took up the position of violin teacher at the Pio Ospedale della Pièta, an orphanage for young girls. He is considered to be one of the greatest Baroque composers. During his lifetime, his fame and influence spread across the whole of Europe. His innovation created new forms of orchestration, violin techniques, and program music.
He is best known for his violin concertos, The Four Seasons. This was nothing short of a musical revolution. In this work he represented rippling creeks, song birds, dogs barking, mosquitos buzzing, silent nights, drunken dancers, crying shepherds, hunting from both the hunter's and the prey's point of view, icy landscapes, and skating children.
At the height of his career, Vivaldi received commissions from European nobility, royalty, and wealthy merchants. Among these were a cantata in celebration of Louis XV's marriage; a serenata which premiered at the French embassy for the birth of French royal princesses Henriette and Louise; and Opus 9 for Emperor Charles VI.
Vivaldi wrote over 500 instrumental concertos and sacred choral works. He also composed 40 operas for performances in Venice. But he died at the age of 63, without funds, in a widowed saddle maker's Venice home. His work was rediscovered, with great acclaim, in the 20th century. Founded in 1978, The Vivaldo Institute in Venice preserves copies of all the music, manuscripts, and printings originally written by Vivaldi as well as modern editions of his music.
Italy is the place where life, love, politics, and music cannot be separated. Surrender to the beauty that is Italian music for one of the most memorable vacation experiences imaginable.
Whether you're already a music lover, or you'd like to dip your toes into this aspect of Italian culture, let your Destination Expert know!