Alaska is the experience of a lifetime, and we vacation there to refresh our spirits. It is still possible in Alaska to be the first person who has walked a mountain path or riverbank, and we remember we're part of the natural world. This land is ideal for summer adventurers who want to kayak, pan gold, jetboat, dog sled, fish, cruise, dip into history, and see eagles sail past glaciers. It is a healing, a graceful place to find absolute peace. Alaska is the experience of a lifetime.
Denali National Park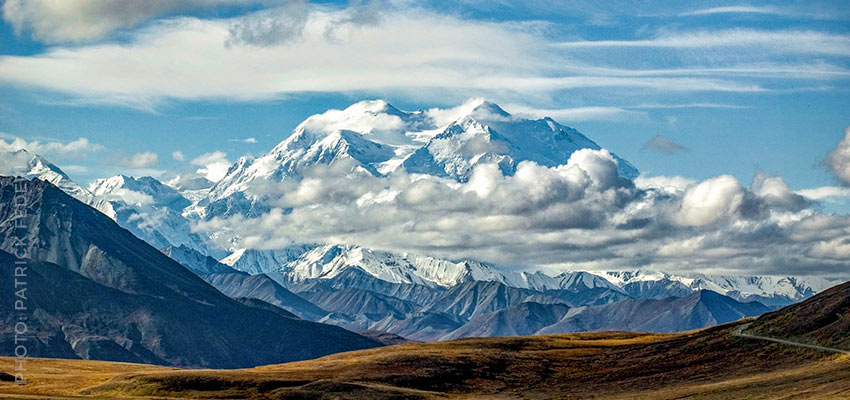 Like Alaska itself, everything about Denali is on a grand scale. Viewing wildlife is a peak experience during the summer months. You will often see moose, bear, wolves, caribou, and Dall sheep with their young. Look up, and there's a variety of birds, including the arctic tern, golden eagles, and enormous ravens that migrate to the park during the summer. Of course, there is the mountain. Denali is an Athabascan word, meaning, "The High One." At 20,320 ft. it is the highest peak in North America, so large that it creates its own weather system.
Kenai Fjords
Summer days make it easier to travel farther into this place of ancient wonder. At the edge of the Kenai Peninsula, the ice age is still real. Nearly 40 glaciers flow from the Harding Icefield, and being there is a powerful experience. Thick forests surround the ice and wildlife is abundant. You can take a boat tour or paddle these awesome fjords on your own or with a guide.
Metlakatla
The Metlakatla Indian Community is a celebration of tradition and culture. It is also the only Indian Reserve in the State of Alaska. Located on the Annette Islands just 20 miles off Ketchikan, you can reach the community by ferry, boat, or seaplane. The Indian population numbers around 1,460, and they welcome visitors. Go to a longhouse, watch a performance, and then participate in the song and dance—it's a joyous experience, filled with laughter. The community supports itself by fishing, and they work to keep their Sm'algyax language alive and well.
Sitka
Sitka has a colorful past that is a unique blend of Tlingit culture and the old Russian Empire—this relationship lasted for 135 years. The town is an exceptional blend of history, preserved in its Russian buildings, and natural beauty. (It was also Alaska's first capital.) Located on the Inside Passage, Sitka is at the heart of the world's largest temperate rain forest, the Tongass National Forest. Explore the town and then make time for fishing, hiking, and wildlife viewing.
Talkeetna River
Northeast of Anchorage, the charming town of Talkeetna is near the confluence of the mighty Susitna, Chulitna, and Talkeetna Rivers. This area is a perfect side trip when visiting Denali. There are floats good for families with children, and others that cater to people who are experienced in river adventures. From here, you may also want to see the Denali Park by air or go on a remote wilderness exploration with a local guide. The lower Talkeetna River is an area filled with history and scenic wonder.
Anchorage
Called "The Big Apple of the North," almost half of Alaska's population lives in Anchorage. It is the gateway to adventure, combining wild beauty with urban comfort. There are terrific restaurants, local produce, and fresh seafood. Only in Anchorage do moose munch on gardens while salmon run in neighborhood creeks. Dazzling glaciers, glorious parks and trails, wildlife safaris, dog sled teams, horseback riding, and a look into the gold rush era are all on the city's doorstep.
Juneau
Juneau is the only US capital that can be reached only by boat or plane. 19th century architecture is a holdover from gold mining, and the St. Nicholas Russian Orthodox Church is a beauty. When in Juneau, go to the Mendenhall Glacier, just on the edge of town. It extends from the 1,500-square-mile Juneau ice field—consider taking a helicopter tour with a glacier landing or dog sled ride. Whale watching tours, hiking trails, and access to Glacier Bay National Park all make Juneau an excellent summer destination.
If you have the urge to experience nature at its most powerful, when you want to feel invigorated and renewed, Alaska is a perfect choice. A summer vacation in Alaska allows you to truly experience the wild heart of this extraordinary land.
When you're ready for the adventure of a lifetime, let your Destination Expert know that Alaska is on your bucket list!