The southwest is a study in light, blazing sunsets, shadows, ancient mysteries, wellness, and drama. Native American and Old New Mexican cultures are settled between the red earth and a bottle-blue sky. The landscape is intense and so is much of the food.
The American Southwest seems like a difficult place for those long past to grow and find foods. But there were Piñon nuts, cactus, mesquite beans, wild apricots, acorns, berries, agaves, and they were added to a diet of wild game. Those who didn't hunt irrigated corn, cotton, pumpkins, sunflowers, and beans. They often traded for meat. The old New Mexican families brought their recipes with them and added native ingredients.
As you travel the Southwest, dive in and experience authentic southwest cuisine. Here are some of our favorite dishes. Enjoy!
Sopa de Tortilla Migas (Tortilla Soup, one version)
This soup is best enjoyed on a cool evening.
• 3 fresh tomatoes, sliced
• ¼ lb. ground meat (choose your favorite)
• 12 corn tortillas, warm and fresh
• 4 oz. green chili
• fresh garlic to taste
• 1 cup grated Mexican cheese
• ½ cup onions
• ½ cup soup stock
Cut the tortillas into strips about as wide as your fingers. Sauté the onions, add the tomato. (Also use fresh garlic, to taste.) Now mix with the meat and green chili. Place the tortillas in a casserole dish, add the soup stock and the meat mixture. Heat for about 20 minutes at 350 degrees. Squeeze some fresh lime on top.
Double and triple this recipe for guests! There should be soup for everyone in your household. Plus guests.
Indian Fry Bread
When you travel in the Southwest, you are bound to find Fry Bread. It is an absolute pleasure, so order it whenever you can. Native Americans swear it's the best when using Blue Bird flour, and we believe it.
• 4 cups white flour
• 6 tsp. baking powder
• 2 tsp. salt
• 1 large Tbsp. shortening
• water
Mix all ingredients together, adding enough water to make a stiff dough. Make a ball about 3" big—around the size of a baseball. Now, pull the ball into a circle about 6 inches large. Don't wreck it by using a rolling pin! Cut in a few places with a sharp knife – 4 times is a lucky number. Heat oil, at least 1" deep, in a skillet. When it's good and hot, drop in the dough, turn it quickly, and drain. Eat it while it's hot, and pour local honey on it. This tastes close to heaven.
Zuni Bread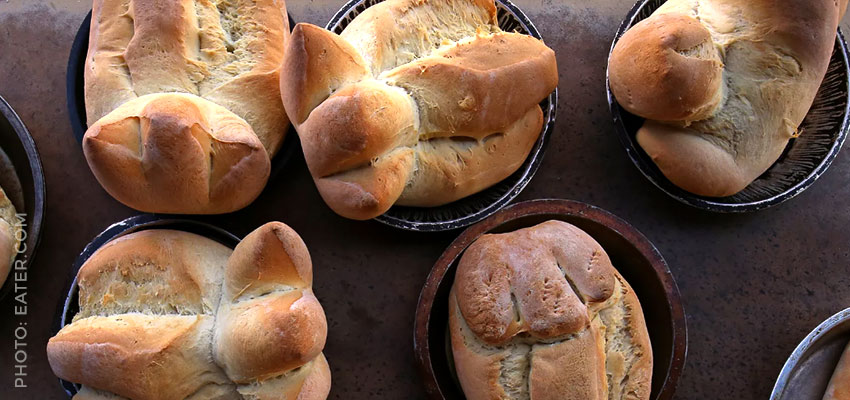 The Zuni Indians make beautiful, inlaid jewelry and bake exceptional bread. As you travel in New Mexico, keep your eye out for both. The Zuni are special, and evidence now shows they have distinct, Japanese roots.
• 1 pkg. yeast
• ¼ cup warm water
• 1 cup molasses
• 2 tsp. salt
• 2 cups corn meal
• 1 ¾ cups hot water
• 4 ½ cups sifted flour
• ¼ cup shortening
Dissolve the yeast in warm water. In a mixing bowl, put the molasses, shortening, salt, and corn meal. Add the hot water and stir until it's blended well.
Stir in 2 cups of your flour and mix until the batter feels elastic. Don't use an electric mixer. Count about 100 strokes, and it will be just right.
Add the dissolved yeast and then stir in the rest of the flour. Knead for about three minutes, shape into a loaf, place the dough in a greased bowl, and cover. If you can, put it somewhere warm to rise, but not too warm.
After 90 minutes, it should be double in size. Punch it down and let it rise again until it doubles.
Make one large loaf, put it in a greased pan, and let it rise. Don't get impatient!
The oven should be hot, about 400 degrees. Bake until the center feels solid, about 35 minutes or so.
This, like most breads, tastes best hot, and on a winter day. Served with a bean soup, it is perfection.
Cactus Jelly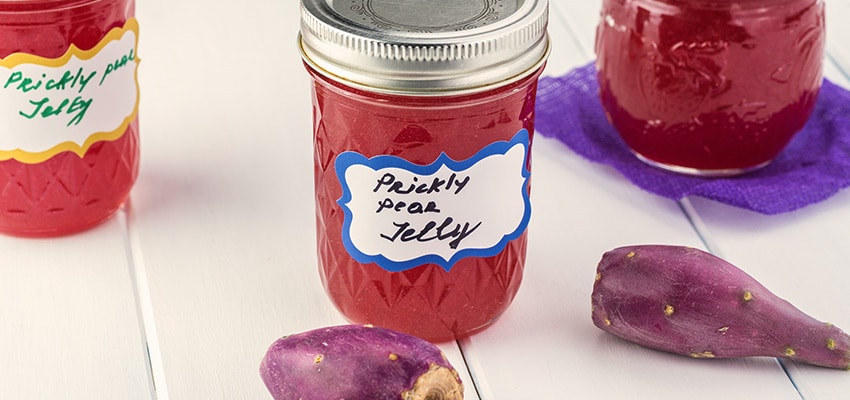 The cactus is an extraordinary plant.  It has evolved to flourish with little water and shallow soil. Did you know, the spines on a cactus are its leaves? Over time, they've become narrow to keep precious water from evaporating as it does on a larger surface. It is used for rope, shoes, food, and sweets. Cactus jelly is fuchsia and it is beautiful.
• 4 ½ cups of sugar
• ½ cups lemon juice
• 1 ½ cups of cactus juice
• Certo
Bring all the ingredients to a rolling boil and stir frequently so it doesn't burn. Add one bottle of Certo, loved by jam-makers for ages, and bring to a boil again. Now, boil it hard, stirring for one minute. Don't stop stirring, or you'll have to start all over again.
Take it off the heat, skim it, and pour into sterile jelly glasses. Pour paraffin on top to seal.
Calabaza al Horno (Baked Pumpkin)
Pumpkins have been grown in North America for at least 9,000 years. It's a lovely plant, hardy, has good nutrients, and is not fussy about climate. This simple recipe is still tasty, although early people would have used honey instead of brown sugar!
• 1 small pumpkin
• 1 cup brown sugar, or less, to taste
• 1 tsp. salt, if you like it
• butter or other fat
Slice a cleaned pumpkin into squares, or really any shape you like. Place the squares in a baking dish, put brown sugar on each square with a small dab of butter or other fat in the center. (Put a little water in the bottom of the pan to keep the skin from burning.) Bake in a hot over for about 30 minutes. You can also bake a whole pumpkin in a baking pan and add what you like after it's cooked.
The people who came to this region of the USA created unique cuisine, including green chili beer. As you travel through the Southwest, pick up a recipe book. They're available everywhere, from the Grand Canyon gift shop to small trading posts.
Let your Destination Expert know that you want local food to be part of your Southwest adventure!