Traveling to Italy fuels joy and passion. Get in touch with your senses and indulge in exquisite food and drink. Let happiness fill your days while Italy's art and culture satisfies your longing for beauty. And, of course, Italy is the perfect place for romance. Take it all in and relax. You are bound to hit the country's highlights, and in each there are secret spots where passion burns.
Venice—
Castello di Conegliano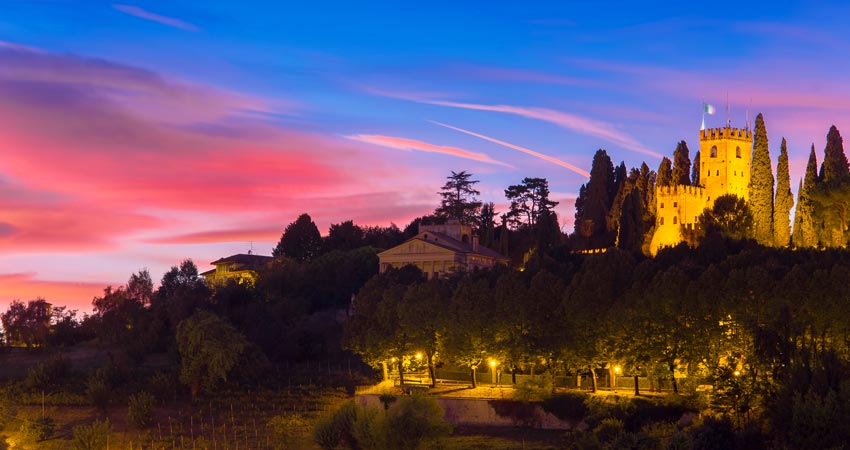 The Veneto region is Prosecco Country, and we suggest a trip to Castello di Conegliano. Bring a bottle of wine, a loaf of bread, and cheese with you. Walk up the hills along the 13th century walls until you reach the top. There you'll find the ruins of Conegliano's 10th century castle and lovely gardens. The castle ruins are amazing, but the real star here is unending vistas. This is the perfect spot for a cozy picnic and a divinely peaceful afternoon.
Naples—
Negombo
© Parco Negombo
Ischia is one of the largest islands in the Bay of Naples, but there are still a few secret spots to discover. We suggest heading to Negombo—the name itself is a marvel. It has a private beach and it's the best thermal spa on the island. More than that, it's part of the Giardini Italiani, the home of more than 500 exotic plants. Eclectic sculptures pop up amid the plants, and thirteen pools are placed in the mix, making the entire area feel like an art installation. Soak your feet in the Japanese water maze and indulge in a spa treatment. Heaven.
Florence—
Chianti Country
Florence is the heart of La Dolce Vita. When you need a few moments to decompress from the sheer grandeur and wonder, head to Chianti—it's not far from city. The vineyards and olive orchards will shoot you straight back to another time. Roman churches and Renaissance villas dot lush hillsides. Stone farmhouses are butter-colored, and vineyards give way to deep forests. Duck inside a café and watch life go by, or get your food to go and sit in the shade of an aging castle.  All is well in Chianti!
Sicily—
Culture Diving
Dig into Sicily's culture. After 25 centuries of foreign domination, this is a crazy-quilt of food styles, lifestyles, contradictions, and compromise. (The one constant here is exceptional cuisine. Indulge!) When you explore, be prepared for anything and everything. Gracious Greek buildings stand next to Byzantine architecture, and Arab mosaics bridge the divide. Norman palaces and cathedrals arise. And then you're into the countryside where lush farms are next to volcanoes. Head to the turquoise waters of the island. Breathe deeply, and fall in love in this Mediterranean melting pot.
Cinque Terre—
Secret Cafés
Cinque Terre reflects the nature of the Italian people. It is dramatic, colorful, cozy, and outlandish. The way these five villages teeter on hillsides, while holding firm, is improbable. The hillside gardens have been lovingly shaped and cut for the last 2,000 years. This is a favorite spot, so finding hideaways isn't easy. After wandering its winding paths, get off the main road and dip into a local café. If no one is speaking English, you're in the right place. Order something from the menu that is a complete mystery. Listen to the Italian language roll its vowels. Cinque Terre is a sensuous experience, all of it.
The Lakes—
Rezzonico
The magnificent Lakes continue to inspire artists, musicians, and writers. Check out the morning markets, sailing, movie star watching, and colorful sidewalk scenes then head to the town of Rezzonico. On the northern shore of Como, this is a small, lovely village that has somehow escaped time and travelers. Go to the beach, this one has a pebbled shoreline, and you'll see fishermen lined up on wooden benches, chatting. Walk on the ancient Roman road, the Antica Strada Regina, to Menaggio. Relax and feel the romance. This is authentic Italy.
Umbria—
Foodie Heaven
The only land-locked region of Italy, and with no foreign borders, Umbria is the country's fertile heart and quieter than Tuscany. Nonnas still wear aprons, gossip to each other out their windows, and make fresh pasta. Snack on fried olives, and savor tartufi neri (black truffles) with delicately cured meats. As you would expect, the wine here is hearty and full-bodied. Settled over 3,000 years ago, there are a number of off-the-radar villages. Eat, love, and revel in every moment. This is an entire region of secret, romantic spots.
Sardinia—
Le Prigionette Nature Preserve
Sardinia is wild. 7,000 Bronze Age sites share the landscape with four million sheep. White beaches with pure blue waters, exotic food, and a unique earthy culture makes Sardinia romantically entrancing. At the base of Monte Timidone, Le Prigionette Nature Preserve is nature at its finest. Woodlands, aromatic bushes, deer, albino donkeys, Giara horses, and wild boar roam freely. This preserve is for walkers and cyclists only. Let go and feel the freedom.
Rome
—Basilica di Santa Prassede
A hidden gem in the heart of Rome? Yes, and it's just a 2-minute walk from the Basilica di Santa Maria Maggiore. This church, at its present site, was commissioned in 780 AD. It's not much to look at from the outside but, OH!, the interior… These Byzantine mosaics are some of the most stunning, and unusual, in Rome.
Fill your pockets with Euro coins before entering. Feed the meters and lights come on, illuminating the details of each mosaic. The ancient frescoes are thrilling. Climb the spiral staircase, and you'll enter a small room with an 8th century fresco, depicting the life of the saint, Praxedes. When you leave the building, take time to wander the nearby narrow streets. Many are still dusty lanes—enjoy every moment.
Sorrento—
Queen Joan's Bath
Sorrento is a luscious town on the shore, the jumping off place from Capri, and gateway to the legendary Amalfi Coast. In the 19th century, it was a must-see on the Grand Tour. The scent of lemons fills the air, and patrons will be served limoncello liqueur, as if it's water, even if just ordering a pizza.
Walk the steep coastal hill north of town, and when the hotels stop, look down. There is a divine grotto, a pool that's fed by the sea, and very private. The ruins of Queen Joan's castle can still be seen, and this was her favorite bathing spot. Walk into the water. You will most likely be alone—this is the perfect secret spot to let your imagination wander back to Italy of old.
Italy was made for romance. It is the place where passion runs rampant; it is the place we go to fall in love with life again. In every busy region there are secret spots and hidden gems. Make time for them.
Let your Destination Expert know you want to fuel the flames of romance on your Italy vacation!