Evocative, wild, mysterious, passionate, and delicious Venice celebrates Carnival like nowhere else on earth. This floating city, made of 117 islands, pulls you into a timeless world with an electric atmosphere. Extravagant costumes and masks, a glorious display of living art, heavenly fabrics, and a kiss of color fill the squares and marketplaces.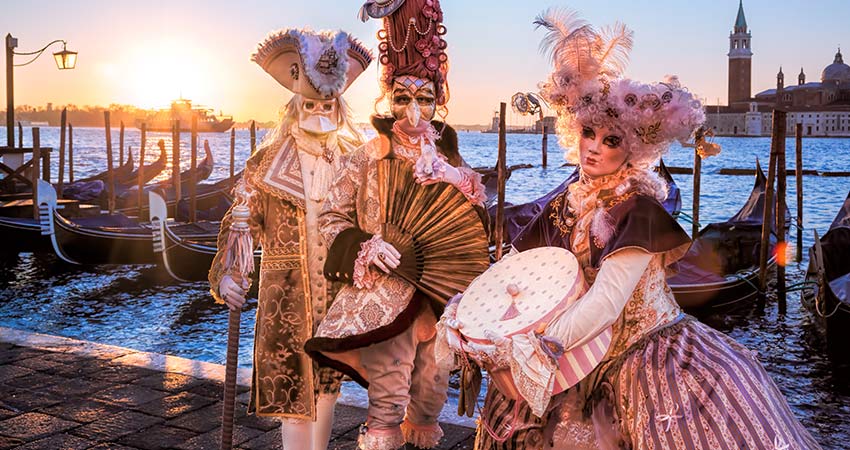 Carnival festivities typically begin in February or early March, during a time known as Shrovetide. Celebrations end the day before Ash Wednesday; it's the last day to indulge in all forms of divine excess before Lent.
You'll find parties in the streets, masquerade balls, historical reenactments, brash revelry, and parades. This last hoorah for pleasure precedes 40 days of sacrifice before Easter. All bets are off during Carnivale, and enjoyment is the name of the game.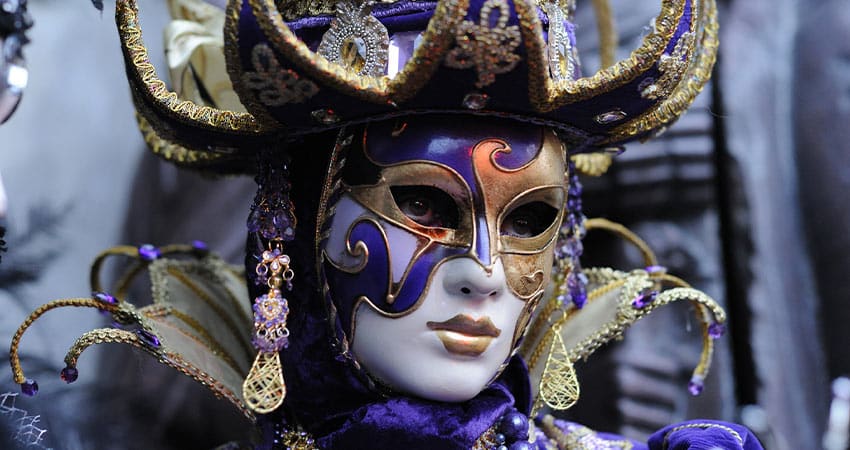 There is something sublime and seductive about masks, and Venice is the place where they've been raised to a high art for centuries. (Consider taking a mask-making class while there.) It's also the place for extravagantly elegant clothing. The city's costumed actors transform every pocket of Venice into a surreal place of enchantment.
The roots of Carnival are quite old. It may have originated as a pagan festival in Egypt, which was co-opted in turn by the Greeks, Romans, and the Roman Catholic Church. Its roots in Italy may also be linked to the Saturnalian festival of ancient Rome. The word "carnival" means "farewell to meat" or "farewell to flesh," in reference to the Catholic practice of abstaining from eating red meat from Ash Wednesday until Easter.
We do know that the Carnival celebration in Venice, as we know it today, was first documented in 1094, making it one of the oldest in the world. Venice was Europe's pleasure playground, and by the 18th century Carnival had reached its pinnacle of splendor and ostentatious delights. Because of masks, Venetians were able to get away with a lot of things they might not have otherwise!
Napoleon, that well-known party-pooper with ego to spare, invaded Venice with his troops in 1797. One of his first acts was to ban Carnival, and that ban lasted for almost 200 years. In 1979, Venice reclaimed its title as Carnival Central, and quickly returned to its full glory. When you visit Venice during Carnival, explore the city streets and small lanes. You'll see masked characters throughout the city. Greet them or pose with them for a picture. Perhaps, best of all, wear a costume and a mask; you will be a welcome participant.
When evening rolls around, you can get tickets to attend a masquerade ball. This is a once-in-a-lifetime experience. If you prefer, there are Venetian pub crawls. Join in the merry making and follow the locals to their favorite haunts. Attending an opera during Carnival is a particular joy, and there are amazing historical reenactments and sideshows in squares. Of course, the cuisine and wine are out of this world.
Perhaps you'd like a candlelight dinner or a gondola ride. Venice was made for romance and intrigue. Wear a mask and who knows what might happen? If you're really in the spirit, stop in at Atelier Marega. It's the best place in the city to purchase a mask or a costume. Their clothing is vintage 18th century, and they carry an extraordinary number of unique masks. This is a true treasure to bring home with you.
One of the highlights is the Carnival opening, called "The Flight of the Angel." This takes place at midday on the first Sunday of Carnival—this year it will be February 12th. When San Marco Bell Tower strikes noon, an acrobat will jump off the tower, soar through the air, and land in the middle of Saint Mark's Square. Hold your breath and then cheer! This event was started in the 16th century by a Turkish acrobat who walked a tightrope across the square.
The Water Festival is another grand opening, and it runs for two days on the first official weekend of carnival. Held at the Cannaregio Canal, you'll find a festive array of aquatic performances, including artistic boats on parade, costumes, masks, music, a regatta, food stalls, mulled wine, and delicious treats.
The Casanova Grand Ball is a masquerade ball hosted by Atelier Marega. It is exclusive, beautiful, and you can attend. This grand ball takes place in the stunning Palazzo Zeno. It is the sort of affair that Casanova attended when Carnival took place over a period of six months; mask-wearing was favored by him as a way to conceal a multitude of dalliances. Live music and non-stop dancing are the heartbeat of this lavish event.
The San Marco Square, or Piazza San Marco, is the center for most activities. Go there and fall into the magic. Indulge, indulge, indulge in a favorite Venetian treat called Fritelle. It's a type of fritter, or fried donut, that is often rolled in sugar. Also try the galani, a deep-fried flat pastry, or castagnole, small balls of fried dough. This is the time for guilt-free eating. You can worry about your diet when you get back home.
The lion is the official symbol of Venice, and the lion closes the Carnival. Painted on a huge canvas of red and gold, the lion is lifted from the square to the top of the Bell Tower, and it is magnificent. Following is a fireworks display that can be seen all over Venice.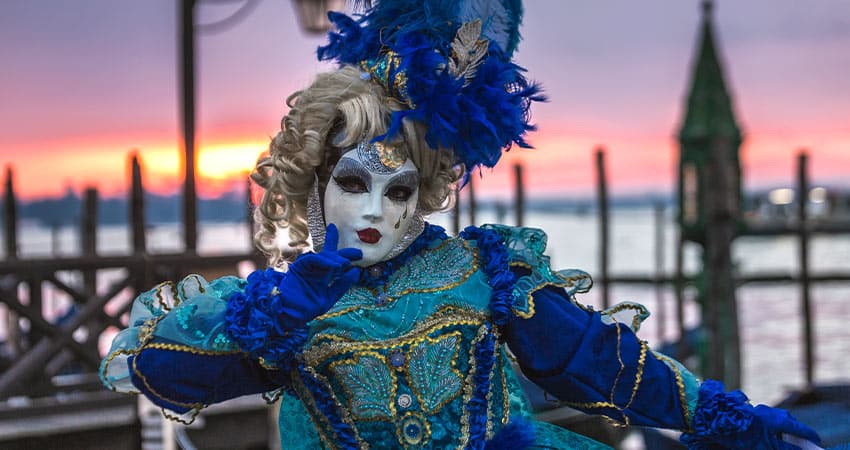 When you go to Carnival in Venice, get an extravagant mask or costume. Indulge in local food and drink. Partake in spontaneous joy and audacious beauty. Dance, get rowdy, be mysterious, and imagine yourself in the Venice of ages ago. Carnival is an authentic thrill.
Any time of year is the ideal time to visit Venice, Italy. If you'd like to go during Carnival, wonderful! Can't make it? Venice is a feast for the senses any time of year, and we're happy to make this dream a reality.