One of the joys of travel is sampling new cuisine, and a vacation in Italy tops the charts for food lovers. Specialties differ from region to region and town to town. Consider exploring a market stall with a chef, and then going to their home for a cooking class. Heaven.
Puglia is famous for fresh, abundant produce. Sicily's diverse tastes and styles were influenced by the many nations that invaded this large, southern island. Rome and Lazio have a variety of simple pasta dishes, while Venice and Veneto have seafood and sauces that are reminiscent of its trade with the Orient. In Florence and the Tuscany region, you'll find rich bean soups, mouth-watering steaks, and an imaginative use of local produce.
Naples and Campania are home of the original Mediterranean diet—think tomatoes, olive oil, fresh vegetables, and garden herbs. In Milan and Northwest Italy, try the polenta and risotto. In the coastal area of Liguria, seafood with basil is a must.
Diving deeper into the tastes of Italy, these are the places you'll find the best foods that the country has to offer:
Naples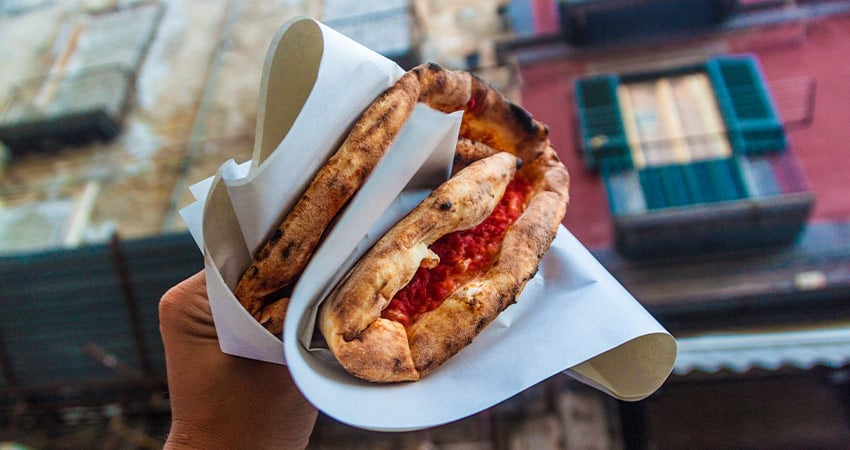 Naples is perfect for those on a quest for the ultimate pizza; the Margherita pizza was first created here, and other toppings were added. Vineyards and tomatoes love volcanic soil, and the land near Naples is ideal for them. The dessert called "Sfogliatella" is a pastry you'll want to try, and perhaps more than once. The dough is flattened on a large table, brushed with butter, and rolled into a log. During baking, the layers separate. The dessert can be filled with orange-flavored ricotta, almond paste, or candied citrus peel.
In this region, look for Friarielli, Frittatina, Gelato, Mozzarella di Bufala, Genovese Pasta, and, of course, Pizza.
Bologna
Bologna is beloved by foodies. Much of the first-rate pasta is rolled and shaped by hand, and the city is especially renown for Bolognese sauce. Without a doubt, this region has some of the world's best, beefy tomato sauce.
Make sure to experience a laid-back aperitivo. Order up, and you'll be given Mortadella, Cheeses, and the best Prosciutto imaginable. As the capital of Emilia-Romagna, this rich area produces Parmigiano Reggiano cheese, Balsamic vinegar, and Prosciutto di Parma. When in Bologna, must-eats include Lasagne Verde al Forno, Mortadella, Prosciutto, and Tortellini.
Rome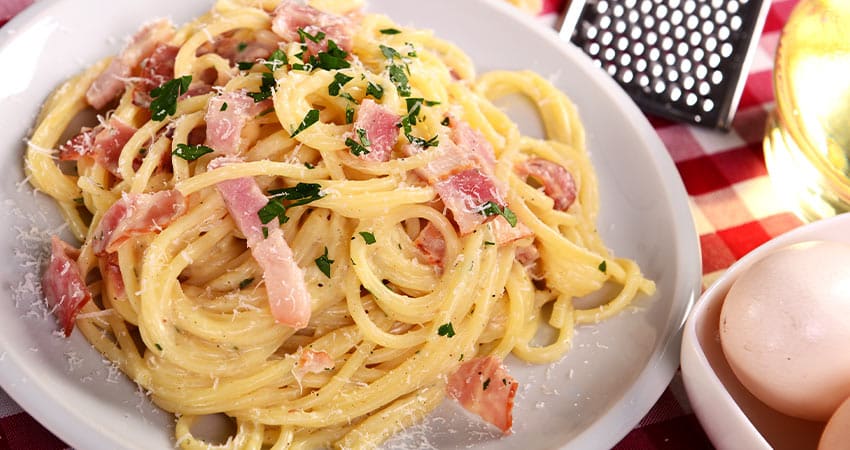 Rome has the Trevi Fountain, the Coliseum, the Parthenon, and Pantheon, and the nearby Vatican. Sidewalk shops for shoes and purses abound. But you'll also want to dive into one of Rome's four specialty pastas. These include: Cacio e Pepe, Carbonara, Amatriciana, and Gricia. You'll also find new styles of pizza. Pizza al Taglio is served in squares and measured by its weight. Roman-style pizza has a thin crust, and Trapizzino is a sandwich made with pizza dough.
Fried artichokes, called Carciofi alla Guidia, originated in Rome's Jewish community hundreds of years ago. (If you fall in love with these, you can make them when you get back home.) Rome is also home of Porchetta, a rolled pork, and Suppli, a tasty Roman snack. Another Roman specialty to try is Maritozzi.
Verona
Verona is not only home to Romeo and Juliet, it is home to some unusual drinks, including Soave and Amarone. Verona's best dish is made with Amarone wine—it's beautiful to see and to taste. It's called Risotto alla Amarone. Have a glass while you eat. People who love meat and fish are happy in Verona—pasta with seafood is a particular favorite. There is also an abundance of local produce. While here, make it a point to try Bigoli Pasta, Bollito Misto, and seafood in any form.
Parma
Parma situated in the northern region of Emilia-Romagna, is well-known for architecture, music, and art. It is also the premier region for Prosciutto, Cheese, and a glorious nearby countryside. The region's capital is Bologna—very handy.
It can be said that Parmigiano-Reggiano is a gem in the world of cheese. Only certain provinces, inside Emilia-Romagna, can make this cheese. Parma has a rich culinary history, and the entire area is known as Italy's Food Valley. Country dishes, fantastic meats, and beautiful wine are to be savored here. Also try the local Parmigiano-Reggiano cheese, Cotechino (pork sausage), Culatello (rare Italian salumi), and Prosciutto di Parma.
Florence
Florence has a multitude of high-tone cultural wonders, but its foods are earthy and use ingredients from the Tuscan countryside. Their bean stew, Ribollita, is legendary. It's thought that being surrounded by the beauty of Florence inspires cooks to make their meals works of arts. Try Bistecca all Fiorentina (a buttery steak), Pane Toscano, Pappardelle al Pomodoro and Schiacciata—a chewy Italian bread, straight from the Tuscan hills.
Venice
Venice is for dreamers and lovers. Its salads have prizes from the sea such as spider crabs, fried seafood (often calamari) for appetizers, and spices that came to Venice during its centuries of trade with the Far East. You may have tried calamari in the States and found it to be tough—not so in Venice. Pastas surprise with unusual ingredients such as fresh truffles and small lobsters.
Over a period of 900 years, ships bound for Venice brought various peppers, nutmeg, cinnamon, cloves, nutmeg, and ginger to the city. All these are used in unique sauces, desserts, wines, and even main courses. Close your eyes and enjoy – the scent will carry you to a distant time and place. When in Venice, also try Baccala Mantecato a traditional dish made with salt cod, Sarde in Saor a classic Venetian dish made with sardines.
Lucca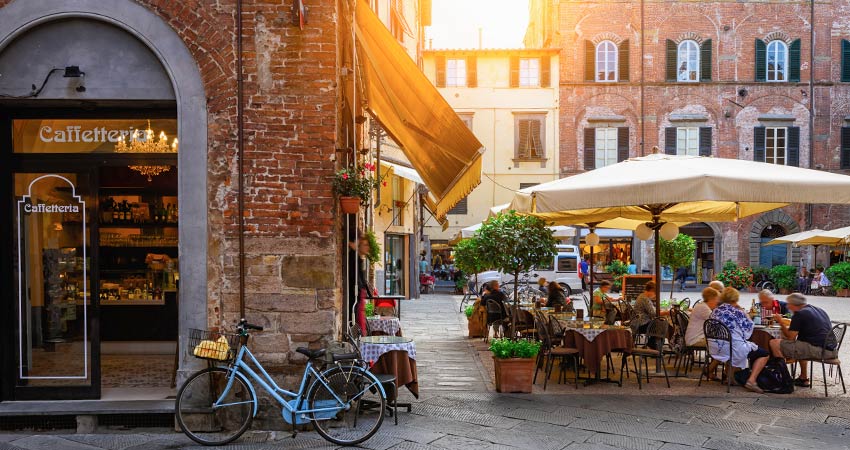 Lucca is a medieval wonder, the home of Puccini, and artists of every sort. It is also home of Tordelli Lucchese, a bright yellow pasta made from flour and eggs. Like Ravioli, it is stuffed with beef or pork, chard, pine nuts, raisins, spices, cheeses… and anything else the chef feels like tossing in. A mixture of spices makes this meal a must while in Lucca.
Sienna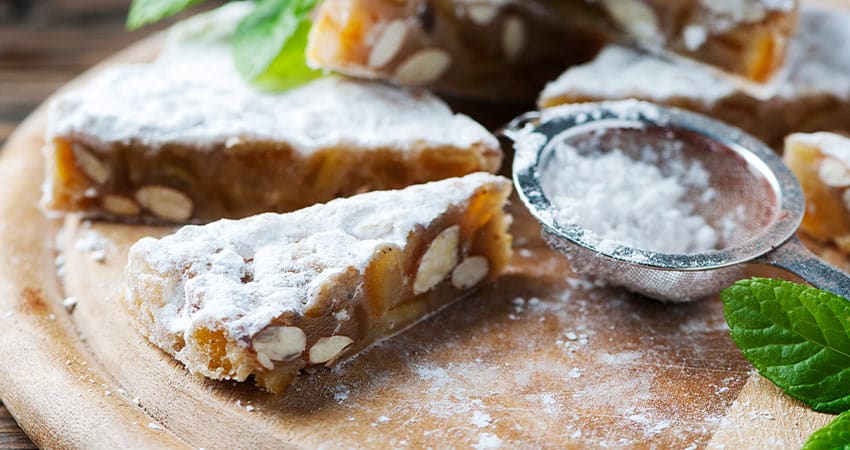 Sienna high in the Tuscan hills, is another medieval town that makes exceptional use of local produce and meats. Imagine wild boar, small-batch olive oil, Porcini mushrooms. Ribbon-shaped pasta made with hare, long, extra-thick spaghetti in a rich sauce, soup of bread, beans, and vegetables, and Scottiglia, slow-cooked meats with a sweet tomato sauce. For dessert, order up Ricciarelli, almond cookies, or Panforte, an ancient sweet that is cooked with honey, dried fruits, nuts, spices, and peppers. Many restaurants are members of the Slow Food Movement. Eating in Siena is an event.
Sicily
Sicily is not only known for the quality and diversity of food, but also for its eye-catching appeal. The climate is mild, and cooks are able to keep their kitchen herb gardens going all year around. Lemons and oranges also love the climate and are often used in cooking. Ingredients you might find in Sicilian dishes include pistachios, almonds, prickly pear cactus, and fresh fish. The best-loved Sicilian pastry is the Cannoli. It is a tube-shaped pastry made of fried pastry dough and filled with ricotta, a staple of Sicily's cuisine. (The original Cannoli recipe came from a convent in Palermo.)
Panelle is a traditional street food that is a fritter made from chickpea (garbanzo) flour. Arancina al burro has saffron, salt, rice, flour, butter, breadcrumbs, pepper, olive oil, Mozzarella, ham, and Bechamel sauce. Arancina con carne is made from saffron (an Arab influence), salt, rice, flour, breadcrumbs, minced meat, tomato sauce, Caciocavallo cheese, and peas. Both are fried and can be found anywhere in Palermo.
The Calzone is from Sicily as is Pizzotto and Pizzetta. Pasta con le Sarde is an extravagant assortment of flavors, and the base is wild fennel and sardines. Sicilians love strong flavors, and they favor pine nuts, raisins, almonds, saffron, white onions, anchovies, as well as wild fennel. The combination of sweet, savory, and salt is absolutely unique.
The Lakes Region
The Lakes Region is famous for stargazing, sailing, villas, and towering mountain peaks. The food here is usually a rich mix of meat, pasta, fish, and produce. Lake Maggiore is situated on the southern end of the Swiss Alps, and you're as likely to find German fare here as Italian. Head to Isola dei Pesatori, a short ferry ride from Stresa, and savor fresh fish.
Food is central to romance, and nowhere is this truer than in Italy. Try new dishes on your vacation and remember this Italian proverb: "At the table, you never grow old!" What are you waiting for? Joy awaits!
Indulge. Fall in love with life. Let your Destination Expert you want to savor Italy's foods and wines.