Scotland has some of the most scenic railway routes in the world. From Edinburgh and Glasgow to the Highlands and the islands, Scotland is a dream. And, on a train, there are no worries about driving on the left side of the road or parking. An epic Scotland trip is yours when you take the train, and there are stations in each of the seven cities that are the jewels of Scotland. Authentic Vacations has the personal experience, and the team, to organize your lodgings and experiences for you.
Edinburgh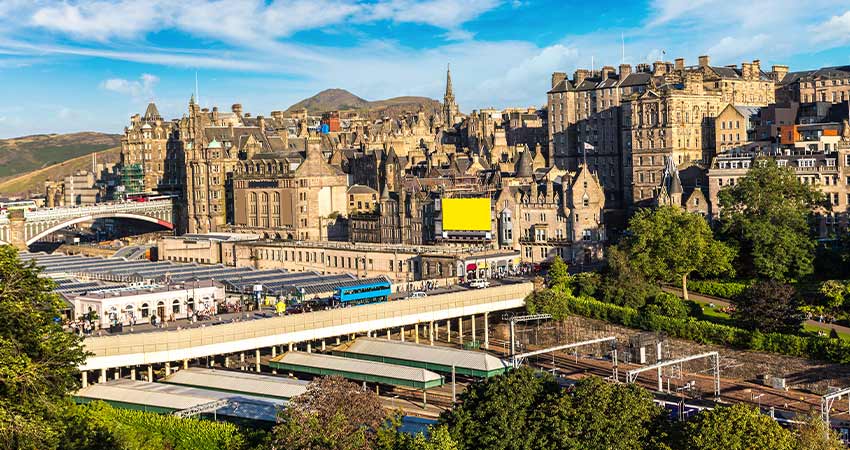 Use the capital, Edinburgh, as your base and explore the city on foot, by taxi, or by bus. Consider taking the train to the suburb of South Queensferry. There may be nowhere else that three extraordinary bridges, built over hundreds of years, exists. Back in Edinburgh, explore Edinburgh Castle, but don't overlook Craigmillar Castle. It is one of the stars of the Outlander television series.
Edinburgh has two mainline train stations, Waverley and Haymarket. The largest station is Waverley, ideally located in the city center, between Edinburgh's Old Town and New Town. Princes Street is the premier shopping street, and it runs close to Waverley's north side. Tours can be arranged for the Edinburgh Castle, unique whisky tastings, Georgian architecture, and a Holy Grail and Knights Templar Experience.
It's an easy, beautiful train ride from Edinburgh to London.
Glasgow
Glasgow's centrally-located train station is the busiest station in Scotland. The station itself is a unique, historic building that is a destination in itself. There are loads of shops, bars, restaurants, and guided tours of underground vaults! When in the city, Scotland's only subway is in Glasgow, and it is known by locals as 'the Clockwork Orange' because of its paintjob. If you want to use Glasgow as your base, we can arrange day trips to Outlander locations and to Loch Ness.
You can head out to Robbie Burns territory, see castles, golf at Troon, or ferry to Belfast, starting out from Glasgow.
Aberdeen
There are three historic districts to explore in Aberdeen if you want to stretch your legs after your train ride and explore. If you'd like a day trip, we can arrange a whisky tasting at Macallan, Glenlivet, or a deluxe Speyside tour.
Inverness
Inverness is the gateway to the Highlands. You are in beautiful country here. Explore this historic city for several days and then let's arrange some exceptional excursions for you. Imagine yourself in the Isle of Skye or Eilean Donan Castle. Perhaps you'd like to cruise Loch Ness or visit the Culloden Battlefield. Whatever your Highlander dreams are, they can happen from Inverness.
Take a train north from Inverness, and you'll pass distilleries, rivers jumping with salmon, and golf courses. Go to the far north, and you'll get a taste of the authentic wild and remote part of Scotland. The country's northern most train station is Thurso—a ride here is worth it just to step out and feel on top of the world.
Dundee
Dundee is a dynamic city with a lot going for it. It is a UNESCO City of Design and has the world's only Victoria & Albert museum outside London. The city has spent $1 billion polishing up for tourism and trade. With science, historic ships, and a museum for kids and curious adults, this may be the perfect time to visit. The train here leaves you just 12 miles from St. Andrews, and it's a good place for day trips to Pitlochry, Ft. William, and Aviemore.
Perth
This historic station, designed by Sir William Tate, was opened in 1848. It won an architectural prize, and has seven platforms, five of which are through platforms. It played a significant role in 19th century Scotland's ability to move throughout the country and to the coast. The name Perth means, "the Fair City," and it is that. Perth is situated on the River Tay in the eastern part of Scotland, and it's easy to explore the Georgian townhouses, medieval spires, and buzzing night spots and fine cuisine.
Perth was Scotland's ancient capital for five centuries, and it is well worth a visit. There are small train lines that leave from Perth. There are also day trips to Loch Ness, or you can go white water rafting!
Stirling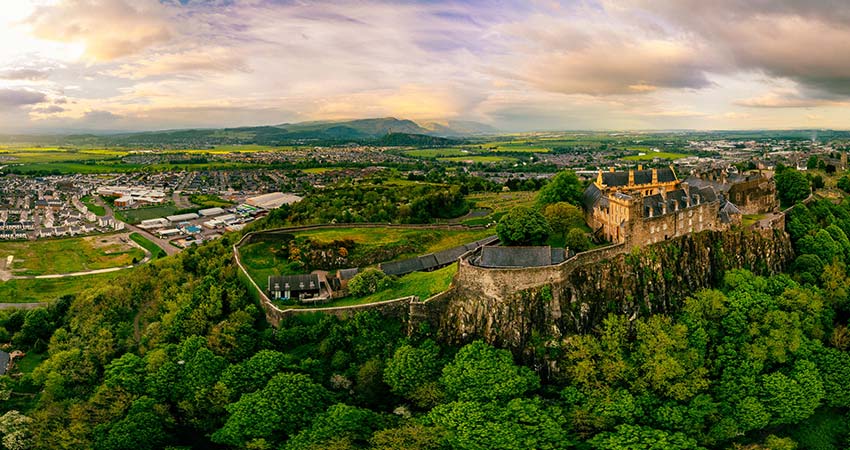 Stirling is located on the former Caledonian Railway main line between Glasgow and Perth. It is served by a number of trains, including those to Edinburgh, Dundee, Aberdeen, and Inverness. This beautiful station, with its flowing design, is at the very heart of Scotland's history.
Located in central Scotland, medieval Stirling Castle sits on a volcanic outcropping in the heart of its old town. On the Abbey Craig outcrop, you'll see the National Wallace Monument, overlooking the site of the 1297 Battle of Stirling Bridge where William Wallace (you know him from the movie Braveheart) defeated the English. Stop into the Battle of Bannockburn Experience. There are 3D displays that cover the 1314 conflict there. Stirling itself is a treasure chest of everything Scottish, and we can arrange everything imaginable. A gin distillery tour and Outlander experiences are particular favorites.
Distances:
Edinburgh to Aberdeen: 3 hours
Edinburgh to Glasgow: 1 hour 20 minutes
Glasgow to Inverness: 4 hours 15 minutes
Edinburgh to Stirling: 50 minutes
Edinburgh to London: 5 hours
Stirling to London: 5 hours 50 minutes
Imagine the plush hills and deep forest glades to the far north of Scotland. Now put rousing rivers, wild moors, castles, and sleepy villages into the mix. Scotland is pure beauty and mystery when she's viewed from a train. Let's go! Authentic Vacations can make it happen for you.