Whether you want to concentrate on a couple of cities, give yourself time to thoroughly discover Dublin, or tour every corner of brilliant Ireland, you'll find a world of options to discover the Ireland you're dreaming about. Fabled castles and ruins tucked in quiet fields. Dramatic lakes and shorelines, ancient forests, breweries, film locations, and dazzling cities. Ireland is yours.
Chauffeur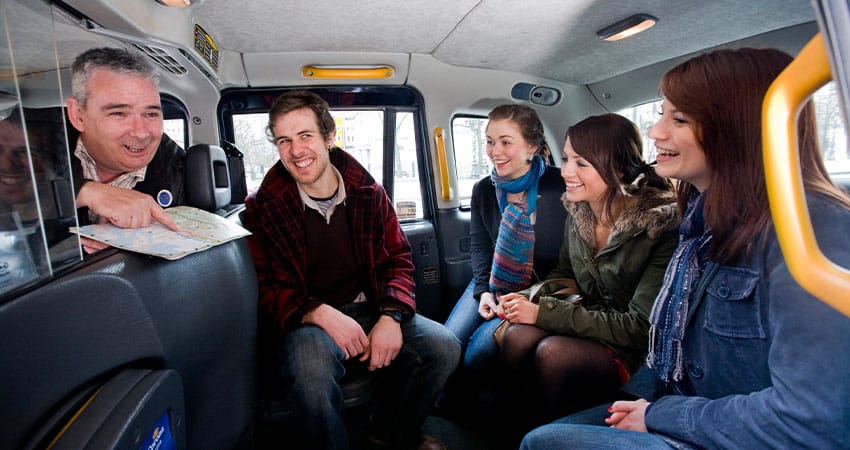 For a couple traveling together, or a small group of friends or family, consider a private driver. This is a spectacular option and it's more affordable than you might think, especially with the cost of a large rental car. A chauffeur gives you the freedom to enjoy the scenery, plus they know the hidden gems and local hotspots. Do you love crafts and small cafes? Wonderful. Ask them to pull over and give you time to wander. And, if you want to hear stories, your driver probably knows a fair number of them. Relax and enjoy.
Self-Drive
There is nothing like the freedom of the road. If you're comfortable driving on the left side, rent a car and the entire country opens up to you. Your lodgings each night are reserved in advance, but where you go along the way is totally up to you. Driving gives you the spontaneity to head off on a path less taken or drive down a road with an intriguing sign post. Leave as early as you want, check in late… the choices are yours.

Small Group Tour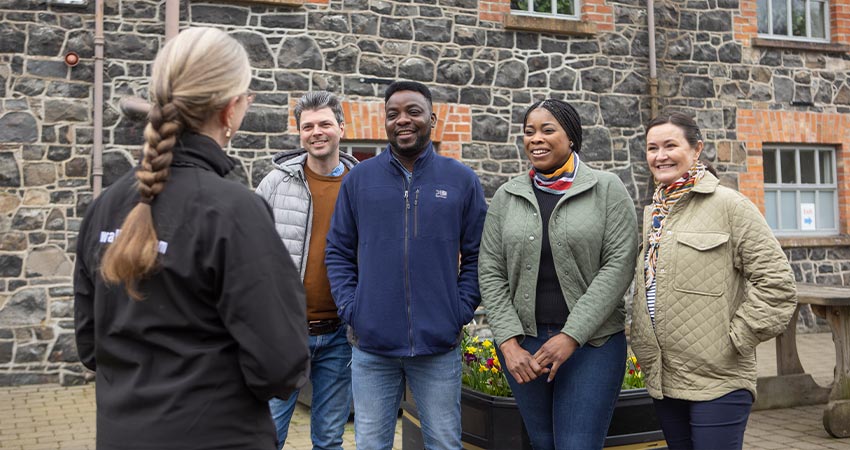 Some people find the countryside difficult to navigate, and a small group tour relieves that worry. Your guide knows the highlights, secret spots, and amazing tales. It is an ideal way for singles, couples, and groups of families or friends to travel together. You'll see the best of Ireland with flexible time built in. Experiences, breakfasts, and tolls, and entrance fees are usually included. This is a good option for intimate travel with total ease.
Guided Coach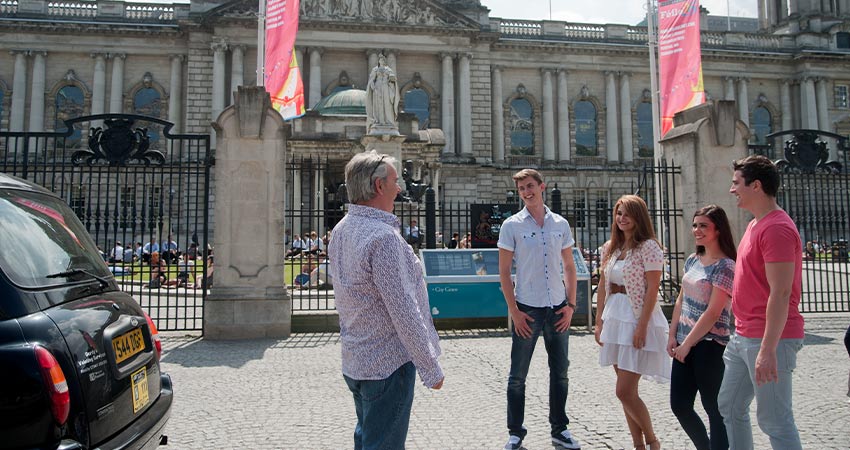 If you want to see as much as possible during your time in Ireland, a guided coach might be for you. As with a small coach tour, you're relieved of navigating the roads. You can mix it up, using a guided coach for the cities, and a rental car for less-accessible rural places you're longing to see. On a guided tour, your schedule is tighter, and it's generally packed with numerous attractions. If you want to see as much as possible in a short period of time, go for it.
Train
Ireland's railway system covers some breathtaking scenery, but you'll have to be patient—the schedule isn't always exact. This travel is for those who are at ease going with the flow and who aren't carrying loads of luggage. The Irish Rail operates over a dozen routes and rolls in all directions. The most popular routes are from Dublin to Belfast, Dublin to Galway, Dublin to Cork, and Dublin to Limerick. One gorgeous route is Dublin to Rosslare Europort, taking you through Eastern Ireland. The rail between Derry-Londonderry and Coleraine on the Causeway Coastal Route is heaven. These are particular favorites for those who want to revel in the journey along the way, not just the destination.
Ferry
Ferries are a great mode of transportation if your trip includes the UK and Ireland. Ireland has six main ports, and most have drive-on/drive-off capabilities. (Check with your Authentic Travel Expert for details.) Within Ireland itself, there are also short crossings as well as combination travel for ferries and trains. The main Irish ports include Dublin Port, located east of the city center; the Port of Belfast, with sailings between Belfast and Cairnryan; the Port of Larne, on the east coast of Northern Ireland, with service to Cairnryan and Troon; Dun Laoghaire Harbour, 6 miles southeast of Dublin's city center, offering daily return sailings to Holyhead, Wales; the Port of Cork is about 10 miles south of Cork City with weekly sailings to Roscoff, France; Rosslare Europort, on the southeastern tip of Ireland, connects this region of Ireland with Cherbourg, Fishguard, Pembroke, and Roscoff.
Public Bus
Buses head to the smaller places that the railway does not. Hop on a bus—it's almost like tossing your watch out the window, but it's loaded with rural charm. You may want to combine this with travel by tour or train. Bus Éireann is the national operator, and it covers more than 3,000 destinations in Ireland.
Bicycling
You can rent a bicycle in most cities and towns. Ireland is enthusiastically pro-cycling, and there are routes in every part of the country. If you're on a self-drive tour or with a small group tour, this is a splendid way to use the time built into your tour as "time on your own." Some examples of routes near popular cities include:
The Dublin Coast—This route is near the airport, 23-miles long, and passes the Howth Lighthouse and Baily Lighthouse. It returns through Sutton and Malahide, ending in Swords.
Killarney—Gap of Dunloe-Black Valley Loop. This 35-mile route starts in the town of Killarney. It is a looped route that takes you through the breathtaking scenery with views of the Lakes of Killarney, the MacGillycuddy's Reeks, Purple Mountain, Ladies View, and Muckross Park.

 
The Ring of Kerry is one of the most well-loved bike routes in Ireland. At 111 miles, it's not a shortie, but it's a terrific way to discover the Ring of Kerry if you're spending a few days in the area.
Hiking
There are hiking routes throughout Ireland. Some are quick and easy while others require an entire day and good boots. Here are a few near Dublin.
St. Stephen's Green: Right in Dublin, this is an easy and beautiful hike. The quiet morning is particularly fine. This park-walk is small, but it is pure Ireland. Sit on a bench with a drink or some lunch and put in people-watching time. The area is next to Grafton Street, easy to get to, and the perfect place to feel peaceful.
Bog of Frogs Loop: Ten miles from Dublin, this is a 7 ½-mile, difficult hike. One of the best hikes near Dublin, you'll trek along the cliffs. As one of four on the Howth trails, this has a view of the shoreline, seabirds, and seals.

 
Ticknock Forest: This walk is just outside Dublin, considered to be moderate, and is a total of six miles. These are soft forest walks. Take a break and feel the forest bathe you in wonder and calm. Leaving the forest, you'll have a lovely view of Dublin and the Bay.
DART
The greater Dublin area is serviced by buses, urban rail, and light rail. Dublin Area Rapid Transit, called DART, serves the city center and the coastal areas with a total of 31 stations. There is also a commuter rail with four lines: Northern, Southeastern, Western, and Southwestern.
Taxi
When in a city, especially Dublin, it's easy to find a taxi and it's a comfortable way to get around. It costs more than public transportation, but it's your vacation—live it up! You may spend a day on your feet, exploring, and want a ride back to your hotel. You may have had a wild evening out, celebrating life, in which case a taxi is ideal.
When it comes to getting around Ireland, there are a goldmine of options. You might want an Irish vacation that is customized to specifically meet your dreams. You might be most happy in a small group tour or combining that tour with days spent driving with your own, private chauffeur. You might also want to mix in some train or ferry travel. Do you love to hike or bike? Beautiful. Ireland has welcoming trails. Of course, self-drive tours are often a favorite. There is no wrong way to discover Ireland. Only a boatload of just-right ways. Enjoy!
Talk to your Authentic Travel Expert about getting around Ireland. We're here to make your travel dreams a reality.