Visit a museum in Italy, and you'll connect with cultures that have flourished, fallen, and then reborn. Many of Italy's museums celebrate a tradition of master painters and sculptors. On your Italy vacation, take in one of these galleries, or one that's off-the-beaten path in a small town, for a deep appreciation of Italy's brilliant place in the world's story.
Uffizi Gallery, 

Florence
Situated in the heart of Florence, the Uffizi Gallery is a treasure of Renaissance gems. Each masterpiece illustrates this extraordinary era. Built between 1560 and 1580, the Uffizi Gallery is home to some of the world's greatest artwork. (The vast majority was donated by the Medici on the condition that these pieces never leave Florence.) The gallery features work from ancient Greek sculptures to 18th century paintings, but the highlights are pieces by Botticelli, Michelangelo, and Leonardo da Vinci. Take a break on the rooftop cafe for stellar views over this dazzling city.
Galleria dell'Accademia, 

Florence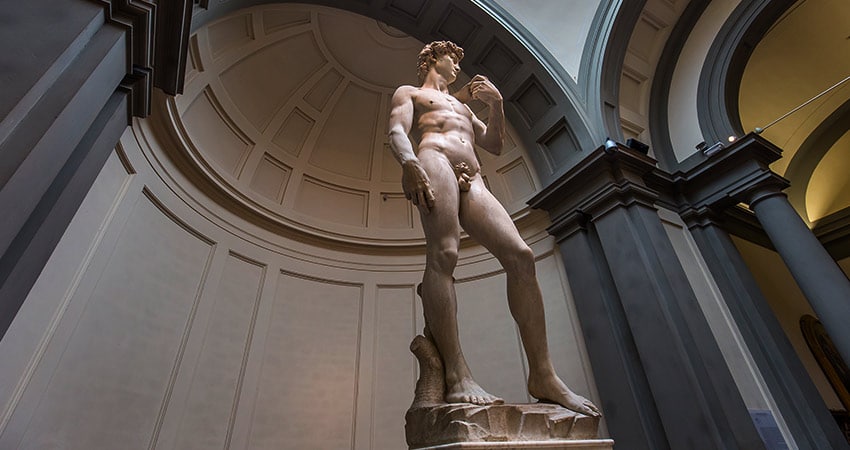 Carved from a single block of white marble, Michelangelo's "Statue of David" is the focal point of Florence's Galleria dell'Accademia. The city's second most visited museum, the Galleria attracts worldwide art aficionados to see the most influential Renaissance artists' work. Witness the grandeur of the biblical hero, David, depicting his strength and courage before his battle with Goliath. After viewing, wander down the hall to admire Michelangelo's series of four unfinished sculptures, "The Slaves." The main hall houses artwork by Allori and Orcagna, other notable painters of the Renaissance era, featured in this Florence museum.
Galleria Borghese, 

Rome
A fine collection of paintings by Caravaggio and Raphael, and a selection of exquisite sculptures by Bernini, were handpicked and carefully curated by Cardinal Scipione Borghese. Originally housed in his residence just outside St. Peter's, Borghese's collection is now set inside the lavish Villa Borghese, its floors vibrantly decorated in Roman mosaics, and its walls and ceilings adorned by elaborate frescoes. Spend an afternoon discovering sculptures on the ground level, and then head upstairs to the picture gallery for works by Raphael, Caravaggio, Rubens, and Botticelli. Afterward, stroll through the villa's immaculately landscaped gardens.
Vatican Museums, 

Vatican City
The Vatican Museums, adjacent to St. Peter's Square and Basilica, were founded by Pope Julius II in the early 16th century. Comprised of a succession of rooms that house an extensive collection of art gathered by various Popes, the collection has expanded over the centuries.
A must-see is the Sistine Chapel, Michelangelo's masterpiece of "The Last Judgement," as well as frescoes that adorn the chapel's high, vaulted ceiling. Fall under the spell of the nine panels that cover an area of 2,400 square feet, vividly depicting the Book of Genesis. Perhaps the most famous panel of all is the Creation of Adam, in which God brings Adam to life by vivifying him with his finger. See the image that has become an icon of Western art, and roam the Sistine Chapel's scared grounds. It is still used by cardinals when electing a new pope.
Doge's Palace, 

Venice
Step inside Doge's Palace, an exquisite example of Venetian style Gothic architecture, and discover how this structure came to represent Venice's culture. In its day, Doge's Palace was the seat of the Doge, the Venetian Republic's ruling authority, as well as the Doge's residence and palace of justice. Explore the lavish living spaces and admire noteworthy pieces of art by Titian and Veronese. Walk through halls, decorated with fine sculptures, to the Golden Staircase. This is a set of steps below a gilded, stucco ceiling leading to the Doge's Apartment. Explore the spacious courtyards, and you'll come upon the palace dungeons. (The aptly-named "Bridge of Sighs," is a white marble bridge, connecting the palace to its prisons.) The Doge Palace is a must when visiting Venice.
There are hundreds of museums in Italy. Some are grand, housing original sculptures and paintings that are familiar. Some are cozy and may be in an artist's home village. Choose a few favorites, and at least one in a hidden pocket, to visit during your Italy vacation.
To understand Italy's history is to experience her legendary art. Ask your Destination Expert to include some extraordinary art in your Italy travel experience!