This 4-day Scotland Whisky tour takes you to whisky distilleries and tastings in charming villages, dramatic countryside, and stunning castles. After settling into your Edinburgh hotel, a tutored Scotch whisky tasting awaits. Then, explore ancient Edinburgh, the Royal Mile, and the castle. All of them hold centuries of secrets.
We've arranged a day-long malt whisky tour out of the city, including Glengoyne and Deanston distilleries. Along the way, visit legendary Loch Lomond and Trossachs National Park. Sublime. After picking up your rental car, you'll head north to the Highlands where you'll discover the mystique of Blair Atholl Distillery and the Victorian city of Pitlochry.
Finally, you'll enjoy a connoisseur's tour, with tasting, at Dewar's Aberfeldy Distillery, a self-guided Heritage Centre experience, and five prime tastings! Some of Scotland's most fabled sites, added to superior tastings, makes this the ultimate Scotch Whisky lover's vacation.
Included Unique Activities
Scotch Whisky Experience Tasting & Tour
Discover Malt Whisky Guided Day Tour from Edinburgh
Blair Athol Distillery Tour
Highland Chocolatier Hot Chocolate
Dewar's Whisky Connoisseurs Experience
Highland Chocolatier Hot Chocolate
Meet & Greet Private Airport Transfer - Edinburgh
The Scotch Whisky Experience Silver Tour
Discover Malt Whisky Day Tour
Blair Athol Signature Tour
Dewar's Connoisseurs Tour
Accommodation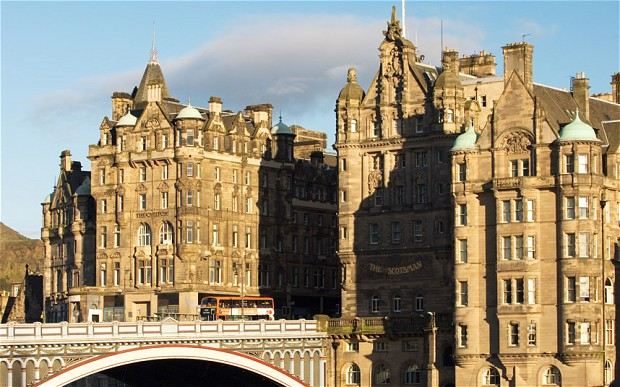 2 Nights
Preferred Victorian Elegant Hotel
2 Nights
Relaxing Castle Stay
Dining Options Included
4 Full Scottish Breakfasts
Points of Interest
The Royal Mile
Holyrood Palace
National Museum of Scotland
Edinburgh Castle
Loch Lomond & Trossachs National Park
Pitlochry & Kinloch Rannoch
Cairngorms National Park
Aberfeldy, Central Scotland
Edinburgh, Central Scotland
Pitlochry, Central Scotland
The Royal Mile, Edinburgh, Central Scotland
Edinburgh Castle, Central Scotland
Blair Castle, Pitlochry, Central Scotland
Loch Lomond and Trossachs National Park, Central Scotland
2023 LOW SEASON
Available Tour Dates
Mar, Nov, Dec
From $2,098 per person
2023 MID SEASON
Available Tour Dates
Apr, May, Oct
From $2,398 per person
2023 HIGH SEASON
Available Tour Dates
Jun, Jul, Aug, Sep
From $2,688 per person
2024 LOW SEASON
Available Tour Dates
Jan, Feb, Mar
From $2,268 per person
2024 MID SEASON
Available Tour Dates
Apr, May, Nov, Dec
From $2,368 per person
2024 HIGH SEASON
Available Tour Dates
Jun, Jul, Aug, Sep, Oct
From $2,698 per person
Your Price Includes:
GROUND TRANSPORTATION
Meet & Greet with Private Transfer on Arrival

Rental Car with Automatic Transmission for 3 Days
ACCOMMODATION
2-Nights 4 Star Edinburgh Hotel

2-Nights Luxury Castle Stay
DINING OPTIONS INCLUDED
4 Full Scottish Breakfasts
UNIQUE EXPERIENCES
Scotch Whisky Experience Tasting & Tour
Discover Malt Whisky Guided Day Tour from Edinburgh
Blair Athol Distillery Tour
Highland Chocolatier Hot Chocolate
Dewar's Whisky Connoisseurs Experience
POINTS OF INTEREST
The Royal Mile
Holyrood Palace
National Museum of Scotland
Edinburgh Castle
Loch Lomond & Trossachs National Park
Pitlochry & Kinloch Rannoch
Cairngorms National Park
Prices Based On:
Prices are Per Person based on 2 people traveling together and sharing a room.
Single Supplement Price Available for Solo Travelers
All Taxes & Fees Included.
"Italy Bucket List"
Oct 26, 2022
Wisconsin
We recently completed our trip to Italy after walking the Camiño de Santiago. The trip included Tuscany, Sicily, and Rome with a cruise to the Holy Land between Sicily and Rome. We worked with Naomi on the original planning and Joleen on the execution. Both were exceptional to work with and both are true professionals. Every facet of the trip, from transportation to billeting to excursions, was flawlessly planned and executed. We worked with Authentic Vacations for three trips this summer, Ireland, Scotland, and Italy we could not be more pleased with the service they provided us. Thank you!
"Girl's Dream Trip Of a Lifetime"
Oct 19, 2022
California
We three Girls wanted a Dream trip of a Lifetime. We stayed for 12 Days and had our own Driver/Tour guide, who will forever be "Family" to us now. We stayed in three Castle Hotels and three other beautiful hotels. All accommodations were so different and unique in their own way. We ate our way through the Beautiful Irish countryside in mostly Pubs, suggested by our driver, Seamus. We were Never disappointed! We had the most wonderful stay we could have imagined, from larger cities to quaint towns we were treated so kindly and had a Blast! We shopped til we dropped, saw more than we could have ever guessed possible, and will have this vacation to remember and Cherish for the rest of our lives.  Thank you, Joleen, Thank you Authentic Vacations!
"Wales Vacation"
Oct 19, 2022
Massachusetts
We couldn't have asked for a better trip! Our small group had a small luxury coach, and excellent accommodations, and Ian was an outstanding guide in every way! Graham was a wonderful driver who navigated the narrow country roads with great skill! Authentic Vacations gets our 5-star rating! Brian & Esther, MA.  Thank you, Jennifer, my agency will be using Authentic Vacations, again!
"Dream Trip to Emerald Isle"
Oct 7, 2022
CA
Michaela and Authentic Vacations, sharing a very positive review from my clients.   Thanks for always making me look so good. - Judy your travel advisor partner.
Hi Judy,
I think I speak for all of us when I say THANK YOU for the most wonderful Ireland trip we could have ever imagined! Each hotel and activity that Authentic Vacations selected for our stay was perfect and beyond our expectations. Our accommodations were well located, extremely comfortable, and even had great food in their restaurants! The breakfasts included were much larger than we remember typical Continental European breakfasts being. The Hawk Walk was a highlight of ours!  Our only added wish is that we would have had a full 2 weeks to fully enjoy what Ireland had to offer, and we were blown away by how nice and helpful ALL the Irish people we met were. Thank you again!!
"Anniversary Trip in Ireland"
Oct 7, 2022
Illinois
Because of the pandemic, we waited 2 1/2 years to finally begin our dream vacation. During that time Michaela reassured me over and over again and kept me up to date on all the Covid regulations. Our trip turned out to be a once-in-a-lifetime trip thanks to Michaela's attention to detail. I can't compliment her enough. I highly recommend this agency...Thank you so much!
"Renewal of Vows in Scotland"
Oct 3, 2022
Alberta Canada
Our trip was amazing. It was more than I hoped for!!!! We booked our Scotland trip pre-pandemic and were so excited to finally go in September 2022. Lonna made sure everything was perfect! From booking the cutest bed and breakfasts in Stonehaven, Skye, Fort William, and Inverness, to a castle stay in Airth. The experiences included in the trip were amazing.

She answered my numerous questions with patience, suggestions, and guidance. Thank you Lonna!!! I would absolutely book through Authentic Vacations again!
"Scotland Family Vacation"
Sep 30, 2022
California
Wow does not even begin to describe our trip to Scotland! Josi was the best planner and walked us through every little bit. When the queen died and it looks like we might miss one of our tours, she was on top of it and was able to reschedule it. Her extra suggestions were what made our trip over the top! With her expertise, we were able to see everything we asked for and then some. I will certainly use her and Authentic Vacations again. We are already thinking of where our next trip will be!
"Cousins Getaway to Ireland & Scotland"
Sep 29, 2022
Oregon
What a wonderful trip! We started planning our trip in 2019 for June 2020, but something happened to shut down the world!😅. Our original travel planner left the company, but Adina stepped in and took over and did a fantastic job. We experienced everything from quaint B &B's to 5-star Castle hotels, the country, the city, and everything in between. It was well planned and our 15 days in Ireland and Scotland went without a hitch! Thank you, Adina, and Authentic Vacations. We will definitely use your company again when we go back!
1. Click the "GET QUOTE" Button Above.
Complete our inquiry form by selecting your departure date, and all other relevant fields. Be sure to let us know if you're traveling for a special occasion! We can adjust most of our vacation packages to suit your needs, based on the details you provide.
2. Online Account & Quote Created
Your request will be forwarded to our team of Destination Experts, and a price quote will be prepared, based on your submitted preferences and criteria. A free Authentic Vacations online account will also be created, allowing you to view and request changes to your quote at any time. Log into your account via "LOGIN" at the top of any of our webpages.
3. Fine-Tune Your Tour Quote
Work with your assigned Destination Expert to tweak your quote in any way you wish. Our customers continually tell us that our flexibility in this regard is exceptional – your Destination Expert's sole brief is to create the perfect tour for you!
4. Reserve & Pay Online
Once your quote is 100% to your liking, you can pay for your package with your credit card via your Authentic Vacations online account. We also accept payment by personal check and wire transfer. We only require a 20% deposit to secure your vacation, and our Risk-Free Cancellation Policy provides you with complete peace of mind.
5. Print Your Travel Documents & Go!
Once your vacation has been paid in full, you will be able to print your travel documents directly from your online account. You're ready to embark on your ideal, authentic vacation!!
Questions?
If you would prefer to discuss your perfect vacation on the phone, we would be delighted to hear from you! Our Destination Experts are standing-by and looking forward to speaking with you at any time during our business hours listed below. We also operate a very responsive and efficient Live Chat service on our website…instant gratification awaits!
Toll-free from the US and Canada: 1-888-443-5259 Rest of World: +1-707-687-0191
Hours of Business:
Monday – Thursday: 7:00am – 5:00pm PST
Friday: 7:00am – 4:00pm PST
Saturday: 6:00am – 3:00pm PST
Sunday: 6:00am – 3:00pm PST
With offices in Scottsdale, San Francisco, London, Dublin, Copenhagen and Edinburgh, we can offer you unrivaled support while you are abroad. We truly believe all our clients deserve an extraordinary, authentic experience!