One of the joys of traveling in Scotland is getting to know the people. Strike up conversations with locals. When shaking hands, a firm handshake is appreciated. Enjoy the pubs. Ask questions and wait for the stories. All will be memorable. In Scotland, give yourself time to linger and savor. Below are authentic travel tips that will make discovering Scotland a pure pleasure.
Money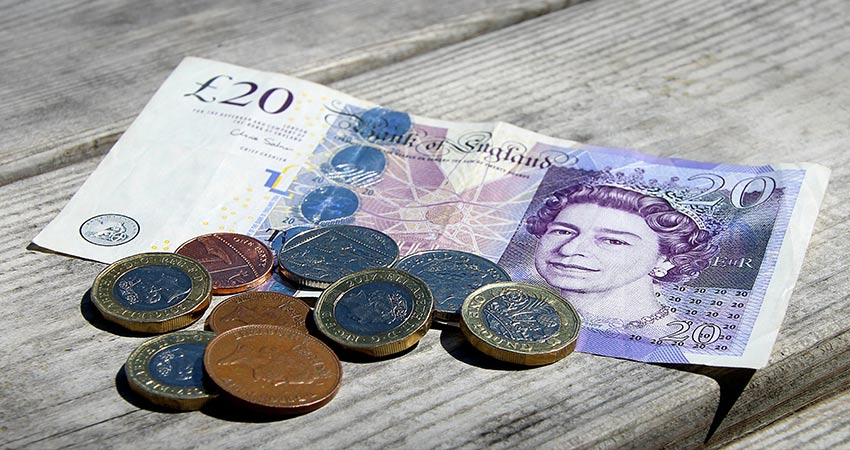 Scotland uses the £ British Pound Sterling. (Quid is a slang term for Pound.) Several weeks before you leave, it's handy to stop into your bank and order some Pounds to have on hand when you touch down. If you don't have time, there are places in the airport to change your US Dollars to Pounds—the charge is simply a bit higher than what your bank will charge you. Also, it's also nice to have cash on hand.
ATM's
These are called "cash points" in Scotland. In cities and larger towns, there are ATM machines where you can get Pounds on many street corners. ATMs are also inside banks, grocery stores, hotels, and gas stations. In large hotels, you may be able to ask for "cash back" at the front desk—they'll charge your credit or debit card and give you cash back. Even in small towns, you're likely to see at least one ATM. Before you leave home, give your credit card or debit companies a call and let them know you'll be traveling in Scotland. And remember your PIN numbers—a must.
Credit Cards
MasterCard and Visa credit cards are accepted just about everywhere. American Express cards, prepaid cards, and traveler's checks are less common, and then only used in major chains. In a pub, ask before you order if you must pay cash or if they take credit cards.
VAT Tax Refund
Scotland charges a Value Added Tax (VAT) on all goods and services. It is currently at 12.5 % and will return to 20% on April 1, 2022. VAT is the same throughout the UK. The VAT tax is included in the price tag of an item that you purchase. As a non-EU citizen, you are entitled to a refund on the VAT you paid during your travels.
Most stores display a "tax-free shopping" sign in their window. When you make a purchase, ask them for a tax-free voucher. When you go to your departure airport, you simply head to a VAT window—there are many—and give them your vouchers. A customs official will validate your vouchers for a refund. This money will be mailed home to you.
Electricity
The Scotland power sockets have a UK-type plug, fitting three-pronged, flat pins. Their voltage is 230, twice that of the US. Simply purchase an adapter for your plug before leaving. They are inexpensive, small, and easy to purchase online or in many stores. If you forget, you can purchase one in Scotland, but it's much easier to get it in advance.
Chauffeured Driving
Many people like to have a chauffeured driver for their trip. It is reasonably priced, great for several people traveling together, there's room for your luggage, and you get to relax and simply enjoy your vacation. And a local driver can share off-the-beaten-path possibilities with you. Ask your Authentic Destination Expert about this option.
Driving Scotland Yourself
Scotland's roads are good, and driving is enjoyable. All drivers must carry their car rental insurance documents and driver's license. Road signs are in English and Gaelic. Distances are shown in miles and kilometers (km). Drive on the left. When you approach a roundabout, yield to traffic coming from the right. (As in the States, pull over for emergency vehicles.) Drivers must pass on the outside, or right-hand, lane.
Seatbelts must be worn at all times. Children 12 and under must have the proper restraint for their age and size.
Do not use your cell phone while driving unless you have a hands-free device. And, though pub life is central to the country, random breath-testing is common. The legal limit is .05%.
Driving Distances
The speed limits in Scotland are posted in mph on round signs with a white border. Other signs are in kilometers. One kilometer equals 2/3 of a mile. Below are listed examples of common driving distances. We suggest that you keep your driving to under 125 miles/day when possible. Scottish roads travel through stunning territory. You're on vacation. Relax.
Also, we strongly suggest that you do not drive in Edinburgh and Glasgow. Take a taxi or hop on a bus to get around. Old cities aren't easy to navigate behind the wheel. Our tours are set so that you pick up your rental car when you leave the city.
Edinburgh to Stirling: 36.5 miles, 1 hour
Edinburgh to Glasgow: 46 miles, 1 hour 5 minutes
Edinburgh to Inverness: 155 miles, 3 hours
Inverness to Skye: 106 miles 2.5 hours
Glasgow to Aberdeen: 145 miles, 2.5 hours
Inverness to Loch Ness: 14 miles, 27 minutes
Edinburgh to London: 403 mile, 7.5 hours
Outer Hebrides to Ft. William: 74 miles, 4.5 hours (includes ferry)
Ft. William to Stirling: 96 miles, 2.25 hours
Glasgow to Ft. William: 108 mile, 2.5 hours
GPS
We strongly suggest use of a GPS. Tell your Authentic Travel Expert you want one when setting up your car rental. If you forget to do that, ask for one at the rental agency desk at the airport. But, far better to plan in advance.
Speed Limits
MPH speed limits are posted in round white signs, with a red border.
Motorways (freeways), are designated with an M: 112 kmph (70 mph)
Two lanes, either way: 112 kmph (70 mph)
Inside "Built-up Areas": 48 kmph (30 mph) Watch here, though. Signs may post slower limits around schools, crowded neighborhoods, etc.
Outside "Built-up Areas":  80 kmph (60 mph)
Road Signs
All road signs are in English. Most are also in Gaelic + English.
Marketplaces
The Victorian Market, in the center of Inverness, is an indoor gem with goods from the Highlands. In the heart of Glasgow, you'll find Patrick's Farmers' Market. This marketplace prides itself on bringing the best of rural Scotland to the big city! Just 13 miles from Dundee, the Angus Farmers' Market is a must. You'll find fresh fish, handmade gin and vodka, hand-crafted beer, and fine local crafts. The Ayrshire Farmers' Market is a super collective of local treats, delicacies, and art. SHS Markets run for 16 days, every month, all over Scotland. They are family friendly, a great place to purchase Loch Lomond whiskies, and also a center for live music.
Roll out the Fun!
Scotland is a terrific country for hiking. The land is rugged, the mountains are foreboding, and the views are staggering. Scotland may be one of the best places to go ziplining. You'll find ziplines that traverse craggy mountains, rising over shorelines and lakes, with speeds up to 45 mph. Scotland also has plenty of sea and limestone caves to explore—some were used as hideouts by the famous and infamous. Our favorites include Fingal's Cave on the island of Staffa, Massacre and Cathedral Caves on the Isle of Eigg, and King's Cave on the Island of Arran. Don't forget kitesurfing! There are several perfect spots for kitesurfing, and many are ideal for children and adults. Take some lessons and get out on the water!
Tipping
Gone are the days when no service workers in Scotland expected, or wanted, a tip. And it is only common courtesy to tip someone who gave you excellent service and friendly conversation. Here is a general guide, but as in the States, go up or down, depending on the service you received.
Waiters: 10% – 15%

Hotel Porter: 1 £/bag

Housekeeping: 1 £/day

Concierge: 2 – 3 £

Taxi Driver: Round up to the nearest Pound
Holidays & Public Closures
Most businesses are open but for fewer hours during holidays.
Public Holidays—Schools, post offices, and banks close. Many shops and attractions have limited hours or close. The following dates of bank holidays are for the year 2022:
New Year's Day:

Mon, Jan. 3

Good Friday: 

Friday, April 15

Easter Monday: 

Monday, April 18

Early May Bank Holiday: 

Monday, May 2

Spring Bank Holiday:

Thursday, June 2

Platinum Jubilee Bank Holiday:

Friday, June 3

Summer Bank Holiday:

Monday, August 1

Summer Bank Holiday:

Monday, August 29

St. Andrew's Day:

Wednesday, November 30

Boxing Day:

Monday, December 26

Christmas Day:

Tuesday, December 27
Hours For Shops & Banks
Hours vary throughout the year, especially in rural areas. Most store hours are from 9 am – 5:30 pm, Monday – Saturday. Some stores have reduced hours on Sunday, open from 11 am – 5 pm. In small towns these hours may be reduced or increased, depending upon the owner's personal schedule.
Pub hours are from 11:00 am – 11:00 pm, Monday – Thursday. Open to 1 am Friday and Saturday. On Sunday, noon lunch until 2:30.  Dinner from 6pm – 9pm.
Banks are open Monday – Friday, 9:30 am – 4 pm. Some are open until 1 pm on Saturday. In small towns, banks often close for lunch from 12:30 pm – 1:30 pm. Post Office hours are from 9 am – 6:00 pm, with some closing for lunch, and until 12:30 on Saturday.
Smoking, Drugs, & Alcohol
Smoking is banned in pubs, restaurants, shopping malls, and all public places. The possession of illegal drugs is prohibited and could result in a prison sentence. The legal limit for Blood Alcohol Content is .05% and is strictly enforced.
Time Zone
Scotland is on UCT/GMT +1 during summer Daylight Savings Time, March – October. The country is on Greenwich Mean Time the rest of the year.
Visiting Sacred Sites
When visiting a church, cathedral, or ancient sites remember you are on sacred ground and show respect. Many, especially in the northern Islands, still hold old religious beliefs.
What to Pack
Pack to wear clothes in layers. Even when it's cold and rainy outside, the interior of your pub or hotel will be nice and warm. Bring good walking shoes and plenty of socks, remembering that due to the damp air, many things rinsed in a sink will not be dry by morning. Have a waterproof jacket handy. Scotland is a casual country—even in high-end restaurants, you will not be expected to wear a tie and jacket. The dress is smart-casual.
Pack your electrical adapter, a copy of your passport and credit or debit cards. (Best to only bring two or three of these.) Make copies of your health insurance. Keep your meds, important copies of docs, and some cash in one small, convenient bag. Bring insect repellent and binoculars, perfect for wildlife spotting.
Cell Phones & Wi-Fi
Free hotspots are available in main towns and cities. Your lodgings have Wi-Fi, although, as with anywhere, small towns often have spotty coverage. Before leaving, contact your cell phone carrier. Most will charge you a relatively small fee, usually $10/day, for making calls back to the US and within the UK on your cell phone. This is very handy!
Emergency Phone Numbers
Dial 999 or 112.
Health
Drugs and medicines are sold at pharmacies. The mortar and pestle are still widely used on signage in Scotland. Signs are generally white, blue, or green. You can get most supplies for minor medical ailments at even the smallest pharmacy. If you need medical attention, ask the hotel or B & B owner or concierge to get in touch with a General Practitioner for you.
ID
You will need your US driver's license and your passport at the car rental desk.
Trains
Trains in Scotland are quite reliable. Virgin Trains is the route from London to Edinburgh. The Caledonian Sleeper's route is between cities in Scotland. Ask your Authentic Travel Expert about train service, if interested.
Ferries
Ask your Authentic Travel Expert if you'd like to know about the ferry between Northern Ireland and Scotland.
Hair Dryers
Hairdryers are generally supplied in our accommodations.
Wash Cloths
Wash cloths are an American invention, and you will rarely see them in Scotland. If this is something you absolutely must have, pack your own.