Edinburgh has more restaurants per person than any other city in the United Kingdom. These establishments include Michelin-star, eclectic vegetarian, cozy comfort nooks, and exotic taste sensations. Whatever delight or ambiance you're looking for, you're bound to find a place that makes you happy. Scotland is trending to embrace fine regional produce, game, seafood, and herbs. Savor the bounty! And, while there, try haggis or Scotch Pie, traditional favorites for centuries. Below are some sumptuous Edinburgh dining choices.
The Witchery by the Castle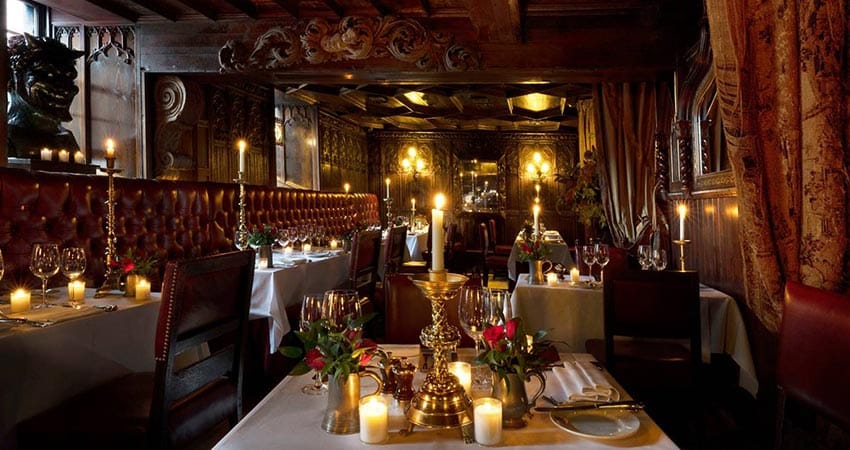 Photo: © thewitchery.com
The Witchery, tucked inside historic 400 year old buildings, is located at the gates of Edinburgh Castle. Walk inside, relax, and let time slip away. The wine list is award-winning. The menu features traditional favorites such as Lobster Thermidor and Tournedos Rossini. Their celebrated chef, Douglas Roberts, sources exceptional ingredients from across the country—beef is from the Scottish Borderlands, and seafood comes from pristine waters.
Request to be seated in the Secret Garden. Lit by candles, there is a tower that feels like a mystic gateway. The ceiling is painted with angels, bagpipes, and images from the tarot. Pure magic.
Address:
352 Castlehill, Edinburgh EH1 2NF
Restaurant Martin Wishart
Photo: © restaurantmartinwishart.co.uk
This Michelin-starred restaurant is situated in Edinburgh's port of Leith. Chef Martin Wishart marries French cooking techniques, fine Scottish ingredients, and a big imagination. Wishart, Edinburgh born, was awarded an honorary doctorate by Edinburgh University. They credited him with raising the standards of Scottish cuisine as well as Edinburgh's reputation as a fine food destination.
Imagine… Asparagus Soup, Beef Tartare & N25 Caviar, Pork & Apricot, Mango & Passionfruit Halibut, Valrhona Caramelia Chocolate or Poached Black Current, Caramelia Crémeux… Heaven.
Address:
54 Shore, Leith, Edinburgh EH6 6RA
Mother India's Café
Photo: © motherindia.co.uk
This is comfortable dining, starring reasonably priced Indian food. Chef Mohit Dhingra has created an extraordinary tapas-style eating experience. The portions are perfectly sized for sharing or for solo customers. The atmosphere in this two-level establishment is happy and bustling. (If you want take-out food to bring back to your hotel, Mother India's got you covered.)
Situated in the heart of Edinburgh's Old Town, it's close to Edinburgh Castle. Imagine the exotic taste of Chana Daal, Okra & Potatoes, Aloo Gobi & Green Peas for starters. Perhaps Chili Garlic Chicken, Chicken Tikka Lababdar, or Spicy Keema Dosa paired with Mango Chutney? Prepare for joy!
Address:
3-5 Infirmary St, Edinburgh EH1 1LT
Timberyard
Photo: © timberyard.co
Timberyard is a family-run restaurant in the heart of Edinburgh. This Michelin-starred restaurant is set in a 19th century converted woodworking shop. It was used as a theater props and costume store. The atmosphere is authentically artistic and peaceful. The Timberyard offers a menu with locally sourced ingredients from artisan suppliers and the wild countryside. They also have a selection of vegetarian and vegan meals. Their wine cellar holds true gems, and their whisky selection is unusually wide.
Some menu bests include Grilled Mussels & Cider Butter, Game Terrine, Scallops with wild quince, Chestnet & Smoked Roe, and Scottish Bluefin Tuna. Finish it off with a yummy dessert of the day.
Address:
10 Lady Lawson St, Edinburgh EH3 9DS
The Kitchin – French Cuisine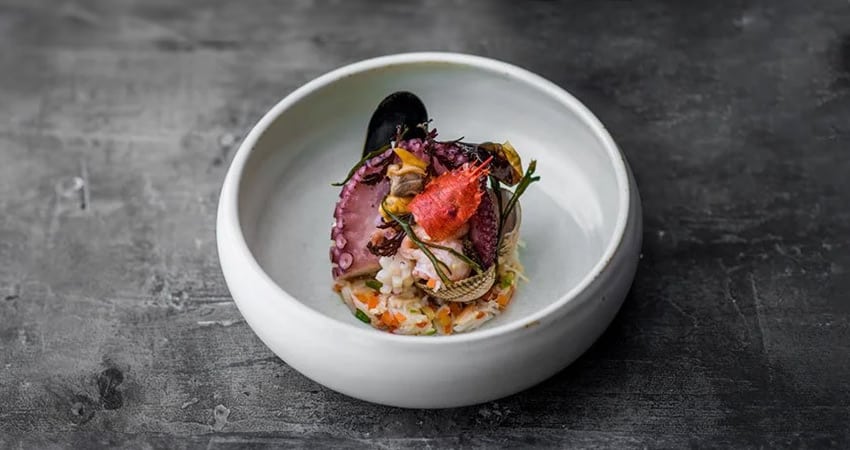 Photo: © thekitchin.com
The menu at The Kitchin reflects a passion for Scotland's freshest seasonal produce. Chef Tom Kitchin learned from some of the world's top chef's and fused that knowledge with his Scottish heritage. The fresh produce arrives daily, and all meat and fish are fileted and butchered, in-house, every day. It is a Michelin starred restaurant and was named Scotland's Restaurant of the Year in 2022, receiving The World Culinary Award.
You may opt for a Surprise Tasting Menu, designed to showcase the utmost. It includes Amuse bouche, pre-starter, starter, middle course, main course, cheese course, pre-dessert, and dessert, followed by coffee or tea, plus homemade petit fours. From the regular menu, consider Hand-dived Orkney Scallops baked in the shell with seasonal vegetables, white wine, vermouth, and herb sauce. For vegetarians there are options such as Vegetables Ragoût of Free Company Farm vegetables with autumn truffle. Finish up with a dessert such as Apple & Lime Knockraich Farm crème fraîche baked Alaska.
Address:
78 Commercial Quay, Leith, Edinburgh EH6 6LX
Contini
Photo: © contini.com
Head to Contini to savor modern Italian Dining in a grand, columned, 19th century Edinburgh dining hall. Their menu changes in order to use the freshest ingredients, imported straight from Italy. Homemade pasta is a specialty on the menu every day, as is fresh fish and shellfish. Contini is open for breakfast, lunch, and dinner—every meal is legendary.
It's clear this is Italian food prepared with gusto and love. For dinner consider fresh Puglian burrata with pan fried Italian friggitelli and pistachio crumb; Spaghettini with Pachino tomatoes, Taggiasche olives, capers, garlic basil, and Capezzana; or Orecchiette pasta with Contini recipe sausage, cremini mushrooms, dried porcini, fresh cream, rocket, and Parmigiano Reggiano DOP. And their Scottish Full-Cooked Breakfast is a brilliant way to start the day!
Address:
103 George St, Edinburgh EH2 3ES
Henderson's
Photo: © hendersonsrestaurant.com
Henderson's serves scrumptious vegetarian and vegan food, fresh juices, beautiful salads, and desserts. The Henderson Family opened their first vegetarian restaurant in 1962 with the motto: Eat Better, Live Better. The menu, staff, and interior harmonize to create a beautiful whole. Their ingredients are local, they use organic whenever possible, and there are loads of options for specific dietary needs.
If you think vegetarian food lacks pizazz, you're in for a surprise. Imagine Chermoula aubergine, warm freekah, pomegranate, cucumber salsa, chive yoghurt plus sour cherry molasses. Or order a Beetroot Burger—this is a beetroot plus black bean burger with smoked cheddar, onion ring, and caramelized onion served on a homemade brioche with stout mayo and chips. For dessert? Affogato made of homemade salted caramel ice cream, espresso, Amaretto, almond, plus white chocolate biscotti.
Address:
Next to the Bruntsfield Links at 7 – 13 Barclay Place, EH10, 4HW, Edinburgh
Ondine
Photo: © ondinerestaurant.co.uk
According to the Michelin Guide, Ondine, near the National Museum of Scotland, is: "A smart lively restaurant dominated by an impressive horseshoe bar and crustacean counter. One of the most popular places in Edinburgh for fish and shellfish, the menu has straightforward, satisfying dishes that let the quality ingredients shine." And… the interior is elegant and comfortably sophisticated.
Their menu includes Lemon Sole, brown butter, parsley, and capers; Shetland mussels, masala, coconut milk, and coriander; and sharing plates of Plateau Fruits de Mer or a Hot Roasted Shellfish plate is a fabulous way to go. There is also an Oyster Happy Hour and a beautiful wine list.
Address:
2 George IV Bridge, Edinburgh EH1 1AD
Gardener's Cottage
Photo: © thegardenerscottage.co
Eat like Italians and French at a long table with a menu that's based on food from the garden and other local sustainable produce; thus the menu changes daily. Gardener's Cottage restaurant is in a stone cottage set in terraced gardens. Tucked into London Road Gardens, this is a perfect place to relax after you've spent the day bustling around Edinburgh.
Jay Rayner, of The Guardian, wrote: "Can it really be this perfect? On balance, I'd say yes. It can. The restaurant is located in a building dating from 1836 that was once the cottage of the gardener. Out front, on either side of the gravel path, are vegetable patches. They are as much a declaration of intent as sources of food. The young team here does not just mouth the litany of seasonal and local; they mean it… Lunch in the Gardener's Cottage is one of those experiences that stops the world for a while, and we can always do with one of those." Really, what more could you ask for?
Address:
1 Royal Terrace Gardens, London Road, Edinburgh, EH7 5DX
When visiting Edinburgh, make dining part of your plans. This city is second only to London in its diversity of restaurants, and it tops the charts when it comes to using local produce, fish, shellfish, and meat. You have a world of choices… this is not the place to worry about your diet. Dive in and savor!
When taking a trip to the United Kingdom, your plans might well include traveling to Edinburgh. Let your Destination Expert know that you want to indulge in some of the best food in the world.