Some of the most beautiful places in the world are in the tropics, and visitors to Hawaii, Mexico, and the Caribbean flock to the beaches. Enjoy the turquoise waters, and then dive into luscious, local foods. Below are a few you might try!
Poke—Hawaii
Poke is one of the main dishes you'll find in Hawaii, and means "cut into chunks" in Hawaiian. It's usually made with raw ahi tuna, marinated with flavorful ingredients such as sea salt, soy, sesame seeds and oil, limu seaweed, onions, and chili pepper. If you ask for a poke bowl, it will be served on a bed of warm rice. Some restaurants now offer tofu, pork or chicken instead of seafood.
Manapua—Hawaii
This dish came to Hawaii with the Chinese immigrants during the 1800's.  It's a beautiful steamed bun stuffed with a variety of savory fillings, including chicken curry, sweet beans, vegetables, and sweet potatoes.  This is originally a piping hot street food, filled with pork—it's still a favored filling.
Haupia—Hawaii
When it's time for dessert, order Haupia. It's a traditional Hawaiian treat, and therefore no surprise that it's made from coconut. A coconut's cream is mixed with arrowroot and baked in the ground.  (Sometimes it's baked with the main course at a luau.)  These days, underground cooking is often left behind. In that case, the cream is boiled and arrowroot or corn starch is added to thicken the juice.  Then it's chilled.  Imagine a soft ball of smooth coconut to finish a meal . . . heaven.
Posole—Mexico
Posole is traditional food for New Year's Day and any other time of celebration—it brings good luck. The main ingredient is hominy (maize). It's simmered for hours with red chiles, spices that make a house or restaurant smell incredible, tomatoes, pork, and cabbage. After it's cooked, the soup is garnished with lime, chopped onions, and sometimes Mexican cheese or sour cream.  According to tradition, maize is a sacred plant—when you find this dish, relish it. 
Tacos de Papa—Mexico
Cumin is one of those spices—either you love it, or you'd rather not eat it.  For cumin devotees, Tacos de Papa is your dish.  Potatoes are spiced with cumin, sometimes several different kinds.  Crack an egg and Mexican cheese in the mix and put into a taco shell. Top with shredded cabbage, queso fresco, salsa verde, and chill out.
Tres Leche Cake and Arroz con Leche—Costa Rica
Spiced black beans are standard fare in Costa Rica. Some of the country's most unique flavors come from cooked local fruits, and have African and Spanish influences. Tres Leche is a dessert that's perfect after any meal.  Three Milk Cake is always soaked in three kinds of milk: evaporated, heavy cream, and sweetened condensed.  Arroz con Leche, a gentle dessert, is a mixture of rice and milk, flavored with sugar, lemon zest and cinnamon sticks.  Honestly, it also makes a fine lunch.
Ackee and Codfish—Jamaica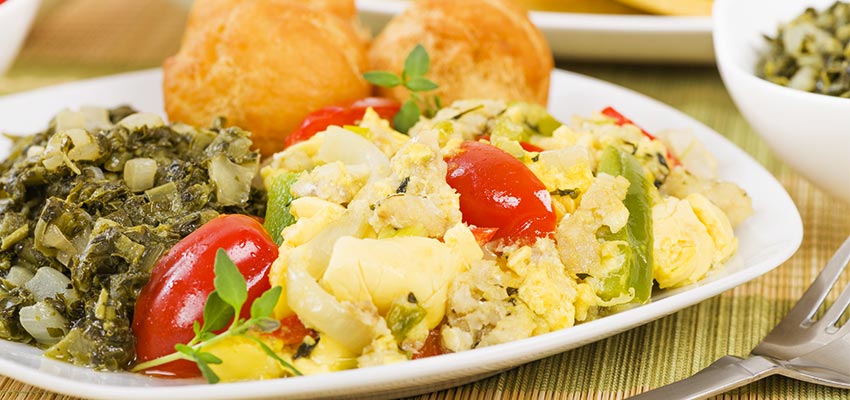 Jamaica has bold people, music, and food.  Ackee and salt codfish is the country's national dish. Ackee grows on pod clusters that hang from trees.  The fruit looks like a small walnut.  When it's ripe, it bursts open, revealing a black seed.  The fruit around the seed is taken off and prepared.  (After cooking, it looks somewhat like scrambled eggs.) Ackee is most often stewed with spices, tomatoes, and dried codfish.  Delicious!
Drinks are as singular as food. In Hawaii, try a Mai Tai, Lava Flow, or pineapple iced tea. In Mexico, go for pulque, tequila, mescal, and local soda pops. Costa Rica's guaro cocktail is made from maracuyá (passion fruit) and coconut crème. In Jamaica, you'll find Red Stripe beer everywhere—kick back with one. There's also ginger beer, rum, sorrel tea, and sea cat punch! Americans can start to travel again. Give yourself the ultimate pleasure of local food while you're away from home, enjoying a tropical climate.