A luxury sojourn to England is for those with discerning taste. Our portfolio of superior lodgings and experiences will please travelers with a penchant for more than the standard fare. Imagine the perfect balance of secret spots, unique stays, cuisine, and local guides… all tailored for your interests and desires. Relax, renew, and feel the wonder of essential England, reimagined.
A Sampling of Bespoke England Experiences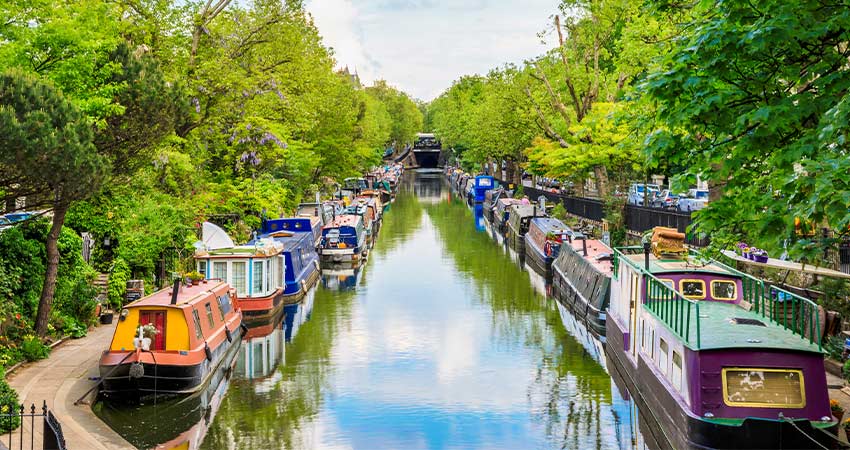 Little Venice, London
In London, take a pedalo across the Thames, explore the Tower of London, and be dazzled by the world's largest diamond. When it's time to dine, imagine an eclectic haunt called Little Venice. A water taxi dips into lovely canals and waterways. An elegant seafood restaurant awaits, and after dinner there is fringe comedy at a canal theater or a show at the Puppet Theater Bridge.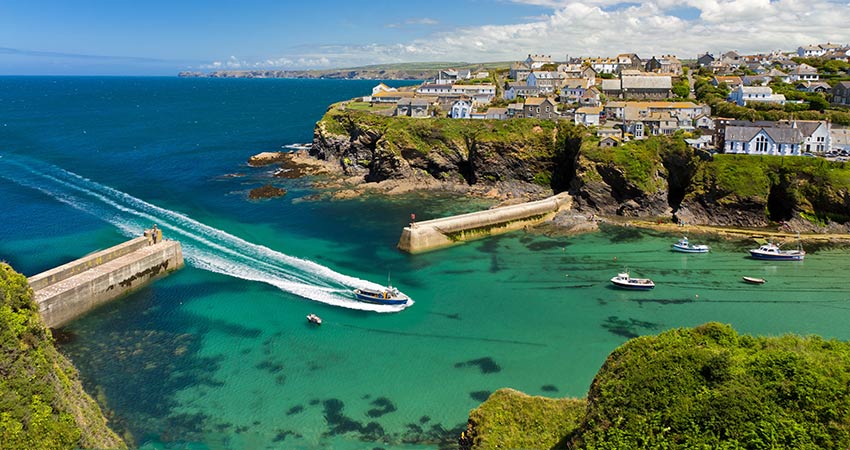 Port Isaac, Cornwall
Windsor is the oldest and largest occupied castle in the world, and the extraordinary talent of William Shakespeare is around every corner of Stratford-Upon-Avon. Lovely Bath is the town where Roman ruins and Georgian lanes come together in perfect harmony. Mysterious Stonehenge is older than the pyramids, and Wiltshire has iconic prehistoric monuments, picture-perfect villages, and the Salisbury Cathedral with Britain's tallest spire.
Town of Bath
Cornwall and Devon are in England's rugged southwestern tip. Cornwall, one of the Celtic Nations, has picturesque villages and the Cornish Riviera. Devon borders Cornwall on the east—both were once ruled by King Arthur. Nearby St. Ives is known for its beaches, British art, and seal colony, and legendary Penzance is complete with a medieval castle and gardens. Follow in the footsteps of Jane Austen all the way to the Jurassic Coast.
Liverpool
Liverpool is the center of pop culture, arts, and the Beatles. On the way to York, discover the Peak District National Park. In the city of York itself, an exploration of the ancient underground shops and homes, Gothic Yorkminster, and the Shambles tell the story of this city, the center of history between Scotland and England. Bristol is energetic and creative.
Some Exceptional Custom Add-ons Throughout England
The Thermae Royal Bath
Body in a Suitcase Game at House of Frankenstein
The Vast, Sacred Landscape of Bronze Age Sites in Southeast England
Sandringham Estate, Private Residence of Royalty
Punting Experience at Cambridge
The Home of Captain Cook
In-Depth Film Locations of Downton Abbey, Harry Potter, and Pride & Prejudice
Total Beatle Immersion
Go to a Castle and Fly a Broomstick
Cruise York's River Ouse; Cruise the River Cam; Lake District Cruise
Foraging and Exquisite Gin Making Experience
Local Marmalade Tasting
Pub Safari in the Dales
High Tea with an English Aristocrat in His Library
Yorkshire Dales Cheese Making and Cooking
The Spice Trail, Making Ale, Rum, Gingerbread, and Sausage
Drive a Classic Morris Through England's Villages
Dazzling London by Night
Cheddar Gorge and Caves
Explore a Tea Plantation
Fossil Hunting on the Jurassic Coast
London Bridge Food Tour
Modes of Luxury Travel
You can choose one mode of transportation for your entire travels in England, or you can mix-and-match them. These include chauffeur-driven travels, giving you ease, style, and privacy; a rental car for complete freedom of the road and spontaneous diversions; private black cabs in London; small-guided private vacations for friends and family; classic trains; and small boats.
Surprisingly Beautiful, and Diverse, Lodgings
Your England travel experience will likely cover the country's story, from 7,000 years ago to the present. Each destination in England has a personality all its own, shaped by the land and its history. Your lodging should be worthy of travel, rightly considered. Your choices include, but are not limited to, the heart of London iconic hotels; sublime spa resorts; opulent riverside inns; spacious country retreats; landmark seaview hotels; stylish Victoriana; classic Manor houses with gardens that go on forever; and castle stays.
Be surprised by England's hidden charms, disarming humor, and natural grace. It's time to discover the luxurious England that you're dreaming about.
When you're ready to savor the sumptuous side of England that reflects you, let your Destination Expert know.