On the South coast of England, there lies a rainbow coloured, fairy-lit patch of land. It looks over the sea, glowing with pride in its party atmosphere and its green credentials, and it calls itself 'Brighton'. (Locals used to joke that the city of Brighton and Hove named itself after its bohemian vibe, to always 'be right-on', man.)
As a seaside town, Brighton refuses to fit the mould of England's other coastal destinations. No sandcastles and donkey rides, like some Essex beaches, and not a quiet town filled with wealthy, conservative retirees, like Bournemouth. Brighton is the cool big sister, the cheeky aunt, the rebellious son. It's a favourite of hen and stag parties, yes, but this is no Blackpool. It's a relaxed and fun city filled with culture and beauty, and this guide is going to get you to see the place through the eyes of a local.
Not that there isn't a lot of touristy stuff, of course. If that's your bag, you could hop into the i360 viewing tower for a spectacular ocean panorama, or you could spend all your pennies in Palace Pier's arcade, before snaffling some candy floss and having a jump on the trampolines.
But for an insider's experience, look no further.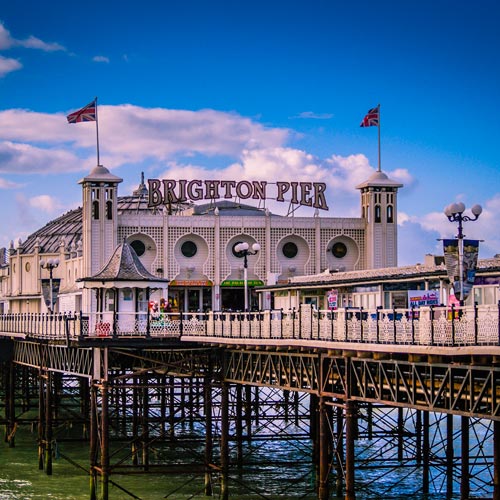 Make your first stop the beach, with its famous turquoise railings and colourful Palace Pier. The Hove end of the famous pebble beach is very pretty, with bandstands, candy coloured beach-huts and the striking silhouette of the old West Pier. Not only that, but it's often the quietest end, away from the bustle of tourists. Locals like to run their dogs around the Hove beaches, and if you've got your own poochy pal, you can also have a wonderful walk around the South Downs and Devils' Dyke if you go a little further inland.
When you've worked up a bit of an appetite, you could do a lot worse than heading to the Lanes. The entrance to these iconic, narrow shopping streets is off the bottom of North Street, and is home to dozens of affordable eateries (especially some cheap Italian restaurants, and some delicious vegetarian bistros). It's great fun working your way through the thin, winding streets, and you'll be spoilt for choice about where to have lunch.
After that, explore everything the Lanes has to offer, including vintage jewellery shops, gift boutiques, adult stores and the always-incredible Choccywoccydoodah. Gawping at their enticing, impressive, sculpted chocolate window displays won't mark you out as a tourist; everyone does it! Let your shopping mood carry you back to the beach, where there are some beautiful art shops and craft boutiques under the arches. And North Laine is home to some weird and wonderful niche shops: badges, film posters, '60s mod paraphernalia, vintage dresses, carved wooden ornaments, seashell mobiles, children's clothes, and of course, Snooper's Paradise, where you can spend literally hours rifling through ancient miscellany.
After all that walking, the Pavilion Gardens are the perfect place to plonk your bum on the grass. There's often some background music courtesy of a busker on a lute, pan pipes or other similar hippyish instrument, and you'll be amongst lots of families, friends and couples also taking a rest-stop, or picnicking. The Royal Pavilion was built during the Georgian period to emulate the style of the Taj Mahal, and it certainly provides a grand scene for a sit-down.
Brighton folk typically love the arts, so if they aren't downing a few drinks at their local, or partying the night away in the numerous gay bars, they will probably be soaking up some culture at the theatre. Komedia is a fantastic comedy club in the North Laine, hosting big stars alongside as-yet-undiscovered names, as well as discos, club nights and spoken word events. The Duke of York Cinema, with its infamous gigantic legs playfully kicking up from the roof, shows art-house films as well as more mainstream titles. Brighton Dome and The Brighton Centre host large-scale shows – music, theatre and comedy – while Concord 2 on the seafront showcases all the coolest bands in an intimate environment.
Outdoorsy types are spoiled for choice in Brighton and Hove. Not only is there the magnificent South Downs for some hilly rambling, but there's also a volleyball pitch on the beach (Yellowave, by the Marina) and a cycle path that runs along the seafront. The city has recently started offering bike rentals too, so fear not if you've left your wheels at home.
If you don't feel like pedalling your way around the (admittedly hilly) town, buses are a popular option for getting about. Single tickets can be expensive for short trips, but day tickets work out to be good value if you will be hopping on and off throughout the day, or week. Brighton was the first constituency to elect a Green Party member as their MP, so you won't be surprised to learn that there is also a bus service which runs on recycled cooking oil.
For dinner, you could play it safe with one of the nicer chain restaurants in the town, such as Jamie's Italian, or the Vietnamese restaurant Pho, both on Black Lion Street, or grab some Thai from the Giggling Squid. If you want a taste of what some of the local independents have to offer, you could go for a selection of delicious mini curries at the Chilli Pickle, or some gourmet grub from the Ginger Pig. For something less formal, residents are raving about BeFries, where you get a cone of chips and your choice of scrummy sauce.
So when you visit Brighton, leave plenty of space in your bags for all the shopping you'll want to do, take a good raincoat (summer is usually glorious but it's too windy for a brolly when it does rain!) and an open mind. If Brighton works its magic on you, you'll be more right-on in no.
If you're looking for an authentic England vacation, then make sure Brighton England is on the itinerary!