The 25th James Bond movie, No time to Die, is ready for us to enjoy! It's time to celebrate all things Bond by visiting the film locations. Regardless of which Bond we most love, we're hooked when we hear those lines, "My name is Bond. James Bond."  And the music comes up….
Agent 007 has beaten back bad guys all over the world but the following are our top ten favorite movie locales.
England
In most Bond films, we see 007 in various parts of England, and certainly in London. In the 1965 movie Thunderball James Bond fries Count Lippe in a sitz bath at, what was supposed to be, a healing retreat.  This was filmed at Chalfont Park House, Buckinghamshire, near the legendary Pinewoods studio.
This gorgeous 18th century home is pure Gothic and was owned by the great-nephew of the Duke of Marlborough. During WWI it became a military hospital, then it was transformed into a hotel and country club.  It's now the home of an IT company. Major Derval lodges at Royal Saracens Head and Windsor End. This 18th century inn is still a lively pub. Stop in!
Visit London's landmarks and drive a British classic motor car in the English countryside with our 5-Night Vintage England itinerary.
Venice, Italy
Because anything can happen in a Bond flick, James Bond rides a gondola that drives on land in the film Moonraker. The most climactic scenes in Casino Royale are also Venetian. These were filmed along the Canal Grande, between the Accademia and Rialto at Piazza Marco.
Secrets and double-dealing are at the core of Bond films, and it's in the Sotoportego del Cavalletto Alley that he learns of Vesper's shocking treason. (The house that collapsed on Canal Grande was filmed at Pinewood—it's still there, and in one piece.)
In our 6-Night The Spell of Florence and Venice itinerary, a private gondola will take you past Venetian palaces and through side canals.
Lake Como, Italy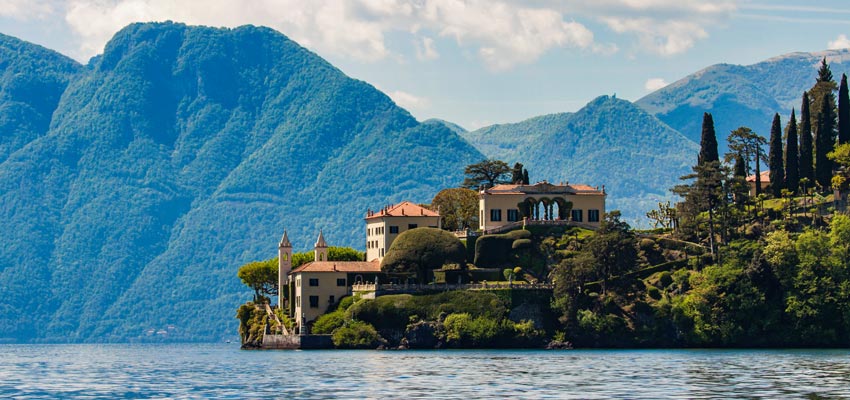 Once again, Bond is in need of rest and recovery. After being tortured by Le Chiffre, he holes up at a lakeside sanatorium. He's actually at the Villa del Balbianello on Como.  Still later, he's at a Lake Como villa, the privately owned Villa la Gaeta—this is where he tracks down the nefarious Mr. White in Casino Royale.
The film Quantum of Solace begins where Casino Royale ends—Italy's enchanting Lake Como. Soon we see 007 drive his multi-talented car along the Via Gardesana Centro on the eastern shore of the lake.  He is instantly propelled 200 miles south to the marble quarry of Carrara.  Hey, these films aren't documentaries, they are pure fun and excitement!
Enjoy a private Como Lake & Castle Vezio excursion with our 7-Night Opulent Italian Lakes and Cities itinerary.
Siena, Italy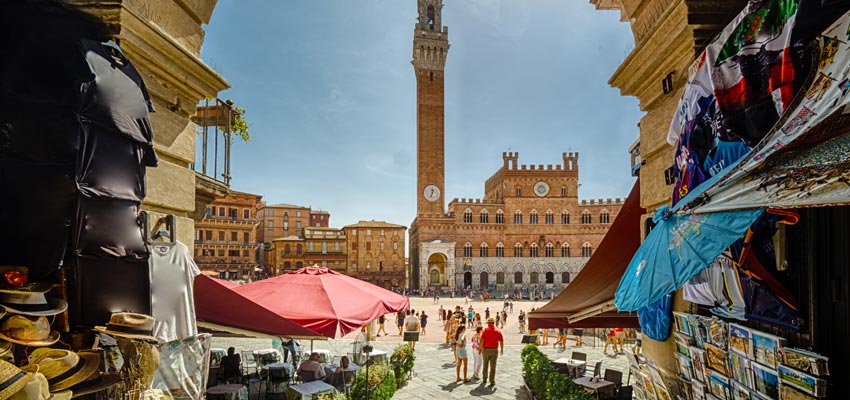 One more legendary broad jump in Quantum of Solace takes Bond into the medieval town of Siena. Here, the M16 safehouse is in the Piazzetta Della Pagliette on the Via di Salicotto.  Other filming in the area included the Piazza del Campo with shots of the annual races, "Palio di Siena."  (The horses are almost as beautiful as Bond.)  There were hair-raising chase scenes shot across the rooftops of Siena near Piazza del Campo.  Enjoy the gorgeous rooflines that showcase Tuscan countryside.
Discover the wonders of Siena by foot with a professional guide in our 10-Night Essence of Italy itinerary.
Sardinia, Italy
In the 1977 movie, The Spy who Loved Me, Bond visits the traditional Italian island, Sardinia.  A KGB agent led him there, with Bond believing he was headed to Corsica.  This was long before the days of GPS, even in the world of spy magic.  Check out the Cala de Volpe Hotel, in Costa Smeralda—it will look familiar. The Spy who Loved Me was one of Ian Fleming's first Bond books, and early 1960 teens brought them to school, wrapped in brown paper.  There was one sexy scene, and one sentence that contained the word, "Bimbo." Pretty tame by today's standards!
The United States
James Bond traveled to the US several times. He went to Fort Knox, Kentucky to foil Goldfinger's plot. New Orleans sees Bond in Live and Let Die, which was juiced with an Academy Award-winning song by Paul McCartney. Diamonds are Forever takes us to Vegas (no surprise there), and A View to a Kill has exceptional vistas of San Francisco's Golden Gate Bridge. (Somehow, Drax moved his French villa to California—no small feat.)
Visit Northern California's original wine country, explore San Francisco, and take a sunset sail on Monterey Bay with our 7-Night Wine Country to the Wild Pacific itinerary.
Scotland
The only safe place Bond can imagine in Skyfall is his abandoned family home in Scotland. The most atmospheric shots there were taken in Glencoe/Glen Etive, which were chosen as his moody Skyfall ancestral home. This is an easy place to visit when in Scotland, and you should. M, Bond, and Q are also featured in Scotland in 1999's The World is Not Enough. The iconic, and glorious, Eilean Donan Castle plays the role of M16 headquarters.
Embark on a 9-Night Scottish Journey and be amazed by the beauty of Glencoe and Eilean Donan Castle on the way.
Iceland
Iceland starred in two James Bond movies—1985's A View to a Kill, and in 2002, Die Another Day was released. After he was held prisoner in North Korea for a solid (and probably cold) year, 007 ends up at a mega-rich man's ice palace in Iceland in View. One of the all-time wildest car chases scenes happened in this movie as Bond raced across frozen glaciers between gigantic icebergs. Both films highlighted Iceland's rugged mountains, mineral baths, and stark natural scenery. The town of Hofn and the Vatnajokull Glacier served as a dramatic backdrop.
Explore powerful waterfalls, mouth-watering Icelandic cuisine, giant glaciers, stunning black beaches, and other-worldly landscapes during our 10-Night Best of Iceland itinerary.
Key West, Florida
License to Kill was the first Bond film shot entirely outside the UK—most scenes were shot in Mexico and the US.  Timothy Dalton, as Bond, was probably the least likely Bond-like actor, but Key West would show up practically anyone. Bond and Leiter, the groom, parachute to St. Mary's Star of the Sea Catholic Church for Leiter's wedding—the church is at the southernmost tip of the Keys.
During this chase around Key West, Leiter loses a leg to the villain's sharks and Bond has his 007 license revoked at Ernest Hemingway's home.  Today you can have a drink at the Harbor Lights Bar overlooking Garrison Bight Marina.
From Italy to Iceland, Scotland to England, and over the Atlantic to the USA, James Bond has been there. In You Only Live Twice, Bond almost went into space, disguised as an astronaut, to thwart the evil Blofield. Yes, long before billionaires went to space, there was Bond, James Bond.
If you want to add the excitement of a James Bond film location to your tour, just let your Destination Expert know!