The Ring of Kerry is one of the finest touring regions in Ireland. Whether you've decided to get a rental car, a chauffeur, or you're traveling with a small group, the Ring of Kerry is filled with atmospheric glories. Charming Kenmare, known as the "Gateway to the Ring of Kerry," is foodie heaven.
There are majestic mountain drives in the Macgillycuddy Reeks, and a UNESCO monastery on the islands of Skellig Michael. You can take a ferry to Valentia Island and then northward up the coast for heady views of Dingle Bay. And of course, there is the beauty of Killarney National Park.
Here are places to consider when you tour the Ring. Some are off the road a bit, and others are highlights that draw thousands of guests. The choices are all yours.
Kenmare
Kenmare has stunning scenery and a food scene that draws aficionados, and chefs, from the European continent and beyond. A heritage town, Kenmare sits prettily on the banks of the River Sneem and is chosen by many Irish people as their favorite town. In Irish, the town is called, Neidin, which translated means "little nest." A beautifully appropriate name for a town that is between the River Kenmare, the Ring of Beara, and the Ring of Kerry. Kenmare is thoroughly walkable, and has plenty of lovely cafes, restaurants, shops (Kenmare is well-known for traditional lace), pubs with live music, and local galleries.
Waterville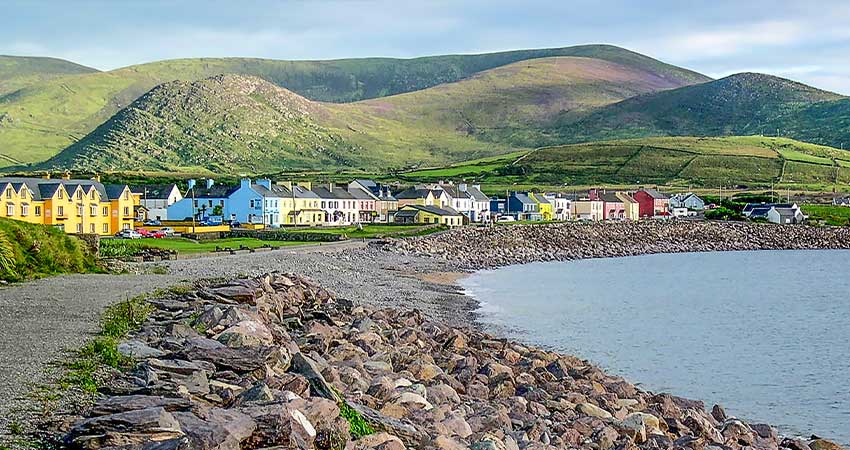 A seaside village tucked on the shore between a freshwater lake and the Wild Atlantic Way, Waterville is an enchanting village on Waterford Strand. There are sports such as canoeing, sailing, diving, and horseback riding. The Waterville Golf Course is one of only 196 European championship courses. Waterville is the place for extraordinary sunsets! Stop by McGills Brewery for a craft beer, and sip while you're watching colors paint the sky.
Valentia Island
An intriguing mix of steep cliffs, low hills, and seascapes, Valentia is noted for its variety of subtropical plants that decided to take root here. History was made on the island in 1866 when the first transatlantic telegraph cable to the US was laid here. There is also a prehistoric standing stone, reaching twelve feet toward the sky, placed here around the same time that Stonehenge was created.
The Skellig Experience Centre is in a dramatic stone building with a grass roof, and has displays on Skellig Michael, a UNESCO World Heritage site. This 6th century monastery is one of the best-preserved early Christian sites in the world. Having withstood the Atlantic weather for 1,500 years, the chapel and beehive huts are in excellent shape.
The Bray Tower is an 18th century signal tower standing on the tip of Bray Head. Originally a lookout tower built in response to the invasion of Napoleon, the sweeping views from here are thrilling. Stop into the Knightstown Coffee Shop—it's a charmer, affordable, and has a selection of croissants, baguettes, and a few larger meals. It's also a second-hand bookshop!
Killarney National Park
The Park covers approximately 25,000 acres and it has three lakes: Upper, Muckross, and Leane. The surrounding mountains are atmospheric and they are magnificent. This park was designated as a Biosphere Reserve by UNESCO for their work in conservation and research. It contains Ireland's largest area of ancient forests, Reenadinna Woods, and has the only remaining herd of indigenous red deer.
There are a vast number of heritage sites within the park, including Muckross House and Gardens, Killarney House and Gardens, Ross Castle, Copper Mines, Innisfallen, Muckross Abbey, the Briceen and Old Weir Bridges.
Outdoor activities include paddle-boarding on the lakes, exploring the forest, climbing Ireland's highest mountains, and going Zen by a lake… Whether you're traveling solo, as a couple, or with friends and family, there is something for everyone to enjoy in extraordinary, and diverse, Killarney National Park.
Muckross House
This house is centered in Killarney National Park and is a gorgeous Victorian home whose building was completed in 1843. (Queen Victoria visited in 1861, a guest of the Herbert family.) The main rooms have period style furnishings, and the working farm next door is a recreation of Irish farm life in the 1930's, before there was electricity in this part of the world. Go to the craft shop in the Walled Garden Centre for Mucros Pottery and Weaving. From the house, walk the path to the lake for amazing views, or take an Irish horse-drawn jaunting car.
Torc Waterfall
Within Killarney Park, this waterfall (in Irish, Easach Toirc, meaning cascade of the wild boar) is 66-feet high and 360-feet long. You'll find it by following the Dinis Walk—the waterfall is just 1 ½ miles from Muckross House. Torc is central to many legends, including one where the legendary Irish warrior, Fionn MacCumhaill, killed a magical boar on Torc mountain with his golden spear. From the waterfall, walk another 30 minutes on Torc Trail, following the base of Torc Mountain, and you'll come across the Old Weir Bridge. Muckross Lake and the Upper Lake meet here.
The Town of Killarney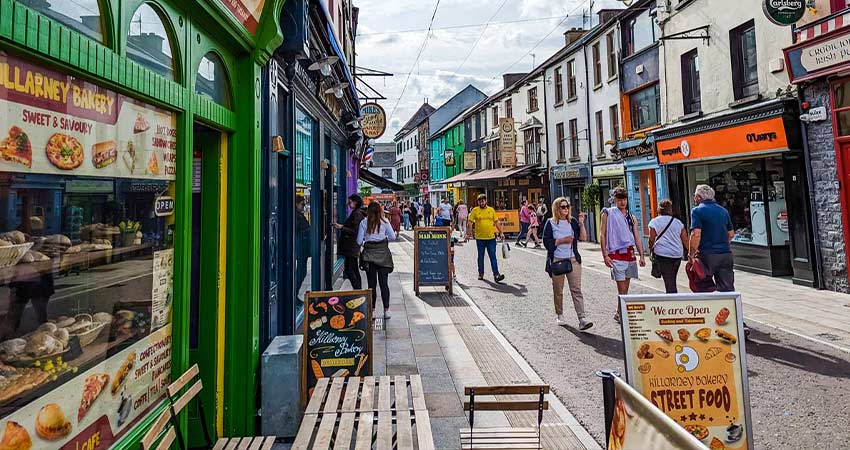 Killarney is a natural base from which to explore the National Park and the tremendous Iveragh Peninsula in general. It's a small, laid-back town with plenty of pubs, many with live music, plus shops on small lanes. With its spindly spires, St. Mary's Cathedral is grand and Gothic. Killarney has lots of fine cuisine and local eateries. Bricin Restaurant and Boxty House (Bricin is Irish for trout) is reasonable, family-run, and has traditional Irish dishes. There's also a good-quality crafts store within.
Just ten minutes from Killarney is Ross Castle, situated on an inlet of Lough Leane. It is said that the Irish Chieftain, O'Donoughue Mor, built it in the 15th century—it was the last place in Munster to hold out against Cromwell. The views here are stunning. From Ross Castle, you may want to take a boat across Lough Leane to Innisfallen Island.
One of Ireland's most well-loved routes, the Ring of Kerry is 112 miles long, and each bend in the road is a wonder. Wind around the Iveragh Peninsula and you'll see the star attractions as well as inspiring lakes, sandy beaches, rivers, forests, waterfalls, and slumbering mountains. Castles, ancient ruins, standing stones, and manor houses pop up in pastures where sheep and cattle graze. Breathe deeply. The air in Kerry is clear and fresh, the essence of renewal.
Let your Destination Expert know that when you tour Ireland, you want to be amazed by some of the most legendary scenery in the country.