The town of Dingle sits on the edge of the Dingle Peninsula on the southwest coast of Ireland's Wild Atlantic Way.  Just a short ferry-ride from Dingle, you step onto the Blasket Islands, quietly, in a time long gone.
Dingle Town, herself, is an artistic girl who's out for rowdy fun.  Her shoreline is filled with eclectic shops, and fishermen bring home a fresh catch every day. The Irish language rings down winding streets, and in the evening pubs come alive with traditional music. When the music starts up, where else in the world would you want to be?
1. Slea Head Scenic Drive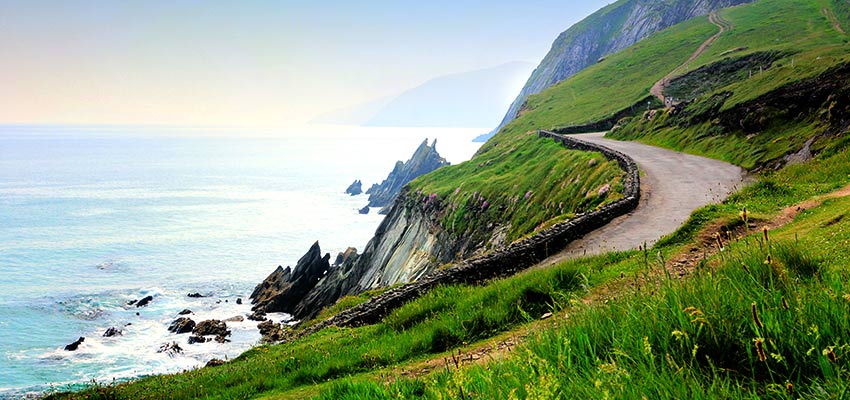 The legendary Slea Head Loop from Dingle town must be experienced.  Head west out of Dingle, over the bridge at the end of town, and follow R559 toward Ventry. The road follows the south coast of the peninsula out to Slea Head, and goes north through Dunquin and Ballyferriter, before winding its way back to Dingle. The whole route is only 26 miles long.  It is one extraordinary vista after another, so linger. The scenery is simply breathtaking.  In other places it is astoundingly dramatic and glorious. If you love to bicycle, you'll find this route is a slice of heaven, either taking a long afternoon or a full day for it. Because much of the route hugs the coast, it is fairly level and makes for easy cycling. Bikes can be rented from Foxy John's hardware store and pub on Main Street.
Note:  Do pay attention to the road. There are some sharp curves, it's sometimes narrow, and below you are those mind-blowing cliffs.
2. Conor Pass Scenic Drive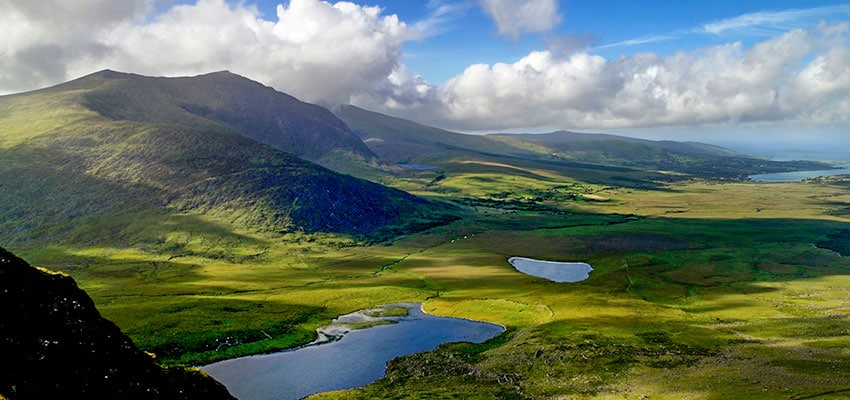 From Dingle take the N86 towards Tralee. At Camp, approximately 20 miles from Dingle, turn left onto the R560–this is sign-posted 'Castlegregory.' The road forks, right for Castlegregory and left for Conor Pass and Dingle. Hang a left to return to Dingle by way of Ireland's highest mountain pass. It's not truly high—we started at sea level after all—but it is one of the most spectacular views imaginable. We don't advise cycling this unless you enjoy backbreaking, uphill slogs.
3. Inch Beach
Inch is not the shortest beach in Ireland. It is, in fact, one of the longest with three miles of uninterrupted golden sand backed by wild dunes. It is also one of Ireland's movie stars, and has been in numerous films. It's perfect for swimming, surfing, and very long walks. If you're in the mood for romance, it's a definite must.  For sheer drama, approach Inch on the R561 from Dingle. Like any Hollywood beauty, Inch will take your breath away.
4. Visit the Blasket Islands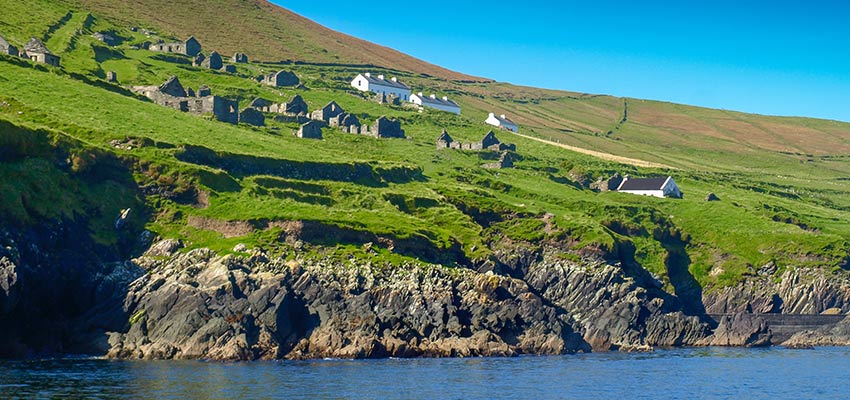 The Blasket Islands are just a few miles off Slea Head. Great Blasket Island was inhabited for almost 300 years when the final 200 hardy souls were forced to abandon the island in 1953 due to lack of basic services—there was no school, shop, priest or doctor. Many moved to Springfield, Massachusetts where, to this day, a copy of the weekly Kerryman newspaper is delivered to their doors. The Great Blasket Heritage Center, located in Dunquin, tells the island's moving story.
It's said that the Blaskets are home to a number of ghosts.  We don't know about that, but the islands surely are a step back in time. To visit the Blaskets, you can take a ferry from the Dingle Marina. You may catch a glimpse of Fungi the dolphin, and you'll have a terrific view of the Dingle Peninsula.
5. Go Surfing
Dingle seems like an odd place to contemplate surfing, and you won't hear too many people refer to each other as 'man' or 'dude,' but the beaches and super waves (given the right conditions) make this an ideal place for the expert or novice. Inch Beach is perfect for the newbie, while the Atlantic-facing beach at Castlegregory is a magnet for pro's. Confuse the dudes by ending all your sentences with 'fear' (pronounced 'farr', meaning 'man').
6. Lisbeth Mulcahy Weaving Shop
Lisbeth Mulcahy is one of the best known designer-weavers and tapestry artists in Ireland. Her workshop, Siopa na bhFiodóirí (The Weavers Shop), is in the heart of Dingle on Green Street. Before the industrial revolution, Dingle was an important center of handwoven linens. Today, stop into her shop for exquisite woolen scarves, wall hangings, and luscious throws. If you have something particular in mind, her work is also done on commission. You're welcome to look at the looms with work in progress. Dingle has a strong art community, and Lisbeth Mulcahy's designs are an authentic Irish experience. Bring something home!
7. Ice Cream at Murphys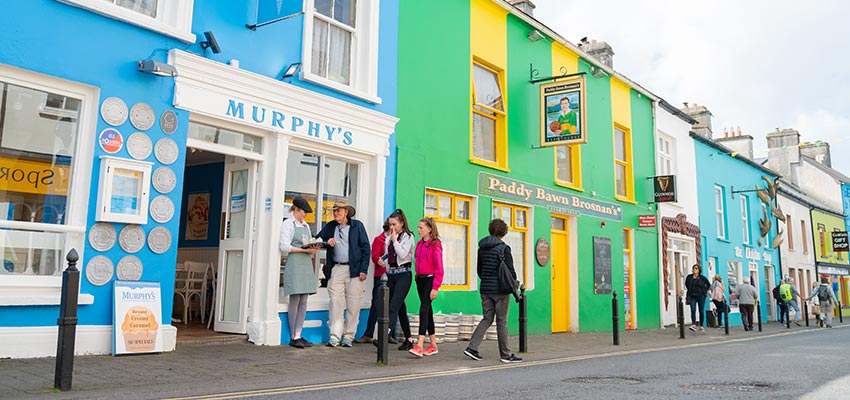 Murphy's Ice Cream on Strand Street is legendary. This isn't just ice cream, this is ice cream to perfection. So skip the restaurant dessert and instead head to Murphy's. We've done some hard work for you and investigated samples of their Pink Champagne Sorbet, Honey Cardamom, and Chocolate Whiskey ice creams. It was a mind-altering experience!  (Murphy's also serves the best coffee in Dingle.) And the staff! They're cheery, happy, and fun to joke around with.  We can only assume that they're tasting a bit of Murphy's throughout the day.
8. Dingle Crystal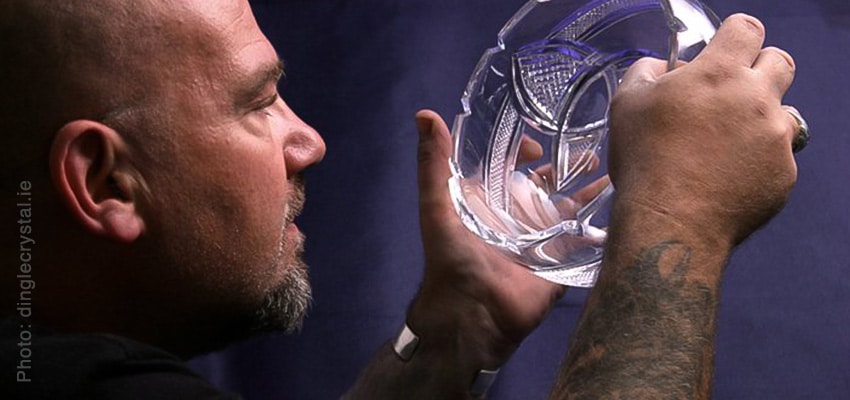 Ireland and crystal go hand-in-hand, and just outside Dingle you'll find the Dingle Crystal Workshop.  Watch a master craftsman at work—it's a rare experience.  Sean Daly, the owner and formally a craftsman at Waterford Crystal, came to Dingle in 1998 to further his passion. Dingle has been an inspiration—you'll see carefully crafted pieces with six different Celtic themes. Each one is personally designed, cut, and signed by the master himself.  Sean is accommodating to all who visit. He takes the time to give demonstrations whenever possible.  The workshop is located just outside Dingle Town, and his display shop is located in the heart of Dingle.
9. Climb Mt Brandon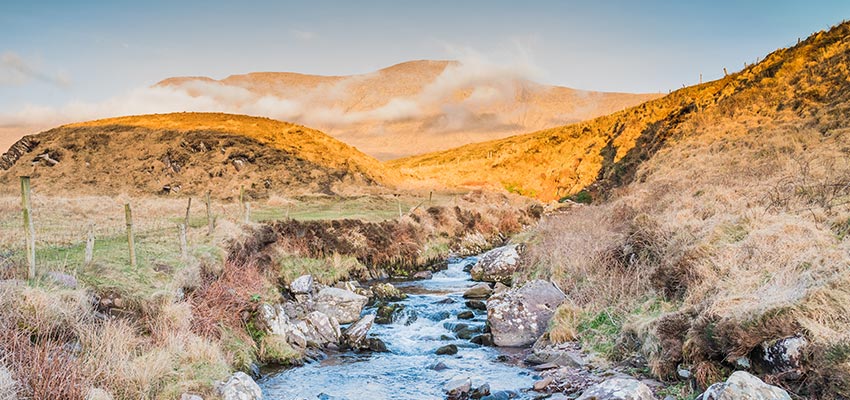 Irish mountains are actually large hills, the highest being just over 3,000 ft., so most of them can be climbed in a few hours. The reward is unimaginable.  In Ireland, reaching the summit of a mountain means you will have a grand, unobstructed view. Ireland rolls in front of you while the Atlantic yawns, stretches, and glistens behind you. Begin your adventure just beyond the village of Claghane (over Conor Pass from Dingle) and park near Miss O'Connor's House. Ask folks in Dingle or Cloghane for the best route. The amazement factor is best on a clear day.
10. Ancient History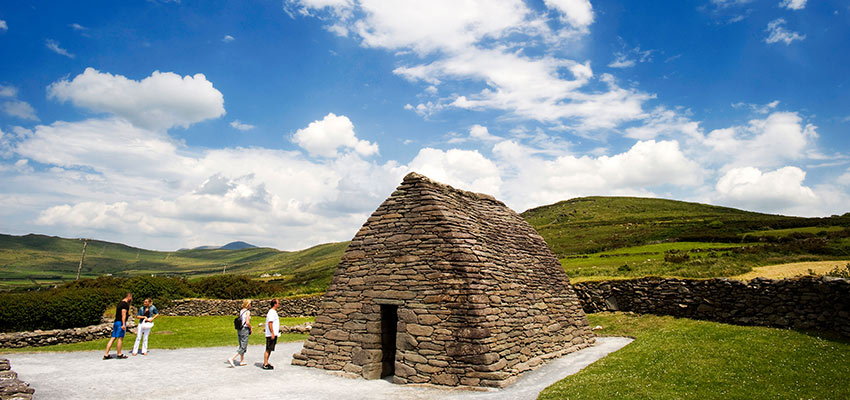 The Dingle Peninsula is like an open-air museum—it is filled with national monuments and historical sites. (It seems that people have always preferred to live in extraordinary places with a view.) Highlights include the Gallarus Oratory. This 1200-year-old dry-stone oratory is in perfect condition, and is a splendid example of the ingenious building methods used at the time. The Beehive Huts scattered along the Slea Head drive, between Slea Head and Dunquin, feel like miracles.
11. Walk the Dingle Way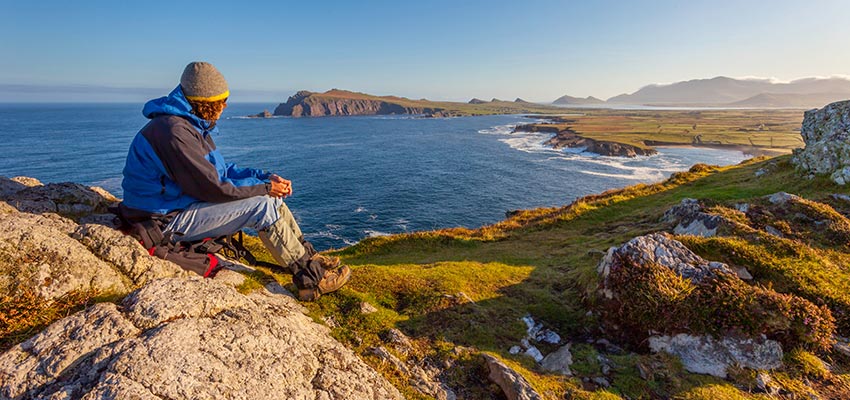 If you want a slow-paced holiday, one that really gets you close to the land and the people, consider taking eight or nine days to walk the Dingle Way. The route is well-marked, is 110 miles long, and makes a complete loop of the peninsula.  It passes through both Dingle and Tralee, so it's best to start at one of these towns.
12. Go Sailing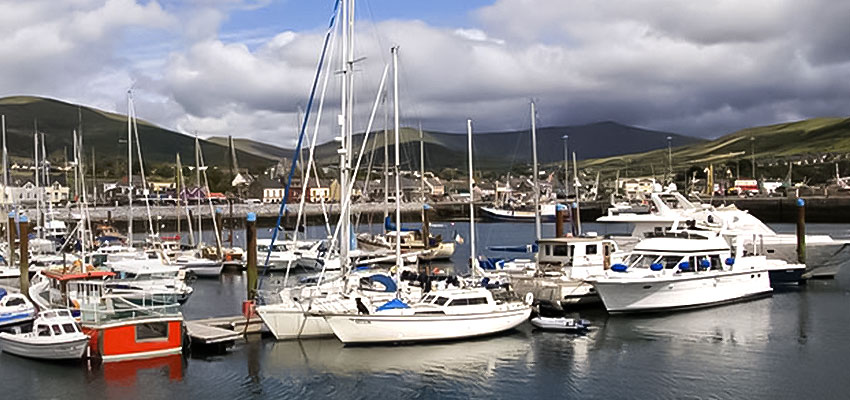 Here's a dream for you:  Sailing around the entirety of Ireland. For starters, how about chartering a yacht and spending a week or two pottering around the myriad islands, bays, inlets, and harbors of Kerry and Cork.  Perhaps stopping in at Crookhaven for a pint of Guinnesss and the best crab sandwich anywhere. There are also rivers to navigate and explore. Ireland was made for those with sailing dreams. 
13. Enjoy Fresh Fish
Dingle is at heart a fishing village. It always was and probably always will be. Every day the trawlers return with a haul of freshly-caught fish. Local restaurateurs descend on the harbor to pick the best salmon, bream, crab, sole, turbot, scallops, mussels and lobsters. Your mission, should you chose to accept it, is to enjoy the best fish dinner you've ever eaten.  Whether it's fish stew at a local pub, or lobster served in a fine restaurant with linen tablecloths, you will be in dining heaven.  Imagine this meal: Seared scallops, flambéed in cognac; served with dressed seasonal greens, followed by a char-grilled kebab of monkfish served on a green, mango puree with coriander butter. Bliss.
14. Pub Crawl in Dingle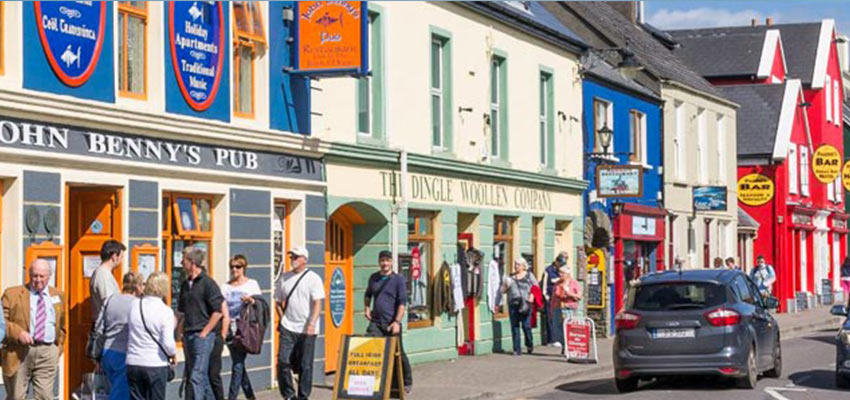 Dingle is the perfect pub crawl town—in this relatively small town there are 65 pubs and most have music. Here are some pubs that should definitely be on your crawl, and every one serves up music most nights:
McCarthy's Pub, Goat Street
An Droichead Beag, Main Street
Foxy John's, Main Street
Adam's, Main Street
John Benny's, Strand Street
Danno's Bar, Strand Street
Dick Macks, Green Street
O'Flaherty's, Bridge Street
Dingle is full of small little bars that don't make it into guidebooks. The pub may be scruffy, can't accept credit cards, and the barman may be struck dumb if you order a cosmopolitan, but it is here you will find true Dingle pub happiness. Don't be shy, the locals are friendly—they can't help it.
Next morning you're off to whatever new adventure Dingle has in store. This town is on our top-three list of travels through Ireland.