A vacation in Scotland is a trip to the Highlands, islands, clans, the land of bold heroes and villains, Edinburgh, golf, castles, whisky, and Glasgow. Could there be more? Absolutely. Scotland also has its share of wonderments, curiosities, and nature gone wild. Here are a few unusual places to put on your Scotland bucket list!
Garden of Cosmic Speculation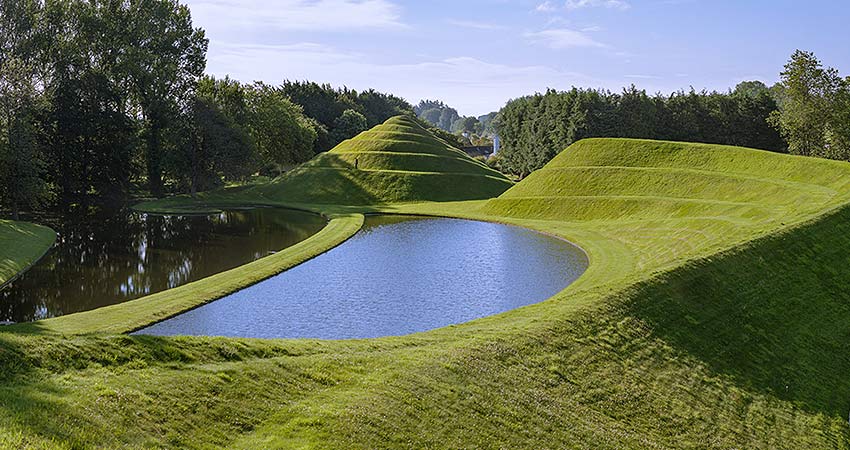 © gardenofcosmicspeculation.com
Near Dumfries, Scotland, this garden is said to illustrate the elemental design of the cosmos. This 30-acre garden, a tribute to physics, is a blend of art, nature, and science. A most unusual way to landscape, the gardens have geometric fractals that are inspired by black holes, string theory, and the Big Bang.
There are five areas of the garden, and they are connected by landscape lakes, bridges, white staircases, and terraces that look as if they were designed by Salvador Dali; together they represent the story of creation. There's nowhere else in the world that you'll see double helix sculptures and waving fields of rhododendrons, inviting you into the story of the universe.
Camera Obscura & World Illusions
© camera-obscura.co.uk
This is five floors of illusions that bend your view of reality and perspective. For more than 150 years, Edinburgh's Obscura was first named "Short's Observatory, Museum of Science and Art." From the beginning, the goal of this attraction has been the belief that immersion, hands-on experiences, and exhibition is the best form of education.
Part of the Obscura is given over to a clear understanding of Edinburgh. To this end, there are telescopes, view cameras, and the 360◦ city view from the rooftop terrace. After you take in Edinburgh, play with the optical illusions, puzzles, a vortex tunnel, and artificial realities that play tricks on the senses. It's just at the top of the Royal Mile near Edinburgh Castle. Enjoy!
Gilmerton Cove
Photo: A passageway in Gilmerton Cove. John Dale via Wikimedia Commons
This suburb of southern Edinburgh was once a busy hub of mining activity. It has been discovered that there are mysterious caves and tunnels that have nothing to do with mining. What were they for? There are seven connected chambers and many passageways that run under the town. The original entrance was beneath a blacksmith's home.
Was this an underground bar? A place for people whose religion ran counter to politics to hide out, or perhaps it was a smugglers place to stash booty? These hand-carved caves are loads of fun for detectives of history. Anyone's guess is good.
The Glasgow Necropolis
These 37 acres are the eternal resting place for more than 50,000 former residents of Glasgow. Located on a hill next to the Glasgow Cathedral, you'll spot interesting headstones of every sort, designed by foremost architects and sculptors of the early 19th century.
Opened in 1833, it was the first interdenominational burial ground; the first person buried was Joseph Levi, a Jewish jeweler. Next was a Christian burial of Elizabeth Miles. Most unusual for that period of time, the necropolis kept complete records of the dead, including age, gender, and cause of death. The aptly named "Bridge of Sighs" is at the main entrance.
Sharmanka Kinetic Theatre
© sharmanka.com
Also in Glasgow, this theater is a mind-blowing display of clockworks that create a sense of fun, terror, and curiosity. This combination of Automata, such as seen in the movie Hugo, showcases the work of Eduard Bersudsky, a mechanic and sculptor born in Russia. The Sharmanka (hurdy-gurdy) is a banquet of theatrical illusions and phantoms.
Mechanical beings spring to life, producing monsters, the turn of a crank, or rides upon giant gears. The odd tower is narrated by strange voices, and the lighting is atmospheric. Located in Glasgow's city center, you may want a drink of Scotch after a visit to this Kinetic Theatre!
Rosslyn Chapel
This chapel, located in the small village of Roslin, is one of the best examples of Scottish Gothic architecture in the world. Walking inside, it's easy to understand how it served as an inspiration for the Da Vinci code. It is on the bucket list for mystery lovers and for treasure hunters. The chapel has been the cause of speculation and mystery for over 500 years.
It has been described as a "poem of stone, powered by stars." Let the Dance Macabre lead you to the Seven Virtues, followed by Nordic dragons and 100 pagan figures. The only words in Rosslyn, carved into the medieval structure, are translated from Latin as follows: "Wine is strong. The king is stronger. Women are stronger still. But truth conquers all."
Clootie Well
Photo: F Leask via Wikimedia Commons
Look into the Highlands, and you'll see that the pagan tradition of covering trees with rags is alive and well. This is from an ancient Celtic tradition, calling on the water spirits for healing. As the rag is left to decay at the Clootie Well, the hope is that pain or sickness will fade with the fabric.
You may hang a rag from a tree if you wish, but never remove one. It is bad luck.
The Kelpies
Grangemouth, northeast of Falkirk, is home to two gigantic water horses, placed here to honor the Scottish bond between people and horses. Water spirits in folk tales, called kelpies, often take the form of horses. These water spirits can change from women to water and back again.
Each statue is 100 feet tall, made of overlapping steel plates that are designed to represent horsehair. During sunset, the light shines through these slits, giving the horses an otherworldly glow. If you like, you can climb inside one of them. This is an amazing, and purely Scottish, experience located in the area known as The Helix.
Bennets Bar
© bennetsbar.co.uk
Locals have been enjoying Bennets since it opened in 1839. It was redesigned in 1906, and there was a small, hidden room for women. They could slip their orders through the window. The pub has beautiful features such as stained glass windows, tiles with flying cherubs, and a wooden bar.
The most unique feature is the "snug." This was the room for women to enjoy a drink or a meal without prying eyes. Bennets still has its snug, with a separate entrance and a serving hatch. But today, both men and women can squeeze into the snug, the symbol of an age long gone. Bennets is in Edinburgh, next to Kings Theatre.
Kelburn Castle
© kelburnestate.com
Situated in Largs, Kelburn Castle dates from the 13th century and is one of the oldest castles to be continuously occupied by the same family. (The other is Dunvegan Castle.) But its age is not what makes the castle a standout. After discovering that the entire concrete facing needed to be replaced, the owners invited graffiti artists from Brazil to paint a huge section of the exterior walls.
Painted by the twin artists, Nina and Nunca, the contrast between the ancient castle walls, and the urban Brazilian art are a dynamic and gorgeous mix. The castle stands in the woods of western Scotland, and the forest creates a bridge between two worlds and eras.
Scotland has always been home to dreamers, innovators, scientists, and artists. When you travel to Scotland, be bold! Visit a few places that could only have been created by the Scottish.
Wherever you travel in Scotland, you will be surrounded by mysteries and beauty. Let your Destination Expert know that you want to be part of it all.