A spectacularly scenic tourist-route that showcases the very best of Ireland's natural beauty, the 179-km-long Ring of Kerry drive provides the perfect escape from the stresses and demands of modern day life. From the famous Lakes of Killarney to the old stone forts of Cahersiveen, The Ring of Kerry drive on the Iveragh Peninsula is a truly unique adventure through a rural, rugged landscape of majestic mountains, tranquil lakes and picturesque towns where hospitality is everything and a warm Irish welcome is guaranteed. In Ireland, they call Kerry 'The Kingdom,' and a trip around the Ring of Kerry Route is sure to explain the many reasons why.
Here are ten must see highlights along Ireland's historic Ring of Kerry:
Killarney National Park and Muckross House
Ireland's premier tourist destination, Killarney is as well known for its warm hospitality as it is for its world-famous lakes and spectacular mountain views. Indulge in a hearty Irish breakfast or a bowl of organic porridge at loved-by-the-locals café 'Revive,' before taking a stroll through Killarney National Park, home to a plethora of flora and fauna, including the only red deer in Ireland. Situated further into the park is historic Muckross House, a nineteenth-century Victorian mansion with beautiful gardens, which once played host to Queen Victoria herself. The guided tour of the house comes highly-rated and is well worth taking.
Ross Castle
Sitting in the shadow of mountains on the banks of Lough Leane, Ross Castle is worth visiting for its picturesque setting alone, even if the guided tour, which is available from April to October, is not on offer. An example of an ancient medieval stronghold, Ross Castle dates from as far back as the fifteenth century, and was once home to an Irish Chieftain by the name of O' Donoghue Ross. From Ross Castle, take a boat out onto the lake and visit Innisfallen Island which is home to ancient monastic ruins dating all the way back to the seventh century.
The Gap of Dunloe
A mountain pass carved out of ice over two million years ago, The Gap of Dunloe, which sits between mountains and is surrounded by lakes, offers a prime example of all the scenic best of the Ring of Kerry. Starting at tourist favourite Kate Kearney's cottage, the Gap follows a winding path along narrow roads and old stone bridges, one of which is known as the 'Wishing Bridge.' According to local fore, any wish you make while standing on this bridge is guaranteed to come true. Insider tip: Stop for pancakes at the hidden Gap of Dunloe gem that is 'The Strawberry Field'.
Kenmare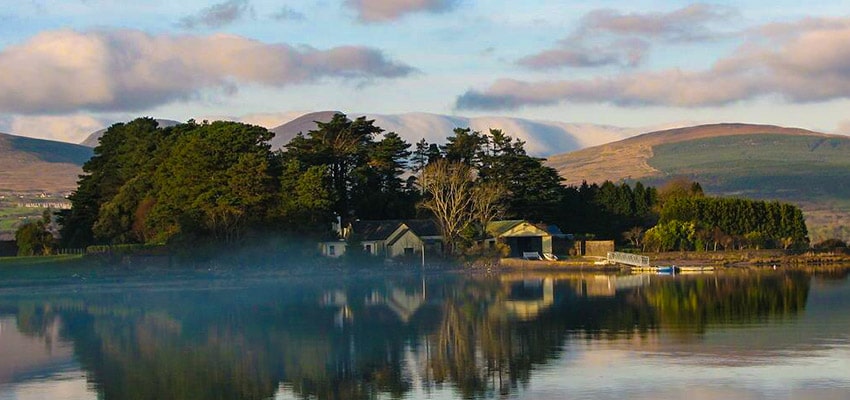 A prime example of a traditional Irish town, award-winning Kenmare is as well-known for its rainbow-coloured buildings as it is for its unique charm. Along with winning Ireland's prestigious Tidy Towns competition in 2000, this picturesque town, which was founded as a plantation town in 1670, was also awarded the title of Kerry's first Heritage Town by the Irish Tourist Board, Bord Failte. While in Kenmare, take in the breathtaking views of Kenmare Bay and visit Kenmare Stone Circle, which dates back to the Bronze Age.
Sneem
The next stop on this tour of the Ring of Kerry is the tranquil village of Sneem, which sits right between the towns of Kenmare and Waterville. It may be small, but Sneem is home to a number of unusual attractions including a coral beach which is one of only two beaches of its type in Ireland. For something completely different visit 'The Way the Fairies Went.' This unique stone structure, inspired by ancient Gaelic lore, offers great views across the River Sneem.
Caherdaniel
Following a bracing walk along the golden sands of Derrynane Beach, stop off for refreshments at Freddie's Bar, an authentic Irish pub right in the heart of Caherdaniel village. Here, sit by the open fire and listen to traditional Irish tunes, while exchanging a cùpla focal (a few words) with landlord and local celebrity, Freddie. A trip to Derrynane House, which sits in over three-hundred acres of National Park, is the next item on the list. Once home to celebrated historical figure Daniel O' Connell, Derrynane House, which underwent a major refurbishment in 2015, is now open to the public via pre-booked guided tours.
Waterville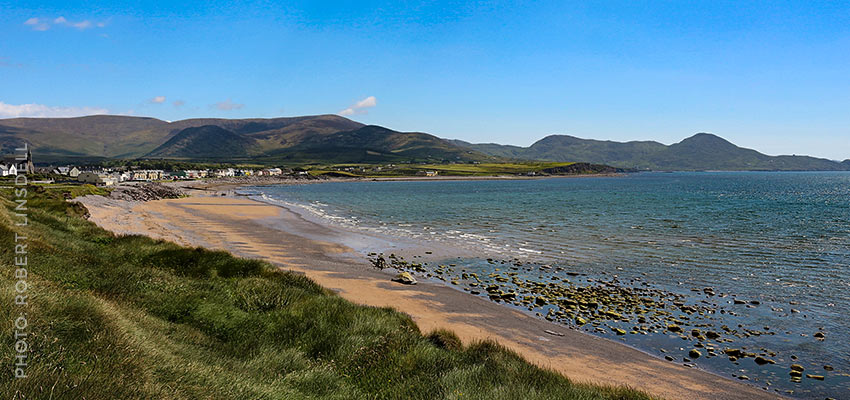 Famous as a favourite holiday spot of silent movie star Charlie Chaplin, this pretty Irish town by the sea pays homage to its most famous visitor via a dedicated statue and annual themed-festival, which celebrates the very best of comedy via movie screenings, workshops, street entertainment and more. Along with gift shops, great places to eat and drink and views that stretch for miles out to sea, Waterville is also home to two top-class golf courses.
Valentia Island
A truly unique experience, Valentia Island is a popular summer holiday destination, thanks to a mild micro-climate that lends itself to long, hot summers. Connected to the mainland via bridge or ferry, the island is home to a number of attractions, including historic hiking trails, such as the Bray Head Loop walk. Get back to nature and pay a visit to Glanleam Subtropical Gardens, where an exotic paradise of tropical plants thrives thanks to Valentia Island's unique micro-climate.
The Skellig Islands
Ever since these islands achieved worldwide fame due to an appearance in Star Wars: The Force Awakens, a trip to the Skellig Islands has been the number one destination for many travellers who tour the Ring of Kerry loop. Skellig Michael, which houses an ancient monastic site set two-hundred meters above the sea, is set to become even more popular due to a starring role in Star Wars: The Last Jedi, so book a trip now, while you still can.
The Stone Forts at Cahersiveen
For this final stop on the Ring of Kerry route, take a step back in time to medieval Ireland. Located on the banks of the River Fertha, the town of Cahersiveen is home to the ancient stone forts of Cahergal and Leacanabuaile, which date all the way back to 600 AD. Wind down your trip with a night cap at local favourite 'The Shebeen.' View Ireland vacations here.